Eden Hazard Talks Sneakers, FIFA and Being a Champion
Nike's and Chelsea's golden boy tells us what it's like to be the Premier League's most exciting young talent.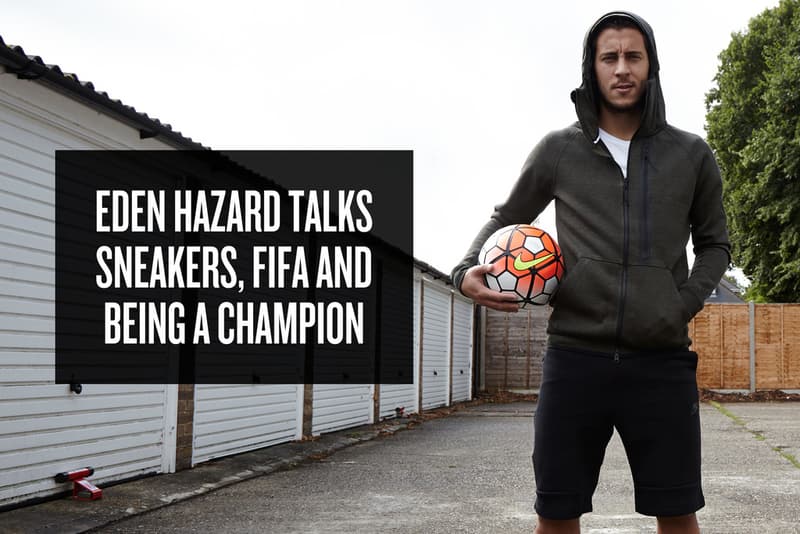 Eden Hazard is a persistent, terrifying problem that seems to grow season by season. He's the spinning whirling dervish of a creative force in a team (incorrectly) known for its abrasive defensive playing style. He's the calm family man who's been painted as a mercurial malcontent.
Eden Hazard is comfortably one of the most talked about players in the English Premier League, yet he has an annoying habit of ghosting in a game until he is there, very visible and very through on goal. He's one of the fastest players about, yet his best trick is when he's barely running with the ball, when he's just riding its natural momentum. He does this to lure his opposite man in, to make him think he's just any guy, and then he explodes out the box again and you remember just why he's one of the elite footballers on the planet.
Eden Hazard is a problem. For opposition full backs, fans who hate him but would love him on their side, football writers and anyone else trying to put the 24 year old Chelsea player in an easily defined box. Meeting him after doing alternate interviews in English and French I can't quite tell if the massive smile on his face is one of a tired man or someone who's just completely at ease…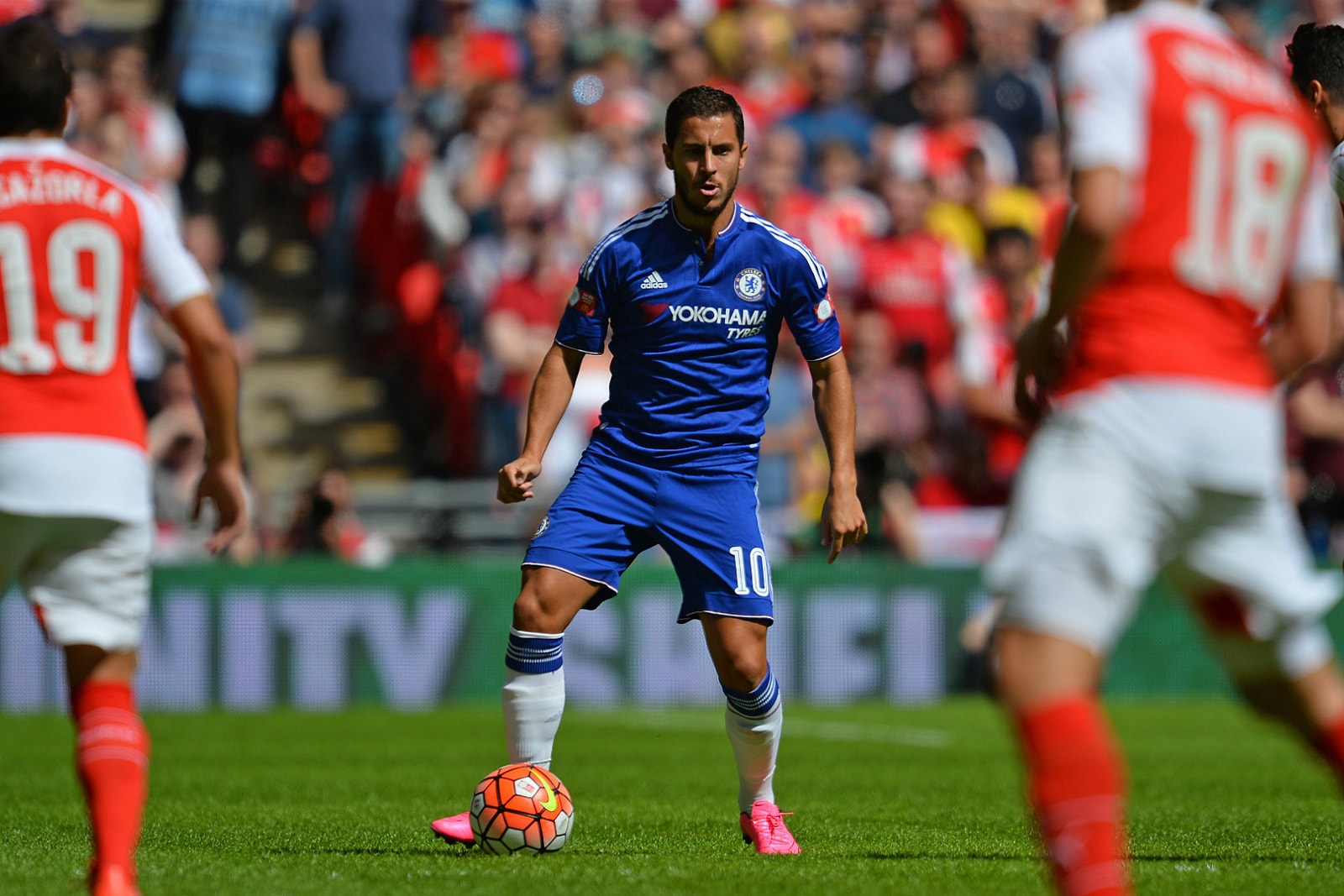 I'm good man. First thing, you are wearing a very nice pair of Nike Air Max 95s, are you a big sneaker fan?
Yes, I have a lot in my home, 100 pairs maybe. Air Max. Air Max always.
Did you ever cross over to Air Force One as a kid?
No, not Air Force 1, just simple Air Maxes like these. (pointing to a Nike agent clad in a pair of white Air Max 97). I like them minimal.
Being a footballer and a Nike athlete, you spend a lot of time in sportswear. Do you have any advice as to when it comes to picking good gear?
No… I'm not fashion. I like to wear simple things y'know? Black, white… not too much colour. Keep it clean.
What does a guy like you do in his free time around London?
I stay with my family. I stay with my kids [Eden has two sons, Yannis 4 & Leo 2]. Sometimes I'll go to a restaurant as I like to eat. French, Italian… I love pasta. Pizza is too heavy for me. I try to eat healthy. I like to go do a bit of work in the park if I get a day off. I dunno… I have two kids I watch a lot of cartoons now. Like everyday cartoons. If not that I watch a lot of series. I like Suits, I like Scandal. It's good.
You were the cover star of FIFA 15 over in the UK, you a big gamer when you have downtime?
Not anymore. Sometimes, when I am home alone, or when I was back in France. Now? Nah, I have two kids, any day where I'm just in front of the TV isn't good for them.
From FIFA to real football; it's your 4th season with Chelsea, and your first season as a champion in England – what gets you going this season?
It's difficult to play as a champion because everyone wants to beat you, everyone wants to kill you. We wear the gold badge and… yeah, it's very good. We had a fantastic season last season… if we could do the same this season we'd be good.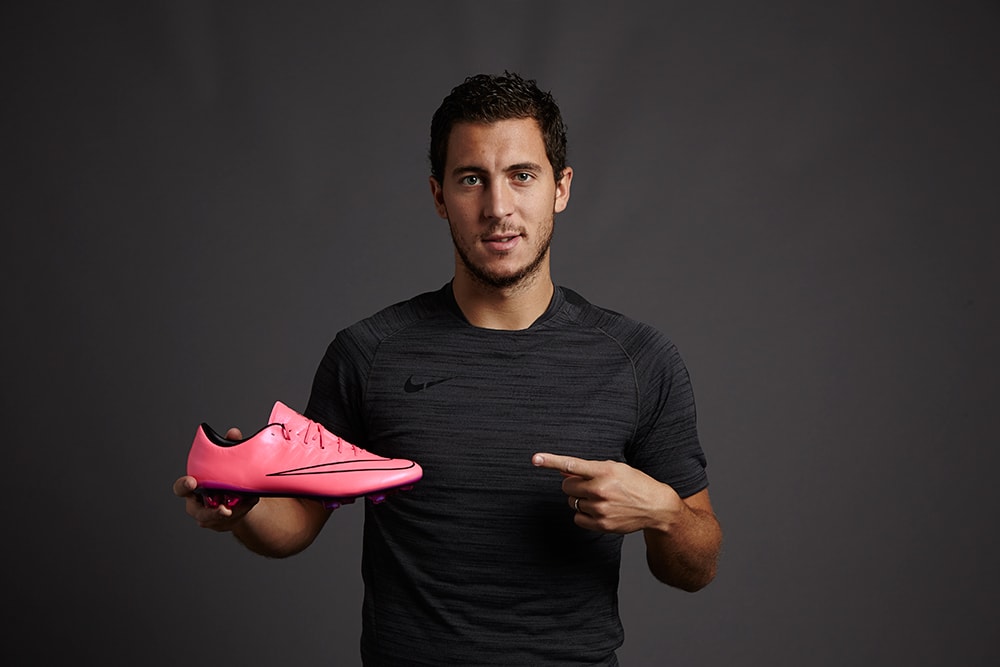 You were voted PFA Player of the Year last season, how would you say your has your game developed in the past few years?
Errr… Yeah I learn. Everyday I learn. In training, in the game. It's good playing big games, if you play against a big player you can learn a lot. You learn a lot every day. Every day I try to reach a better level. This is my job, every day I try to score. Every game I try to score. I just want to be champion. I just want to be a champion and win everything like I did last season.
We've spoken about your family. Your parents were both footballers, as are your three brothers. Are your boys going to be footballers? Or are they free to do whatever they want?
Yeah they are free… If they want to be goalkeepers, no problem! They just want to play everyday. When I finish training, I have to play football with them. If I don't they cry but… this is my other job, just spending time with my kids.
On the pitch Eden Hazard wears Nike's Mercurial Vapor. To get the latest on Nike Football boots download the Nike Football App