We Had an Exclusive First Listen of Danny Seth's New Album 'Perception'
The British are coming.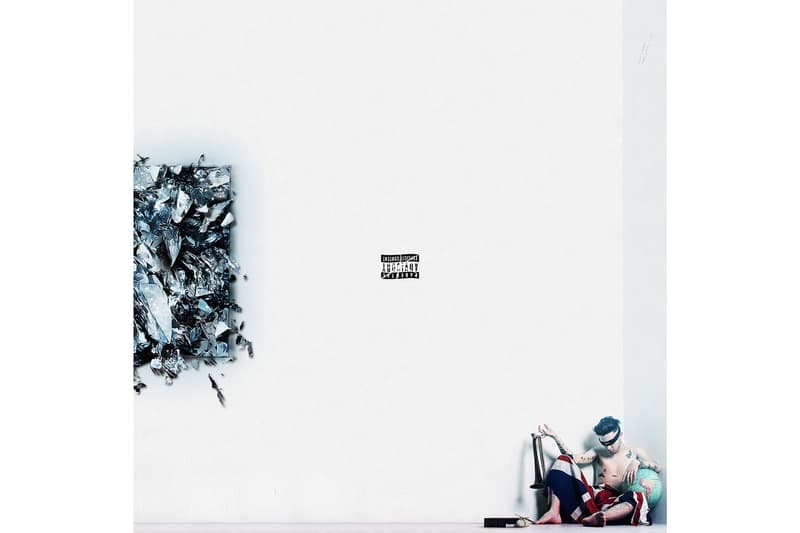 The British are coming. If the Skepta-initiated grime takeover this year wasn't indicator enough, the American market appears to be ready for hip-hop sounds coming from across the pond. Truth is rap has never been as diverse than it is in 2015. While genre-bending has been on artists agenda for a few years now, unconventional approaches and new influences helped shaping a new soundscape prevalent in today's rap music. Enter Danny Seth, one of the hottest musical exports from the United Kingdom in 2015. The 21-year-old London native has caused a serious impact on the American rap hemisphere with a stark myriad of contrasting sounds and a distinct flow, which propelled expectations for his debut album, Perception, set for release as a free download on September 18, into almost unbearable heights. We took a detailed journey through Danny's debut full-length offering, track-by-track, to see if Danny can carry the weight.
Monumental
For those who's never heard of Danny Seth prior, this was Seth's chance to establish a "monumental" first impression. And he definitely does so; there isn't too many more legendary ways to introduce oneself than to deliver quotable after quotable over an epic vocal and symphonic ensemble. The instrumental gradually transitions into a stripped down, 808-driven beat, perhaps to foreshadow to the listener of what to expect for the remainder of the album.
How I Dream
Danny illustrates the sonic aesthetic of his dream (or likely, nightmare) with distorted, howling sound effects and sporadic, panning vocals -– which acts as an interlude that covers over a minute of this track. It progresses into earth-shattering, 808-driven instrumental, with Danny giving an introduction and detailed explanation of the album's recurring theme and tagline, "the British are coming." The track is abruptly ended by the ringing of an alarm clock.
I Arise Because
This is perhaps Danny's song on the album; its music video –- which showcases the rapper stunting with a BMW i8 — has currently garnered nearly 300,000 views on YouTube. The intro is an attention-grabber -– it samples traditional East Asian instruments reminiscent of classic Wu-Tang Clan material. There's a reason this song was chosen as the lead single: it pretty much sums up Danny's vision, pursuit and artistic character in three-and-a-half minutes.
T.I.O.T.E. featuring Collard
A melodious bassline on "T.I.O.T.E." helps Danny Seth introduce fans onto the rest of Projection. Frequent-collaborator Collard lends a hand here, who puts together cohesively rapped lines on this track along with Seth. Without a doubt, the chemistry between these two are evident, and collaborations together will likely continue as their careers progress.
Never Forget featuring Jimmy Johnson
"Never Forget" was premiered earlier this year as a single in anticipation of the release of Perception. Produced by close friend and in-house member Zach Nahome, the song features emerging Toronto artist Jimmy Johnson. On this track, Seth's raps possess a rawness which cleverly contrasts Johnson's harmonic vocals.
Our City featuring Louis Mattrs
Over a dark and foreboding beat on "Our City," Seth brazenly declares himself as the saviour of London hip-hop, who "tells [his] baby girl, [he's] got to save the city." Brighton singer/songwriter Louis Mattrs also offers assistance here, providing an off-setting hint of tranquility in the chorus on the otherwise lamenting composition. It is evident these two are ready to carry the responsibilities as non-grime ambassadors for British rap, offering a hazy and hypnotizing British invasion on "Our City."
||
Danny Seth slows it down for this one, matching the song's simple title "||" with a minimalist production. Crisp hi-hats and a simple loop sets the tone for Seth, who continues to display his unique and smooth lyrical proficiencies on this track. Recognizing the fame he's amassed since the release of his hit "I Arise Because," the London rapper preaches the importance of maintaining those who've stuck around through the difficulties of a struggling artist, and to expunge those who look to profit from his emerging fruition.
Stay featuring Su Bviley & Jace of Retrosushi
Unlike its preceeding tracks, "Stay" incorporates a relatively vibrant production, with cleverly layered piano chords, chimes and a heavy drumline. New York-based artist Su Bviley and Jace — one half of Altanta duo Retrosushi — are featured on this track, both supplying a verse of their own. Confident in his imminent time in the spotlight, Seth again offers a forewarning to any skeptics in the track, "the British are coming."
With Me
The newcomer Danny Seth is confident in the body of work he has put together on Perception, which is abundantly clear on the forceful "With Me." Seth asks in this track, "name another rapper making London famous." Perhaps blind to the grime takeover lead by Tottenham's Skepta, Seth boasts about his transient fame in the United States from his breakout single "I Arise Because." Time will tell if this album will help propel him to the level of rap stardom his fellow countrymen Skepta or Stormzy have achieved.
Trip featuring Cassow & PJ
"Trip" is arguably one of the most radio-friendly tracks on the album, as Danny Seth delivers a heartfelt verse over a muted, sultry instrumental. Assisting Seth on the song are two Los Angeles-based artists, Cassow and PJ, both adding a complementing sense of West Coast affinities. Cassow trades verses with Seth here, and PJ soothes listener's ears with her beautifully ethereal voice.
Past Forever (Produced by Zach Nahome Vs. MD$ Vs. Sevn Thomas)
Collectively produced by Zach Nahome, MD$ and Sven Thomas, "Past Forever" lives up to its respectable credits. Perhaps one of the heaviest records on the Perception, the song gracefully blends a bass-heavy instrumental with equally rigid rhymes. Listen to Seth profess "the British coming we ain't trying to leave" on this cinematic trap production.
>
The track is introduced with sinister bells paired with some chopped and pitched up, reverb-heavy vocals; as soon as the kicks and 808s hit, Danny infiltrates with a flow that sounds like an amalgamation of Drake's and Lil Wayne's. Midway through, he switches it up to an A$AP Rocky/Houston-inspired cadence then -– after a shout-out to Toronto and a bird call –- he ends the song off boastfully freestyling over a slowed-down outro.
Danny Darling
Seth sets a contrasting pace and tone in this track — which was originally released back in June; the voluminous basses and aggressive drum-work found throughout the album is replaced with a poignant and melancholic string sample. The song – which addresses the relationship between Danny and his stepdad — follows a heartfelt, written-letter approach reminiscent of Eminem's The Slim Shady LP classic "Stan."
Be
If you're looking for the most ignorant-sounding, turn-up banger in this LP, "Be" is probably it. "Danny Darling" might got you feeling a bit sentimental; this song adequately removes all of these feelings as soon as it drops. The downbeat string hits have a similar effect as O.T. Genasis' "CoCo," but turned up a couple of notches higher. Although not quite as memorable as the aforementioned track, Danny delivers bars after bars of arrogant, self-glamorizing lyrics fitting to the track's astronomical beat.
Safe
The shortest record on Perception, "Safe" –- which was released back in June – runs less than a minute a half. Paying homage to grime group More Fire Crew by sampling their 2003 track "OI!," the Zach Nahome-produced single -– unlike many other songs from the album — follows a non-trap rhythmic pattern to display a less "Americanized" and perhaps more "UK-sounding" side to Seth.
Remember
This song is another reflective one; the contemplative mood is set with a concoction of hazy synth pads and reverberating vocals. Here, Danny delivers a very personal narrative on having suicidal thoughts during a hopeless part of his life — how God had listened and saved him from it through the loving help of his mother. The "perception" of his transformation is addressed in the song's closing lines: "Everybody say I changed…I don't have a new me they just never knew me."
Yourself / Homecoming
Danny sums up the mood of "Yourself" in his first verse: "Feeling like I'm Kanye after the Graduation"; the beat resembles Kanye West's signature uplifting tracks like "Touch the Sky," "Champion" and "Good Life." It transitions to "Homecoming" after Seth's signature "the British are coming" tag, and transforms the instrumental to a more slowed down, bittersweet and orchestral, almost J.U.S.T.I.C.E. League-esque production — a very suitable temperament to end the project with.
Perception is a mature offering from a young, rising artist who's main mission, and perhaps main obstacle, is to find a sonic bridge between the American and British approach to hip-hop. The production on the album is top-notch. Varying from stripped-down, 808-driven instrumentations to energetic, bass-heavy beats, the sonic direction of the album splendidly supplements Danny's thought-provoking, yet sometimes playful lyrics. While Danny does explore a multitude of complex topics throughout the offering, he does leave some room for opportunity to delve into these subjects more in-depth in his future releases. All in all, this is a strong effort from an artist, who already has become a serious force to be reckoned with.