The Phantom Pen: The Prevalence of Ghostwriting in Rap
Recently, Meek Mill put Drake on blast for hiring a ghostwriter, Quentin Miller, to write his verse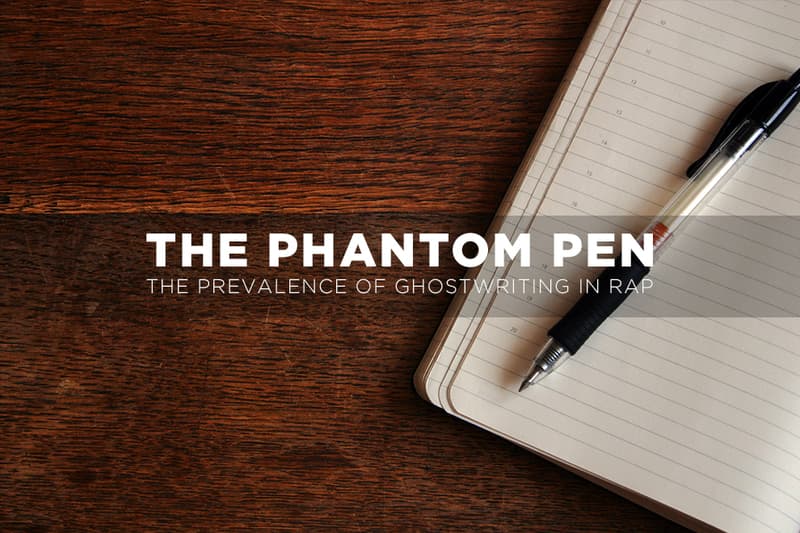 Recently, Meek Mill put Drake on blast for hiring a ghostwriter, Quentin Miller, to write his verse on "R.I.C.O." off Meek's recent album Dreams Are Worth More Than Money. This has caused an uproar on the Internet, any many have been vocalizing their opinion ghostwriting and its validity. Before any conclusion is to be made, let's research into what a ghostwriter really is, and why he or she is needed.
Unless one is an industry plant/puppet whose sole purpose is to generate revenue without the desire to represent any form of artistic authenticity or integrity, very few will hire ghostwriters at the outset of their career. Most artists — especially rappers — take pride in their ability to formulate their own lyrical and stylistic concepts; having a ghostwriter shows their inability in the craft. However, as their careers cultivate and grow, other facets become equally, if not more, important. In order to quantitatively expand in all fields while remaining qualitatively relevant in such a competitive industry, the "art" will need to be run like a business. In the same way to how renowned artists, designers or filmmakers have assistants to help illustrate their vision pixel-by-pixel, or how Internet entrepreneurs need the help of experts in various fields to bring their ideas to reality; successful rappers will eventually need ghostwriters because, no matter how talented he or she is, it is impossible for a single person to continually adapt and prosper in such a fast-paced and unpredictable industry without the help of a capable team. Ultimately, they've been taboo in hip-hop culture, ghostwriters are just as apparent as songwriters, producers, instrumentalists, graphic designers, photographers and others.
Below are a list of prominent artists who are suspected of or revealed to have hired ghostwriters in their work.
Rihanna
In 2011, NPR wrote an article on the amount of money it took to make a Rihanna song. In creation of her album Loud, her label held a writing camp in LA. In the camp, the best songwriters, ghostwriters and producers competed to write the best song in the same way they would in a reality TV show, and Rihanna would show up like a celebrity judge to pick her favorite. The cost of the writing camp, fees for the songwriter, producer, vocal producer, mix and master totaled to $80,000 per song, and the only step that Rihanna participated in was the final selection of the song. When it comes to recent cases, German singer-songwriter Bibi Bourelly disclosed that she wrote "B*tch Better Have My Money."
JAY Z
Although JAY Z is currently known more for his success in the music industry amongst other ventures, he was respected for his lyrical ability as an emcee during his earlier days. Unlike other artists on the list like Dr. Dre and Diddy, both who have never claimed or positioned themselves to be lyrically the greatest, Jigga was regarded for his pen game and was seen as an emcee before a business man, songwriter or mogul. While JAY Z has probably written most of his earlier work and have been a ghostwriter for many other artists, it's been speculated that there's been times where Hov needed some assistance. A notable incident is from Prolyfic, a former producer for Lupe Fiasco, who claims that the Chicago rapper was a ghostwriter for a few of JAY's songs on The Black Album.
Diddy
Of Sean Combs' extensive resume, the least recognizable quality is usually his work as a rapper. Despite the chart dominating performances, it's difficult to beat his entrepreneurial endeavours, as well as his other successes as a record boss and producer. It is well known within the industry that the Bad Boy Records CEO employs many ghostwriters in his lyric writing. Diddy is not afraid to admit to this fact, adding some transparency in his artistic approach. Whether it's the Notorious B.I.G., Pharoahe Monch, Skillz, Royce Da 5'9" or Fabolous, artists see the hefty cheque offered and will gladly offer their penmanship abilities.
Kanye West
When Kanye West first tried his hand at rapping, many doubted his abilities and confined his artistry purely into producing. However, the Chicago-bred musician proved many naysayers wrong with his debut album The College Dropout. Through his now storied and successful career, many continued to doubt West, questioning whether he worked alone or received assistance from his expansive team. A recent fallout lead to a leak of information by West's former collaborator and cousin of hip-hop legend Q-Tip, Consequence, who told the media of his involvement in lyric writing. This claim was further reinforced by West's ex-girlfriend Amber Rose, who alleged that G.O.O.D. Music signee Travi$ Scott helps West regularly in his music-making.
Lil Wayne
Hip-hop fable has it that Lil Wayne had a ghostwriter for all his releases prior to Tha Carter II, an accusation embossed in textbooks by Gillie da Kid through an interview with The Source. Following Tha Carter II, the ongoing rumour is that Wayne recruited a young Canadian talent to succeed Gillie's role, that individual is Drake, who's ironically involved in his own writing-surrogate scandal.
Iggy Azalea
Roughly one year ago, Iggz Azalea was hit with accusations that she uses ghostwriters. During her BET Awards acceptance speech, Nicki Minaj highlighted the fact that she pens her own raps, causing the media world to interpret this as a shot at the Australian artist. While Nicki denied that this was the case, California rapper Skeme stated in an interview on Shade 45′s "Sway in the Morning" radio show, that he was wrote parts of the lyrics in Azalea's smash hit "Fancy."
Will Smith
Will Smith's talent in entertainment is undeniable. However, rumor has it that the lyrics to his '90s hit, "Gettin' Jiggy Wit It," was penned by none other than Nasir Jones. In 2014, Nas debunked the rumor in a Reddit AMA session, "Alright, let's clear this up once and for all. I hung out with Will in the studio. And watched him write it. It was a fun studio session, and I said a line or two or three to him. It wasn't that serious. Will Smith wrote that song. But seriously, I watched him have fun making that record on his own, and Will is a true MC." Ultimately, it's up to you if you're buying the rumor or not.
Nicki Minaj
Iggy Azalea aside, Nicki had her own case of being accused of having other people writing her lyrics. Jersey City rapper Ransom released a song called "Man Alone," in which he states that he's been working with her on more than just a few songs, "Before Nicki was wearing those crazy wigs, I was doing verses for her, just hoping she made it big." To get it straight, Ransom pointed out that the record was not meant to be a diss. The Pink Barbie, however, chose to disagree and blasted him in an interview with TMZ, calling him a "liar, who's f**king desperate."
Dr. Dre
Dr. Dre is perhaps the most infamous for using ghostwriters. Even in his early days in N.W.A, fellow member The D.O.C. wrote lyrics for him while he focused more on the production side of things. In the book How to Rap, Long Beach rapper RBX described Dr. Dre's debut album The Chronic to be a "team effort," revealing that he ghostwrote the album's third track "Let Me Ride." However, Dre does not seem to catch much flak for it; RBX explains that it's because "Dre doesn't profess to be no super-duper rap dude — Dre is a super-duper producer." Additionally, D.R.E. does credit his ghostwriters — although quite ambiguously as all contributors, including featured artists and songwriters, are credited simply as "writers." Known songs with ghostwriters include Kendrick Lamar in "The Recipe," JAY Z in "Still D.R.E.," Eminem in "Forget About D.R.E."