Essentials: Alex James
The man from Publish and PLEASURES let's us take a look at his everyday items.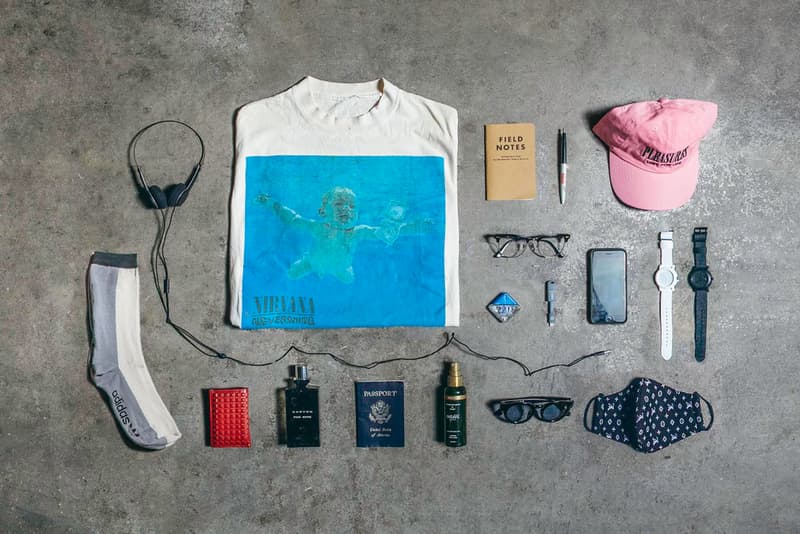 With a passion for vintage sportswear and a keen eye for detail, it's no surprise that Alex James is directly involved with two of California's most exciting young streetwear brands. With his friend and brand founder, Michael Huynh, James has helped to both affirm Publish Brand's status in the realm of streetwear and to broaden the brand's appeal in the world of contemporary fashion. Alongside this established project, the former Brooklynite has also conceptualized his own new street wave label, PLEASURES. "I wanted to teach kids through graphic tees about everything they are on today yet don't know much about", he explains of the brand that draws inspiration from influences such as Kurt Cobain, Morrissey and Mike Kelley.
The vintage connoisseur mixes old favorites, in the form of an original 1991 Nirvana T-shirt, prescription Ray Bans and a Supreme click pen, with new product from Balenciaga, Apple and Timex x Publish wristwatches. A busy lifestyle spent within L.A and further afield is reflected in the presence of James' passport along with purchases from around the world, including some Beams sunglasses from Japan. Alex stays organized with a notepad from Field Notes and fresh with Retaw Fabric Spray and Carven Por Homme. His Essentials is topped off with a PLEASURES sports cap from his own brand.