Raf Simons Shares His Thoughts on the Speed of Fashion
"Everything is done in three weeks, maximum five. You have no incubation time for ideas, and incubation time is very important."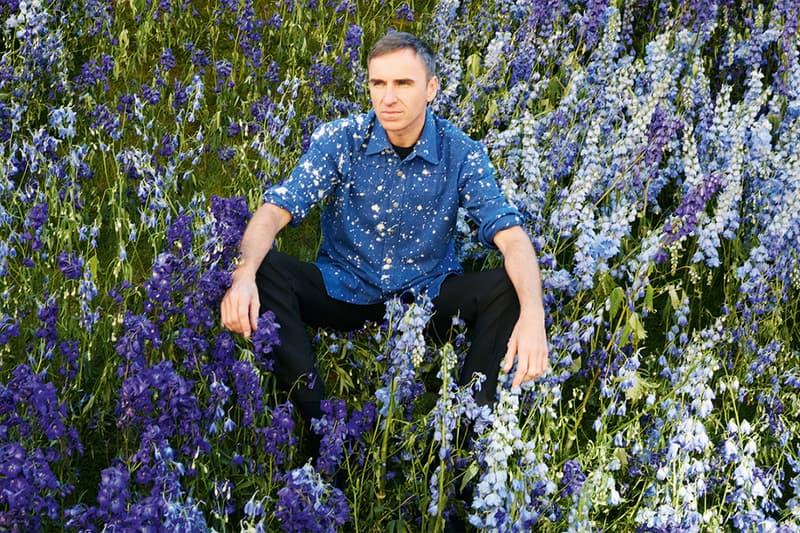 Back in March, Raf Simons agreed to spend the next several months discussing life at Dior with renowned writer and critic Cathy Horyn for System. The resulting conversations — the last of which took place just days ahead of Dior's Spring/Summer 2016 runway show (Simons's final bow for the French luxury label) in October — revealed "the designer coming to terms with the ever-increasing demands of heading up one of fashion's most monumental institutions, and the need to conjure up newness more and more frequently." Days after the show, the iconic Belgian designer stepped down from Dior.
Now, in an exclusive excerpt from Horyn's resulting article, Simons sheds light on the ever-changing "pace of fashion and provides an intimate portrait of a man questioning his situation, his life and his future."
While the opening paragraphs of the excerpt can be read below, the piece appears in its entirety over at Business of Fashion. Horyn's full piece on Simons appears in the Fall/Winter 2015 issue of System.
The day after the Dior Fall ready-to-wear show, Raf and I meet for lunch at a restaurant near Avenue Montaigne. He has had some sleep, but not enough to counteract the pace of the previous few days. The show was held in a modernistic tent in the Cour Carrée of the Louvre, with more than 1,000 guests. The standout was the tailoring, in particular the lean, dropped-shoulder coats, worn at times over boldly printed bodysuits or a minidress. What the collection lacked in classic Dior romance, it made up for in modern ease. And the coats would have no equal during the Fall season.

"You know, we did this collection in three weeks," he tells me, not defending the show but, rather, stating the reality that now faces high-fashion houses. "Tokyo was also done in three weeks. Actually everything is done in three weeks, maximum five. And when I think back to the first couture show for Dior, in July 2012, I was concerned because we only had eight weeks."

He smiles. "And now we never have time like that. And you know? It's clearly possible to do it, if I have my ideas together. The machine is there. Of course, we have to push really hard. It's not like we think the ideas and mushrooms come out of the ground."

Some months ago Raf mentioned that he wanted to create a new studio structure at Dior, so I ask him about that.

"When you do six shows a year, there's not enough time for the whole process," he explains. "Technically, yes — the people who make the samples, do the stitching, they can do it. But you have no incubation time for ideas, and incubation time is very important. When you try an idea, you look at it and think, Hmm, let's put it away for a week and think about it later. But that's never possible when you have only one team working on all the collections."

"Also," he goes on, "what people forget is that when you do a runway show, it eats time away from your schedule. Just the prep time before a show is six or seven days, especially when you are showing abroad."

"So you're constantly creating," I say, "with no time."

"But I have no problem with the continuous creative process," he says. 'Because it's the reason I'm in this world. It's always happening. I just did a show yesterday. Just now, while waiting in the car, I sent four or five ideas to myself by text message, so I don't forget them. They are always coming."

"Like what? Tell me one."

He shrugs. "Stupid things. I was just thinking about this kind of very masculine tailoring you see in the navy. It can be stupid things, like a certain button. But I've been doing this my whole life. The problem is when you have only one design team and six collections, there is no more thinking time. And I don't want to do collections where I'm not thinking. In this system, Pieter [Mulier, Simons' right hand] and I can't sit together and brainstorm — no time. I have a schedule every day that begins at 10 in the morning and runs through the day, and every, every minute is filled. From 10.10am to 10.30am, it's shoes, let's say. From 10.30 to 11.15, it's jewellery. Everything is timed — the whole week. If there's a delay in a meeting, the whole day is fucked up."