Essentials: Mike Dean
Legendary music producer Mike Dean #MWA.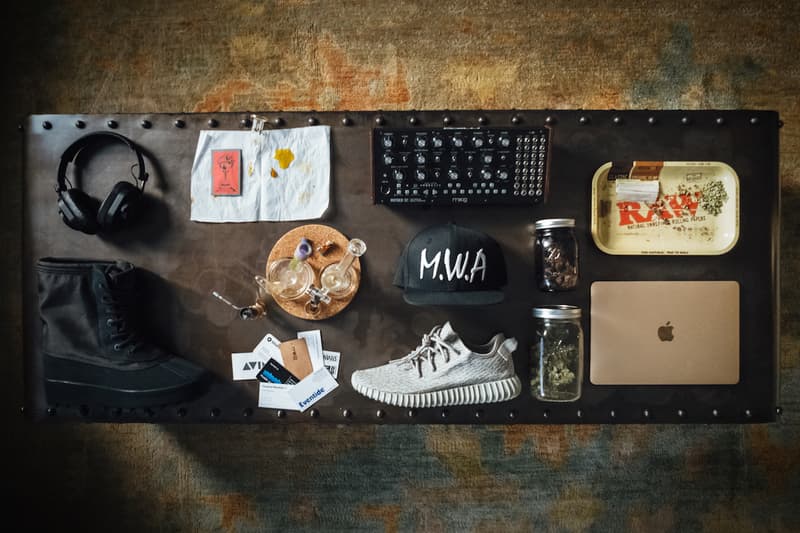 Legendary producer/engineer Mike Dean #MWA is a Grammy Award-winning producer who helped pioneer the Dirty South sound in the '90s. He's played an integral part in the writing, producing and mixing a plethora of multi-platinum records for icons such as the Selena, Tupac, The Geto Boys, Jay Z, UGK and more. Not to mention he's been Kanye's go-to guy from early in his career and worked on the majority of Ye's projects from The College Dropout all the way up to My Beautiful Dark Twisted Fantasy and Yeezus. More recently, he's also put in work on Travis Scott's standout project, Rodeo.
For his Essentials, we get a glimpse into the personal life of the iconic producer who has an affinity for not only good synths but good herbal stimulants. His go-to strain will always be OG Kush preferably from Dr. Green Thumb, while West Coast Cure always provides the best wax in his opinion with the OG Shatter. Also working with Kanye West definitely has its perks as the producer already has an early pair of the coveted Yeezy Boost 350 "Moonrock" editions accompanied by the Yeezy Boost 950s in black. Known for his trademark synths, Mike Dean made sure to include newest toy the Moog Mother 32 synthesizer which can be heard in action on his latest production "Black White Jesus." The MacBook Air and Master & Dynamic MH40 headphones are a necessity when traveling on the road for him, while the Raw Rolling Papers tray is always a must since grinders don't do justice for the herbs. Also can't forget about the various business cards from the homies who keep him laced.
Keep up with Mike Dean #MWA's latest ongoing creations on his official SoundCloud page here.