Kanye West to Soon Release Collaborations with Paul McCartney, Rihanna & Ty Dolla $ign
Right before 2014 ended, Kanye West drops a highly anticipated track with Paul McCartney titled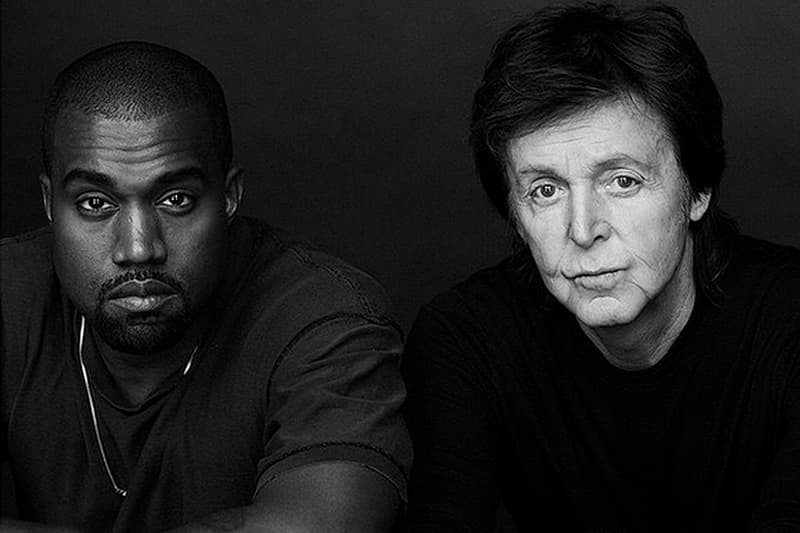 Right before 2014 ended, Kanye West drops a highly anticipated track with Paul McCartney titled "Only One." Fortunately, this is just the beginning of a plethora of collaborations and releases from Yeezy, and in an interview by Billboard with Ty Dolla $ign, it is revealed that Ty recorded 9 songs with West and that there will be another collaboration song with The Beatles legend as well as with Rihanna — some of which will be released on West's upcoming seventh studio album. Read the interview with Ty Dolla $ign below.
How did you end up working with Kanye West?
One day my homie Ricky Anderson [Kanye's cousin] hit me up and was like, 'Kanye wants you to come work with him in Mexico,' so I came out there [and] we did like nine songs in one day; one of them happened to be 'Only One.'

Did you know he was going to drop "Only One" on New Year's Eve, or were you surprised like everybody else?
Nah, they called me before and told me. Atlantic [Records] called and asked me to clear it and everything. I didn't know what song 'Only One' was at first, then the other homie called me and played me the song [to refresh my memory]. It came out, everybody's going crazy. They playing it on the radio, every city, every state, every country, so shit, I'm happy!

How did it feel to wake up and hear your voice on "Only One"?
It's like running track and getting a gold medal. Constant gold medals!

What was the recording process like?
It was like 24 hours, seven songs or nine songs that day. I was like, 'I'm here with Kanye, I'm not gonna waste my time.' They really wanted me to stay for like a week, but I only had like two days, 'cause I was about to start the [Under the Influence of Music] tour.

He was open to my input, like, 'do whatever you want to do. Here's your mic. Do you need anything?' I'm like 'Awesome! Let's get it!'

[We were] in Mexico, at this big house. The back of the house had no walls and no doors; it was just open [and facing] the ocean. You would think he would want the mic enclosed and all that but we just had the doors open, and it came out perfect. That inspired me to record like that at the crib.

Everybody [on his team] is into all the dope shit that's out and they said that my [Beach House] project was one of them.

What did you learn from working with 'Ye?
Just take my time and really examine what's dope and what's not. He reminds me of myself a lot. [He has] all the homies around, everybody being like 'yes' or 'no' [about a song]. Also, be real critical about what you do, [and] not just let anything go out there.

At first, I was wondering what he was gonna' think and all that shit, but I was like 'I'ma just do this like I'm doing it for myself' and everybody fucked with it. I gave that nervous shit up a couple years back and that's when I was able to get it pippin.' At first, I ain't gon' lie, I used to be a little nervous about what people were gon' think about my music but once I let that go, then everything started happening.

What can you tell me about the other songs you worked on with 'Ye?
Me, Rihanna, 'Ye and Paul [Mc Cartney] got a song about to drop as well…

It's featured on 'Ye's album?
Yeah. It's gonna drop soon. I heard they shot the video recently. I don't know what the final title is, but I know it's crazy so just be looking out for [it].

Right now I'm focussing on — since we got all his stuff done — I'm trying to get him on my album [laughs]. I'm just waiting for that date that he's like, "Yeah cool, let's do it." I'm finishing up my album right now, and I definitely want to get that 'Ye joint on there.

Do you know how many of your features made the album's final cut?
I'm not sure which ones are gonna make the final [cut], but there's a couple for sure.
I don't want to talk about his album, I want him to present it how he wants to present it. I wouldn't want nobody talking about my shit either, so I'ma respect that.