The Come Up: Sasha Keable
Sasha Keable began to make waves with both her acclaimed collaborations with DJ Zinc and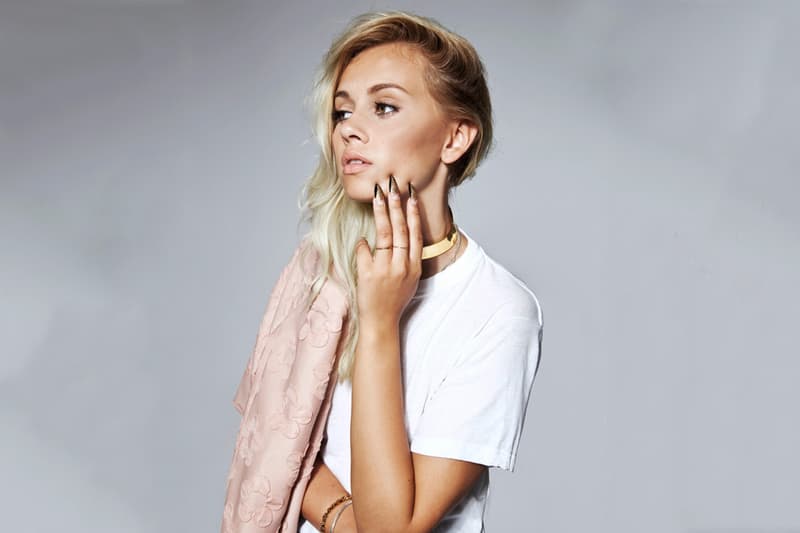 Sasha Keable began to make waves with both her acclaimed collaborations with DJ Zinc and Disclosure, and her debut EP Blackbook. Her newly released Limegrass & Limeleaves project, however, has sent her on a whole new trajectory. While it may seem as if Sasha came out of nowhere in recent months, the talented singer has been working up to this point for years. Since the age of fourteen, Keable has been under the management of Tinie Tempah's Disturbing London label. She spent her high school years focusing on music at the esteemed BRIT School, which has produced many famous musicians including Adele and Amy Winehouse to name a few, and just before her 20th birthday she signed a five-album deal with Polydor. With six years of preparation behind her, Sasha, and a talented cast of producers, are now ready to approach her debut album. We had the opportunity to talk to Keable about the forthcoming album, the vast amount of press she's been seeing over the last couple of months, her new EP and much more. Read the interview below, and get familiar with one of London's brightest young stars.
How's the response been for Limegrass & Limeleaves thus far?
It's been great! I'm really happy. I thought because it was quite from Blackbook it wouldn't get this good of a response. Me being the person I am, I kind of just assumed that only people that downloaded Blackbook were going to download Lemongrass & Limeleaves. The response has been amazing though, and I've had a lot of new people contacting me because of it, letting me know that they love the project and love the vibe of it. It's really good to know because the album is definitely going to be a mix between Lemongrass & Limeleaves and Blackbook.
In addition to the coverage you've been receiving online, we've noticed that you've landed on the pages of quite a few magazines of late. What's it like to get that sort of physical press?
Good! That's probably been the most shocking thing for me, because I feel lucky enough to get onto like one blog, let alone the amount of people that have been blogging about me and have been doing shoots of me and putting me in their magazines. It's crazy, but it's been amazing. It's such a reassuring thing to not just have the general public behind me but also the magazines and blogs. So yeah, I'm really, really happy with that.
So what have you been up to since the release?
I was doing quite a bit of promotion, magazines, interviews and stuff, and then I've been in the studio a lot getting ready to get into album mode. But yeah, I've most been in the studio as well as gaging the response on the project and seeing what songs people liked. I had a headline show. Just standard music life really.
Speaking on the music life, it seems like most artists have that one thing about it that drives them crazy. Do you have one of those things yet?
Yes, I really enjoy shoots to a certain extent, but sometimes I get really self-conscious about my image. Most shoots are really fun, and I'm lucky that all the people I've worked with so far have been really cool, but sometimes I get a little uptight and a little bit self-conscious and it starts to stress me out. That's one of the things I've found so far that makes me feel uncomfortable. Then another thing is probably the typed up interviews, because I constantly have these claw nails and it makes it quite difficult to do anything on a keyboard (laughs).
Talk to us about the upcoming album, unlike Lemongrass & Limeleaves you're looking to use more producers on this one correct?
Yeah, I'm definitely going to be working with a couple of producers, however it's not going to be a large amount. I don't think I would want to work with more than like four producers. I guess that still may seem like a lot. I want someone to kind of manage the whole project with me, so it all sonically works together. It's going to be a very good mix of Blackbook and Lemongrass & Limeleaves. I want the bulk of the album to be more R&B and hip hop based, but the singles will probably be a bit more, dare I say it, commercial. I'm not going to write songs saying "this is going to be commercial," but I'm going to make things a little more relatable I guess. Some of my music can be a bit self-indulgent, not because I'm self-indulgent, but because writing has always been a therapy kind of thing for me. It's always been my way to get out my emotions, but I know some people not might relate to some of the situations I've been in, and that I sometimes choose melodies because I really like that melody and I don't really consult anyone else about it. Overall the album is going to be a big cluster of different sounds and different influences, I haven't stuck myself to one genre and I don't intend to anytime soon. So yeah, that's pretty much the album's vibe right now.
Can you talk to us about who you have been working on it with?
I've been working on it with a guy named Orla and Bipolar Sunshine, who I'm currently in the studio with right now, and also Dev Hynes, Cinematic, All About She and a few others. It's still in the very early stages so I may end up working with a few additional people as well.
You're a fan so many different genres, talk to us about your music taste and what you're listening to now.
I've listened to every genre under the bloody sun, and have been a big fan of most of them at some point in time. I was brought up on hip hop, my dad was a massive hip hop head, and my mom was very much into heavy metal. Apart from that, I got into more like Stevie Wonder and Marvin Gaye-types, and then as I got older my sister introduced me to R&B and I started to listen to loads of R&B, loads of Lauryn Hill, Ashanti, Brandy and whoever else you could name between the years of 2000 and 2005. Then I got really into heavy metal again as I got older, which is weird to think about now. Indie bands as well, I got really into Mumford & Sons when they first came out, The Kooks as many people my age in South London did. Now, I just listen to so much. Honestly I couldn't tell you I'm listening to now. Right now at this moment time, my favorite tune, which will probably change tomorrow, is Bondax "Giving It All." Yesterday my favorite was Tinashe "2 On." A lot of people are like "I don't listen to popular music," but I love that too. I literally loved Justin Bieber's latest album, it was my guilty pleasure. My favorite band ever, ever is Little Dragon. But yeah, it's just all over the place.
It's amazing what growing up with the internet can do in terms of allowing access to so many different styles of music.
Yeah! You know what's so weird? We were literally just talking about that. Me, Bipolar Sunshine and Orla had that conversation today. Like why would an artist stick to one genre these days when people are listening to everything? If you can execute multiple genres in a good way, then what is the point to sticking to just one.
What has been your career highlight thus far?
My show last week was a big highlight for me. It was the first time it actually sunk it that people had bought tickets to see me. That was a pretty big moment for me, but when it sunk in I was like "Sh*t, I need to give these people the performance of their lives and I really need to deliver." It was good moment where I got to release that people really liked my music, and then a part of that playing and Alexandra Palace with Disclosure and seeing what they have achieved was amazing. Working in New York with Dev Hynes, since I've been such a big fan of his for years, was a highlight as well.
Speaking of New York, you've mentioned you'd like to move there before, do you have any plans to do any shows out there?
As soon as I can possibly do a show out there I will literally be there in a blink of an eye. Honestly, as soon as it gets mentioned I'm booking flights! I love New York almost as much as I love London which is saying a lot.
What has you most excited going forward?
Probably releasing the album. Seeing what that sound is going to be like really is such an intriguing thing to me. It's like being pregnant and thinking about what your baby is going to look like. I'm so excited to hear what the whole body of work is going to sound like. Then in the present, festival season is going to be f*cking awesome! I'll be at Wireless, and then quite a few festivals with Disclosure so it's going to be a big party.
The Come Up is our new series where we speak to some of the music industry's most amazing and promising rising new talents.