Marwood 2012 Spring/Summer "Camouflage Clouds" Collection
A relatively unknown necktie label, Marwood introduces a delicate and intricately crafted line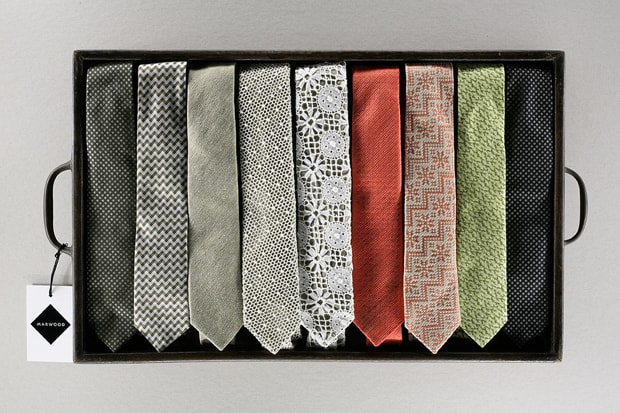 A relatively unknown necktie label, Marwood introduces a delicate and intricately crafted line in a preview of its Spring/Summer 2012 collection. Drawing reference to the likes of photographer William Eggleston and paintings from Peter Doig, the brand's focus has been to create high-quality artisanal ties with the utmost in quality and tradition. With female sensibilities thanks to founder Becky French, the use of lace is a notable inclusion that creates some great details throughout the range. Several questions and answers from Style Salvage can be seen below.

SS: From your ever fascinating blog, Sketchbook, I can see that SS12 was influenced by the photography of William Eggleston and painting of Peter Doig. Firstly what drew you to their work and secondly. How did their work influence the collection?
Becky French: I love William Eggleston's work and in both collections I have used quite luminous, citrus shades as highlights to the palette which are influenced by Eggleston. His ability to make such ordinary subjects so beautiful and unusual looking is very appealing to me. As for Peter Doig's painting I have a book of his work but missed the Tate exhibition a few years ago – this painting of Lapeyrouse Wall felt like the right mood for the summer collection as well as an inspiring colour balance. At first I thought it was a scene from a British seaside (just hopeful) but then discovered it is a poignant location in the artist's current homeland, Trinidad.
SS: Describe Camouflage Clouds in your own words? The offering itself has grown tremendously, could you introduce us to a few of the new arrivals?
Becky French: This is a brighter and more playful collection enjoying the use of colour but still keeping to the Marwood signature of matt finished textures and patterns. Saying that, the solid vivid orange tie uses the back side of the cloth as it was more interesting to me and the silk yarns looped on the back were so much more vibrant than the wool. I avoid a shiny finish on ties but if the texture still creates an unusual surface then it can pass! New pieces are the geometric lace from AW11 in an updated off-white laid over shades of cloud blue and sand and the fragile lace bow tie is updated with a pleated technique. A favourite new fabric is called 'denim silk' in blue and sand colour… it looks like a casual tie and almost feels like jersey but is 100% silk.
SS: You've previously conceded that one of the highlights of starting Marwood has been the exploration of one product and delving in to the details of this accessory and learning about its components, its uses and its meanings. What have you learned thus far?
Becky French: I have learnt so much over the last ten months and particularly enjoyed learning how complicated the tie making process is. People are often surprised to learn than 1 meter of silk only produces two ties. It is an accessory that is worn for purely aesthetic reasons yet it is a functional, thoughtful and considered process which creates each tie. I have recently been shown a particular knot finish that an Italian factory have started using in order to avoid being copied in the Far East… they are trying to hold on to their craft and the reputation for hand made products.