A Conversation with Ian Paley of Garbstore
With an extensive knowledge of the industry and a background in design, it's no wonder that Ian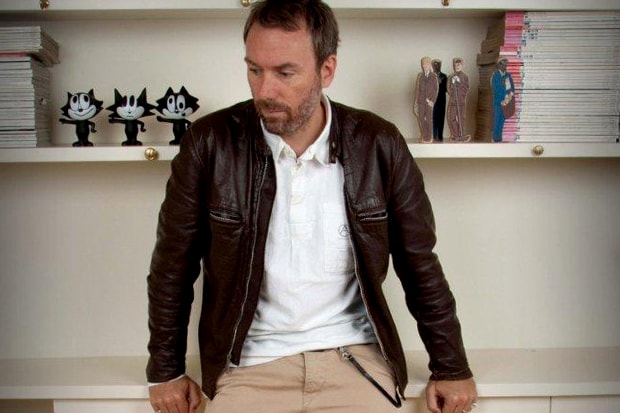 With an extensive knowledge of the industry and a background in design, it's no wonder that Ian Paley has repeatedly been given accolade for his UK-based menswear brand Garbstore. Focusing on heritage styles that are produced in Asia from some of the highest quality materials, the label is able to manufacture garments that are unparalleled in craftsmanship. We caught up with Paley at (capsule) New York to discuss the brand and talk about the upcoming collection.
Tell us a little about the collection for Spring/Summer 2012. What was the basis behind it?
The title of the SS12 line is "FOE workers," which means one of several things to us: FOE ("French or English"), FOE ("Friend or Enemy"), or FOE ("Faux") meaning false workers. These three concepts pretty much rule our constant ideas – the old rivalry between the English and the French, the similar tastes in workwear and historical garments, the idea that things can be faked, and that people don't always get along. This collection of garments references all of these points in a way that is seemingly hidden but means something personal to us.
The entire premise of the Garbstore collections are, essentially, to take old heritage products and reproduce them. How do you manage to find the right balance between retaining the authenticity of these garments while also finding ways to update them for the modern customer?
I think the main point of difference is that we don't do reproduction, we do imagined reproduction – garments that could have existed or have been adopted and altered to create a new idea. Most of our ideas come from text, phrases, lyrics – we try to create the feeling and the environment first, and then imagine what the clothes of that era would be like, referencing original style, trims and fabrics. We reproduce the elements but the final idea is new.
Unlike some brands that commonly overlook the presentation of their collections, Garbstore has found a way to set itself apart from other retailers by releasing some very unique and creative lookbooks. How did the idea come about to place more focus on this particular element?
I think that it comes from us being free enough to be spontaneous with this part of what we do. It's never really planned that well in advance and I often tend to wait until we actually have the product out in order to feel the mood of how that book should be so that we don't guess too far in advance.
Although the label is well-known for its Japanese-produced products, for the Fall/Winter 2011 collection Garbstore relied heavily on domestic manufacturers. Why did you decide to do this and what kind of response did you receive from loyal followers of the brand?
I always keep our manufacturing doctrine simple: we make in the place that will benefit the garment most. Over the years we've made a lot of goods on our doorstep, we just haven't felt the need to shout about it as that is what your brand can quickly become about. Soon the clothes have become secondary and the dumbing down of your idea really shows in what can become horrifically basic items. For us it's just about going wherever we need to go in order to remove the limitations of developing our ideas in full. It's funny, we actually see no difference in reaction from our customers to goods that we make here in the UK.
Although most people tend to assume (mistakenly) that producing a product overseas has a negative impact on its quality, there are plenty of factories located abroad with far more advanced technologies than ones in the U.S. or the UK. How are these newer, more sophisticated technologies affecting the garment industry in terms of high-tech fabrics and materials and what impact do they have on your design philosophy?
It's really having a huge impact for the bigger ideas. For example, we just came back from Berlin where we showed SS12 and in a room of 70 brands. Not a single one of them is using or even has access to the more cutting edge technologies that should move us away from the heritage trend. It was all 100% cotton all the way. It's not such a bad thing, but the mix required to push the market forward at the moment is limited to larger companies who can afford to shoehorn niche development lines onto the back of some pretty large mid-market production. I hope that, somehow, the smaller facilities will offer smaller brands an opportunity to grow their knowledge base as this would make for a pretty exciting time ahead.
What plans are in store for the brand over the coming months?
It's time for heads down. Our plans aren't grand; just to get on with what we do is enough for us.