Lexdray "Classified" Collection
Lexdray is a new bag company founded on four core principles: function, style, quality, and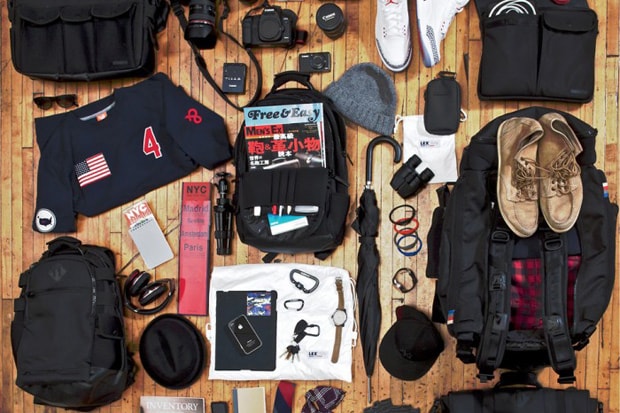 Lexdray is a new bag company founded on four core principles: function, style, quality, and innovation. Their bags are all high function, high quality products designed with purpose and intention. Lexdray's debut collection called "Classified Collection" is inspired by concepts of utility and exploration. Each bag features tactical secret pockets and concealed details. From the Stockholm Brief to the Manhattan Messenger, each design is understated on the outside, yet always technically and uniquely sophisticated on the inside. Take a look into several bags below, with availability now through Union Los Angeles.
An interview with Lexdray founder Alex Drayer can be seen below.

What was the catalyst for starting Lexdray?
I guess the real catalyst for Lexdray was my looking for a way to creatively express myself. I've always had a passion for functional high quality products (which often tend to be from Japanese brands), and I've always been interested in both fashion and street culture. Having moved to NYC six years ago and met my wife, who is also a designer, I've been fortunate enough to identify an attainable way to communicate my creativity, while hopefully developing a successful brand in the process.
Do you have a design background?
I didn't attend design school nor do I have any formal design training. I do however have a solid eye for color, fabrics and construction techniques. I'm also well versed in most of the common design programs, which has proven useful in the bag design process.
What sort of limitations were you finding with the current crop of bags?
I've collected bags for a long time. My ideal bag is functional, stylish, lightweight, made of high quality fabrics and hardware, pays total attention to detail, has multiple pockets to stash my gear, offers protection and ergonomic comfort where necessary and is constructed to last for the long haul. My ideal bag is also produced in limited edition, as I prefer some level of exclusivity and individuality in the brands I wear. I can name only two or three companies out there that truly meet these exacting requirements, and even fewer whose primary distribution is the US.
You have a lot of staple bags in your roster, but some new upcoming ones are on the horizon for 2012 that tackle various issues. Where do you go about finding problems that can be solved via bag design?
As a new brand, I decided to launch with staple bags like backpacks, a briefcase, a messenger and a duffel bag in an effort to reach a wider audience. I do however believe in a bag for every purpose. Your gym bag doesn't require the same features as your weekend bag, and your everyday messenger bag should function differently from a diaper bag. I am constantly trying to think of unique styles to enhance user experience.
One innovative bag set to release soon is our London Garment which can be viewed on the website. When I go away for a weekend, I hate to unpack and re-pack two days later, so I designed a unique shelving system allowing you to just hang your garment bag up in the closet, un-snap the shelves, and walk away. I am also currently working on an Ipad2 Case, Hiking Pack and potential collaboration Camera Sling and DJ Bag.
When designing a bag for a larger market, how do you balance your own needs with the general needs of the user group?
Usually my artist and I that take the initial idea for a bag and put it on paper. We think about every possible item that someone might carry in the bag and ultimately create pockets and measurements based on those objects. Once a sample is received, I use the bag for a while and lend it out for usage to a few people whose opinion I trust. Changes and upgrades are made until the bag reaches its ultimate form.
What has been the hardest part about starting Lexdray?
The most difficult part that immediately comes to mind is finding a reliable manufacturing partner who understands how much effort is necessary from both ends for a project like this to be successful. If they are able to see your vision, they can more easily recognize the promise of the relationship.
Originally I wanted to make my product in the US. I quickly found out that my product is considered extremely labor intensive and not commonly produced in US based factories for a variety of reasons; cost, skill required from sewers, machines needed, etc.
What made things even tougher is I wanted to put out a high quality product at a cost conscious price, but making things overseas I had to deal with substantial minimums on fabrics, hardware and overall number of bags per style. In addition, I wanted a factory to take the time required to make a sample of my vision, but factories only want to make samples for companies likely to place a large bulk order, which is difficult for a new brand.
I've come to recognize the manufacturing side of any fashion brand is no simple process, even if you make things in-house. You are depending on a lot of pieces to come together in a timely manner. I had actually intended on launching Lexdray last Fall but because I was unsatisfied with the product quality from my original factory, I postponed the launch until I knew I was putting out a premium product. The good news is the second time around is always substantially easier.