Nike Stadiums: Team GIRA Pre-Marathon Interview
This past weekend, Jun Takahashi's Team GIRA ran and took part in the Honolulu Marathon 2011. Prior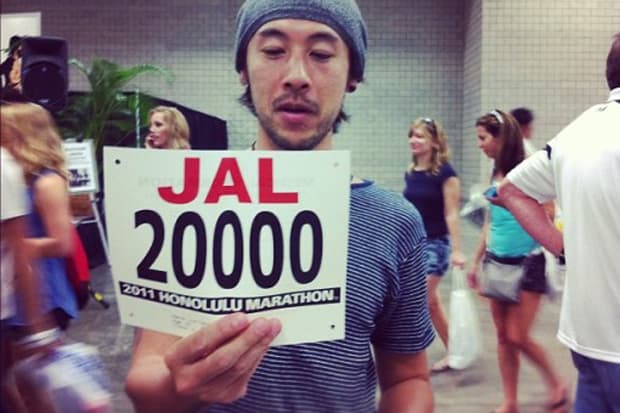 This past weekend, Jun Takahashi's Team GIRA ran and took part in the Honolulu Marathon 2011. Prior to the run, Frank Liew sat down with Takahashi and fellow member Yasu for an interview on their thoughts prior to the race which was surprisingly laid back and carefree. One reoccurring theme is the importance of Coke at several parts of the race. Congratulations to the whole crew as well as Leilow's Jules Gayton.
An excerpt is seen below and you can read the full interview here.
What's going through your head?
J: I'm thinking about absolutely… nothing. Just a little nervous I guess.
Is it ok to be nervous before a marathon, even if you've done one before?
J: Well, yeah. The second time is a little more special for us. It's different. The first time was just to enjoy the run and the atmosphere without much pressure.
Y: There really wasn't any feeling for the first one…
J: The second one is always a little difficult. We know the course, weather, conditions this time around…
So you know the details of the course.
Y: Yeah, we're educated about it now, I think.
J: So we know how difficult it is to run it; it makes you think a lot more.
If it's so nervous, why did you even choose to start running?
J: We dunno why. Nobody really knows?
Y: Just do it? (laughs)
J: I suppose it was to keep healthy.
Y: I watched the Terminator 2.
Did you have any aspiration to run a marathon when you started running?
J: Maybe after a year, yeah.
Y: And after one year, I just decided I was gonna try to do a full marathon. Just wanted to give it a go.
J: It also sounded like a good excuse to go to Hawaii.
What is the GIRA spirit?
J: Being GIRA means you want to drink Coca Cola after 30km in a 42km race, if that makes sense.