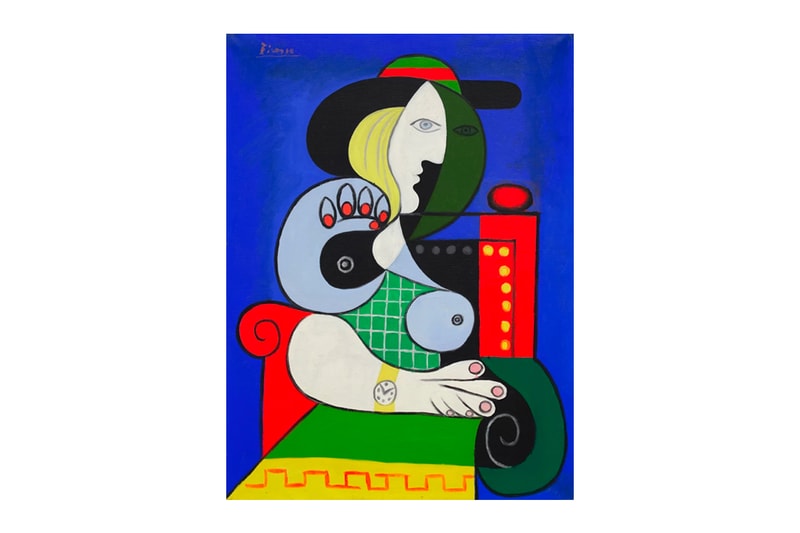 Picasso's 'Femme à la Montre' Painting Expected to Fetch $120 Million USD at Auction
Depicting his longtime muse, Marie-Thérèse Walter.
---
Pablo Picasso's 1934 oil painting, Femme à la montre, is expected to fetch around $120m USD when it hits auction this fall.
Painted during the height of his iconoclastic career, Femme à la montre is inspired by Picasso's longtime muse, Marie-Thérèse Walter, a French model he had an affair with from 1927 to 1935. During that period, Picasso was still married to his first wife, Olga Khokhlova, a Russian-Ukranian dancer. He ultimately wasn't able to keep the secret of his affair, emblematic of Walter's influence on many of his works, ultimately ending his first marriage and simultaneously coinciding with Picasso's first retrospective exhibition at the Galerie Georges Petit in Paris.
"Picasso's 'Femme à la Montre' is a masterpiece by every measure," noted Julian Dawes, Sotheby's head of Impressionist & Modern Art for the Americas. Painted in 1932, the artwork exemplifies a "sense of release from keeping secrets about his affair seem to have spilled out onto this extraordinary canvas, in which he gives full painterly rein to new-found freedoms, drenching the painting in strong primary colors and beautiful forms, while at the same time paying careful attention to every small detail, creating a composition that is both intensely complex and deeply harmonious."
Hosted by Sotheby's New York, the artwork will be part of a larger sale featuring the collection of world-renowned art collector and philanthropist, Emily Fisher Landau, which will also include Pink Tulip (1926) by Georgia O'Keeffe, Ed Ruscha's Securing the Last Letter (1964), and Triumph Over Mastery II (1987) by Mark Tansey. "The Emily Fisher Landau Collection: An Era Defined" evening auction will take place at Sotheby's New York from November 8 to 9.
In related news, the Reina Sofia will now allow photos of Picasso's Guernica painting.