5 Big Menswear Trends From New York Fashion Week SS24
Here's what American designers forecast for men's style next season.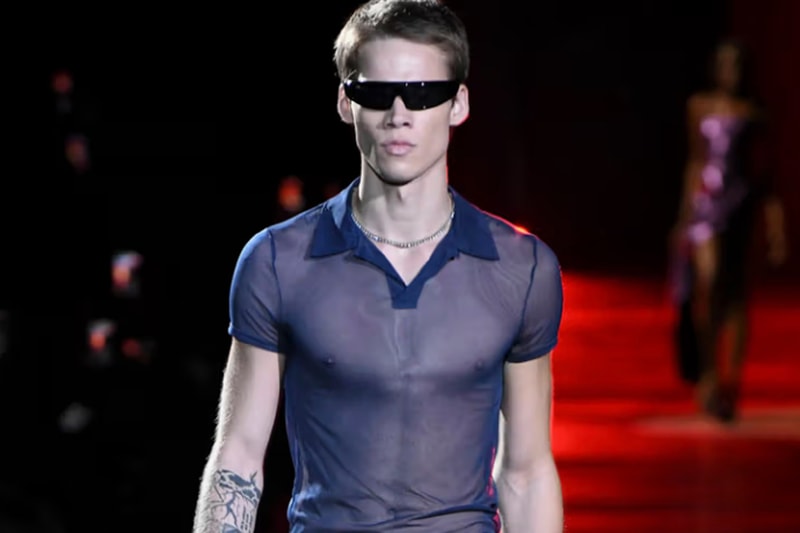 New York Fashion Week's Spring/Summer 2024 shows have officially concluded, and globe-trotting glitterati are already taking their seats in London for the English fashion capital's next-season debuts. With shows from over 70 designers, spanning stalwarts Michael Kors, Collina Strada, Coach, Gabriela Hearst and Jason Wu to newer names like Advisry, Sho Konishi, Chan Chit Lo and Grace Ling, New York's tailored-and-tucked week had much to say about the future of fashion trends.
This season, New York designers were eager to rewrite the codes. Many, including COS and Willy Chavarria, ditched the quiet-luxury trope for styles that were (at least a little) louder, while others, like Dion Lee and Private Policy made a strong case for sophisticated workwear. Brands like LaQuan Smith and Palomo Spain primed the see-through shirt to be next season's coveted item, and labels including AKNVAS and LUAR were more drawn to the short-short. All the while, more names, such as Tanner Fletcher and Advisry, put kingly formalwear front and center.
Below, Hypebeast rounded up five of the biggest menswear trends from New York Fashion Week SS24.
Loud(er) Luxury
As the industry's grown tired of the quiet-luxury plague, it looks as though many designers are pining for the return of loud(er) fashion. COS, a brand known for its refined signatures, played up its logo-less and print-removed designs with bolder silhouettes and flashier textiles. Among them, a columnar, dark-green overcoat consumed its wearer's formal underlayers with its colossal, head-turning facade, and a pair of shiny, gold dress pants added an opulent flair to an otherwise incognito look.
Other designers, too, looked to make more noise with their designs. Willy Chavarria did so by including massive roses on the lapels of his oversized suits and pairing glittering pants with pared-back graphic T-shirts. Teddy Vonranson also leaned into fun fashion, with a topcoat that was decorated with abstract artwork inspired by that of Henri Matisse. Fforme, in its New York Fashion Week debut, abandoned the hushed aesthetic in certain looks as well. Most notably, in Look 19 of its SS24 collection, the label put forth a metallic jacket and shorts set that was arguably the line's hero.
Of course, there was a sea of designers who put forth their usual extravagant wares (think Wiederhoeft, Collina Strada and the like), but it was comforting to witness a shift away from the fun-sucking styles that have dominated the industry as of late.
The See-Through Shirt
Sheer fabrics were all over New York Fashion Week's SS24 runways, but in menswear, the transparent finish was most often found in shirting. Take LaQuan Smith's collection, for instance. The designer, who is still cultivating his men's fashion identity, only exhibited a handful of masculine pieces. Among them, though, the priority was showing skin: a dark-blue polo left its model's body on full display, as did a light-blue turtleneck and a black-hued mock neck. Each piece remained tasteful, in tandem with pants and jackets that offered more coverage.
Palomo Spain also embraced the see-through look. The line's lace-laden button-down shirts offered a peek at what was under them, while decadent, detailed tops were more unapologetic in their approach to showing off. Corset-like iterations, decorated with floral embroidery, offered a romantic take on the trend that was intensified against the sultry backdrop of The Plaza Hotel. Elsewhere, Eckhaus Latta opted for sheerness in a number of looks, including a torso-bearing top, modeled by Jacob Bixenman, and button-down shirts featuring a mix of transparent and opaque sections.
Sophisticated Workwear
Workwear is always a concrete pillar in menswear, but this season's collections offered an elevated interpretation of what that means. Dion Lee, to start, relished in construction and utility: wrenches appeared on corsetry, tool belts were pasted on boots, multi-pocketed denim trousers were finished with a luxurious shine and scaffold-inspired jewelry referenced orange-coned job sites. Similarly, Who Decides War put utilitarianism in the fore, with jackets fronting massive pockets, trousers with storage units running down either leg and button-up shirts with tool-holders of all shapes and sizes.
LUAR toyed with the concept of workwear through subversive takes on office wares, which included logo-strapped ties tucked into formal dress pants and high-shouldered, collared shirts with crystal armbands. Private Policy also did this, with a selection of function-first silhouettes: topcoats with lunchbag-sized pockets, shirts with multiple pull tabs and hooks, vests with zippered pouches and denim with more compartments than one could imagine.
The Short-Short
Many designers gravitated toward exaggeration in their design codes; and across the menswear board, this sentiment was most felt via the sky-high hemline on shorts. Built for the warmer months, the man's short-short became a notable mainstay on several runways, including those of AKNVAS, LaQuan Smith, Gypsy Sport and LUAR.
AKNVAS introduced a sea of high-cut shorts in a variety of textiles and tones. A red leather iteration resided underneath an explosive purple top; while a cotton version in the same hue commanded attention under a swan-embossed long sleeve. Down the line, lack leather short-shorts bolstered an acid-wash denim jacket and a pinstripe button-down in blue, while a metallic silver pair dressed-down a top-buttoned black blazer.
On LaQuan Smith's runway, the small pants were made in denim (and paired with his aforementioned sheer polo); on Gypsy Sport's island-like catwalk, they were black and styled with a beaded blazer. LUAR, meanwhile, contributed to the thigh-bearing trend with both plaid versions and fur-lined sweat-shorts.
Regal Formalwear
This New York Fashion Week, there was an army of formalwear that appeared fit for the palace. Advisry's kingly offering included a bevy of tweed suits that were crafted in several colorways with gold buttons and charmingly, pumped-up shoulders. Palomo Spain, in all its genderless glory, took this up a notch, with corsets-turned-shirts that were finished with feathered headpieces, cropped blazers that appeared over lace shirts and floral-embossed jackets that paired seamlessly with a matching skirt.
Tanner Fletcher made references to decades past with a series of crown-worthy pieces. Case in point: the label's suede green suit featured shiny lapels that made way for a free-flowing sheer tie; its all-white ensemble hosted a garden of purple flowers all around its arms and legs, and a shiny, sequined iteration adopted a floral graphic that was complemented by gold buttons. Collina Strada, as well, put forward some silky, lace-covered suiting that was complete with a fluffy train following behind.
See all of Hypebeast's New York Fashion Week coverage.