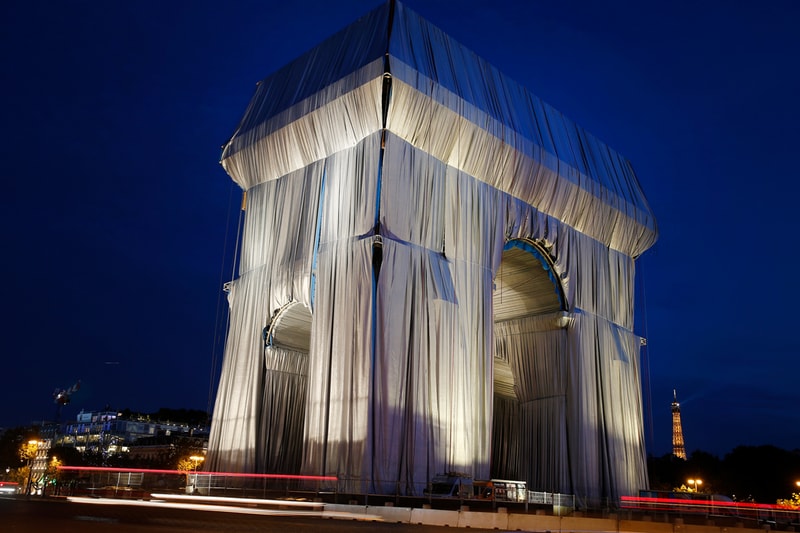 Christo and Jeanne-Claude's 'L'Arc de Triomphe Wrapped' Will Be Recycled for 2024 Paris Olympics
"This is a very fine example of the art world's ability to adapt to climate challenges."
---
Paris mayor Anne Hidalgo announced that the city will recycle materials used in Christo and Jeanne-Claude's L'Arc de Triomphe Wrapped (1961-2021) for the upcoming 2024 Olympic Games next summer.
The initiative is in collaboration with Parley for the Oceans, who will repurpose the roughly 269,098 square feet of aluminum-coated blue polypropylene fabric and 9,843 feet of red rope needed to create the colossal piece for "shade structures, tents or barnums," according to Hidalgo. "This is a very fine example of the art world's ability to adapt to climate challenges," she added.
Christo and Jeanne-Claude's artwork was often created with the intention for reuse. The Floating Piers (2014-2016) structure they created over Lake Iseo in Italy, was eventually recycled by German company Al-tex, who repurposed the material into needle felt and horse riding rings. Similarly, the wood and steel from their magnus opus, L'Arc de Triomphe Wrapped (1961-2021), has already been reused by Les Charpentiers de Paris, ArcelorMittal, and Derichebourg Environnement.
Speaking on the latter work, Cyrill Gutsch, founder and chief executive of Parley for the Oceans, hailed L'Arc de Triomphe Wrapped (1961-2021) as a testament to "a new economy where harmful, toxic and exploitative business practices are a relic of the past."
Christo and Jeanne-Claude's studio is currently at work to posthumously create The Mastaba, an artwork first envisioned in 1977, which will eventually go on view in Abu Dhabi. When completed, it will be "the largest contemporary sculpture (in volume) in the world," according to a statement by the studio.
Also in Paris, Inès Longevial will unveil a new solo exhibition and Rizzoli monograph.