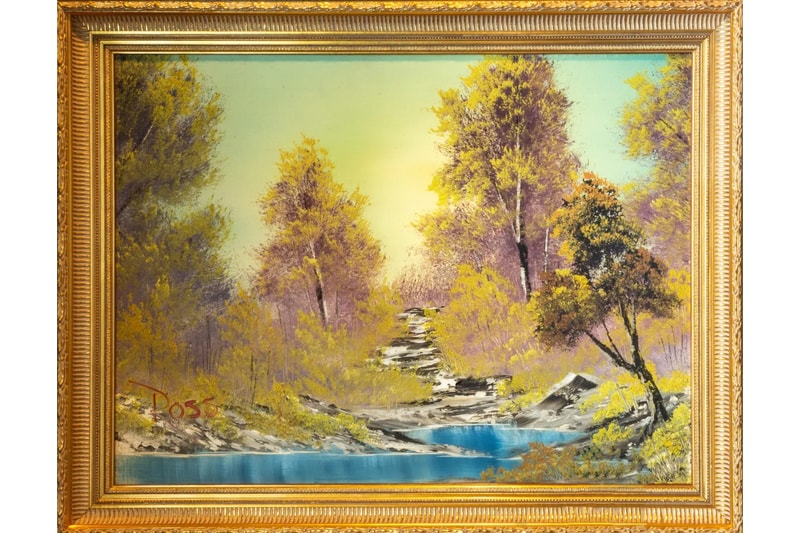 Bob Ross's First TV Painting Is Selling for $10 Million USD
'The Joy of Painting' can be yours for a mere eight figures.
---
Bob Ross fans will now have a chance to own the artist's first-ever on-air TV painting for just under $10 million USD. The painting, which he completed in the first episode of his landmark television show, The Joy of Painting, has officially come to the market.
Titled, A Walk in the Woods (1983), Art News has reported that Minneapolis, Minnesota-based gallery Modern Artifact is selling the canvas for a price of $9.85 million USD. With the pure belief that some memories are just priceless, the gallery is hoping that fans will share the same notion when they understand the price of the painting. Knowing that the price is outlandish, the gallery says it will still be entertaining offers, though "they would prefer to share it with a museum or traveling exhibit to allow as many people as possible to view such an exciting work of art."
The gallery has plans to take the painting on a tour. Gallery owner Ryan Nelson said in a written statement regarding Ross's reputation in art and cultural history, "Bob Ross has surpassed Andy Warhol and Pablo Picasso as the internet's most searched for artist according to data from Google Analytics. It's an incredibly impressive feat, especially considering that there is virtually no official marketing, and his original paintings are nearly impossible to find." The popularity of Bob Ross has transcended geneartions. When Twitch held a Bob Ross marathon, streaming 403 episodes of the show in 2015, the platform claimed that 5.6 million unique viewers tuned in. Now, there is a Netflix documentary, Bob Ross: Happy Accidents, as well as an Ross-inspired Owen Wilson film, Paint.
The painting for sale is just one of 30,000 paintings Ross has created in his lifetime, creating over 1,000 of them for the TV show. Nelson added, "The appeal of Bob Ross has extended far beyond the traditional art market and into the world of pop culture. The Bob Ross hype is a rare glimmer of authenticity in a fine art market that is often tightly controlled and highly manipulated."
In other art news, Stone Island and Frieze have announced a multi-year global partnership.