Best New Tracks: Nicki Minaj, Lil Wayne, Doja Cat and More
Enjoy the weekend with these 10 music projects.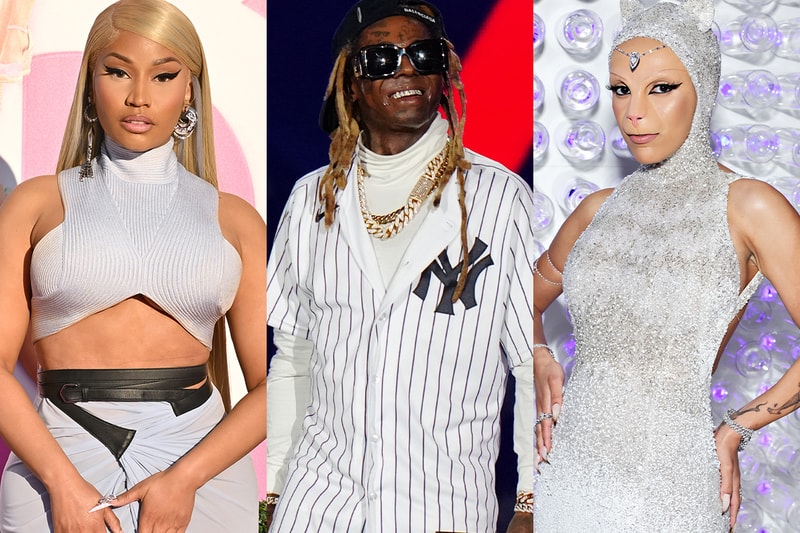 As the week in music comes to a close, Hypebeast has rounded up the best projects for the latest installment of Best New Tracks.
This week's lineup is led by Nicki Minaj, Lil Wayne and Doja Cat, who each released the singles "Last Time I Saw You," "Kat Food" and "Demons," respectively. Also joining this selection are offerings from Slowdive, ((( O ))) EarthGang and midwxst, as well as collaborations from the revered trio of Timbaland, Justin Timberlake and Nelly Furtado, Blxst with Bino Rideaux and Queen Naija with NBA YoungBoy.
Nicki Minaj – "Last Time I Saw You"
After dropping her latest single as a TikTok exclusive, Nicki Minaj officially releases"Last Time I Saw You" on streaming services. The cut is produced by ATL Jacob, TooDope!, Hendrix Smoke, Alex Bak and Frankie Bash and hears Minaj deliver a slower, more melodic track
Listen: Spotify | Apple Music
Lil Wayne – "Kat Food"
Lil Wayne surprises fans with his new track "Kat Food" as it was announced that he will be performing at the 2023 MTV VMA Awards, where he received a nomination in "Best Hip-Hop" for "Kant Nobody" featuring Swizz Beatz and DMX.
Listen: Spotify | Apple Music
Doja Cat – "Demons"
Doja Cat continues the rollout for her upcoming album Scarlet with the new track, "Demons." Its accompanying music video is helmed by Christian Breslauer and features a special cameo from none other than Christina Ricci.
Listen: Spotify | Apple Music
Timbaland x Justin Timberlake x Nelly Furtado – "Keep Going Up"
Timbaland, Justin Timberlake and Nelly Furtado — the musical trio that made the biggest hits of the 2000s and 2010s — reunite for their newest collaboration, "Keep Going Up." This also marks Timbaland's first official solo single in over eight years.
Listen: Spotify | Apple Music
Slowdive - everything is alive
Slowdive delivers their latest album everything is alive, which they describe as a "more minimal electronic record." Neil states, "As a band, when we're all happy with it, that tends to be the stronger material. We've always come from slightly different directions, and the best bits are where we all meet in the middle." Rachel Goswell adds, "Slowdive is very much the sum of its parts. Something unquantifiable happens when the five of us come together in a room."
Listen: Spotify | Apple Music
Blxst x Bino Rideaux - Sixtape 3
Blxst and Bino Rideaux reunite for Sixtape 3, the third installment in their celebrated mixtape series. "You can expect the traditional essence and sonics you would anticipate from the Sixtape series. The sounds that come from the heart of LA," Blxst shares in a statement, with Bino adding, "Sixtape 3 should bring you a true Los Angeles experience…no gimmicks and no reaches, just pure intention and vibes."
Listen: Spotify | Apple Music
EarthGang – "Die Today"
EarthGang drop off their latest cut "Die Today," which arrives with an accompanying visual featuring Denzel Curry, Noah Centineo and Marian Mereba. The single marks the first track via the duo's newest partnership with UnitedMasters. "United Masters is the future. Their approach to success and achievement in both art and business is empowering. I'm proud to partner with a company that follows such a sustainable philosophy for working in this industry," WowGr8 says in a statement. Olu adds, "It's another perfect partnership for artists like us. We feed our Fanbase directly, we receive our fair share of profits. The power is back in the hands of the creatives."
Listen: Spotify | Apple Music
midwxst - E3
Rising star midwxst delivers his debut studio album E3, which follows the story of the character, E3, narrated by the young artist. "I just want people to understand that I went through a lot of the shit I am expressing on this album," he explains in a statement. And yeah I went through it, and yeah it hurt, but it made me grow and become who I am today. And I wouldn't trade any of that pain or any of that loss for anything."
Listen: Spotify | Apple Music
Queen Naija x NBA YoungBoy – "No Fake Love"
Queen Naija teams up with YoungBoy Never Broke Again for "No Fake Love," an empowering cut that samples Amerie's "Why Don't We Fall In Love" and arrives with a visual inspired by VHS.
Listen: Spotify | Apple Music
((( O ))) – ((( 4 )))
Filipino-American artist ((( O ))) returns with her newest ethereal offering, ((( 4 ))). "Exploring the realms of ritual, birth, and death—themes that resonate with the core of my being. So much about embarking on self-discovery, higher selves, past lives, earthly stewardship, motherhood.. and attempting to express the magnitude of carrying all of it within the universe of my human experience – while trying not to forget to have fun.. album ((( 4 ))) is a transformative story that holds a special place in my heart," she says in a statement.
Listen: Spotify | Apple Music