Best New Tracks: Cardi B x Megan Thee Stallion, James Blake and More
Enjoy the weekend with these music projects.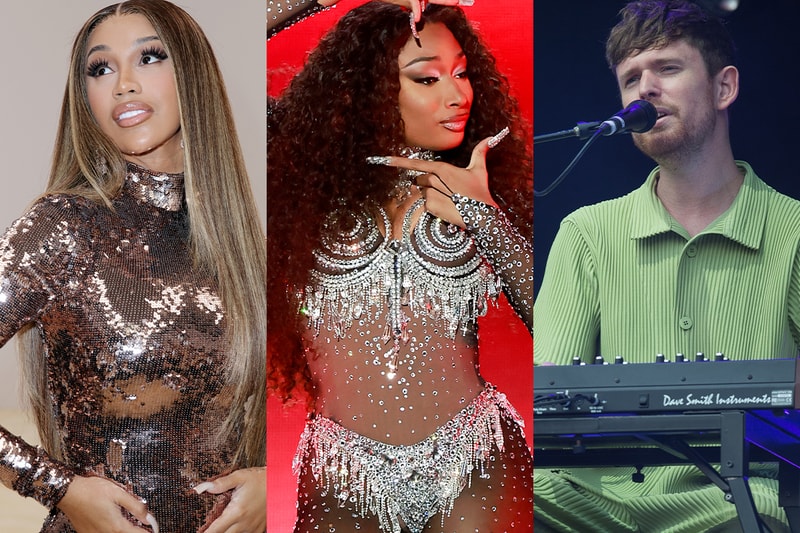 As the week in music comes to a close, Hypebeast has rounded up the best projects for the latest installment of Best New Tracks.
This week's lineup is led by Cardi B and Megan Thee Stallion, James Blake and V of BTS, who each dropped the collab "Bongos" and the albums Playing Robots Into Heaven and Layover, respectively. Also joining this selection are offerings from Buju Banton, Bakar, Teezo Touchdown, Yussef Dayes and d4vd.
Cardi B x Megan Thee Stallion – "Bongos"
Cardi B reunites with her "WAP" collaborator Megan Thee Stallion for their newest joint, "Bongos." Produced by We Good, Breyan Isaac for The Thirties and DJ SwanQo, the track arrives with a colorful music video set in a stunning oasis.
Listen: Spotify | Apple Music
James Blake - Playing Robots Into Heaven
James Blake returns to his electronic roots with Playing Robots Into Heaven, which hears him fuse alternative, indie and experimental sounds — creating a captivating soundscape that brings listeners on an incredible journey.
Listen: Spotify | Apple Music
V - Layover
V of BTS shares his debut solo album, Layover. Clocking in at around 20 minutes, the six-track album is described as a pop/R&B effort "fused with V's individuality and sensibility." He teamed up with ADOR president and executive producer Hee Jin Min, who oversaw the project's entire production.
Listen: Spotify | Apple Music
Buju Banton - BORN FOR GREATNESS
Buju Banton delivers his 14th studio album BORN FOR GREATNESS, enlisting the help of Victoria Monét, Stephen Marley and Snoop Dogg. "Another milestone, Another stage. I embrace it all. I've accepted the change," he said in a previous statement. "Here is something special. From my experience and musical journey. An ode to those who acknowledge the struggles and challenges that surmount. And others who will, your eyes are not deceiving you nor are your ears, you were born for greatness. I embrace you with love melodies and music."
Listen: Spotify | Apple Music
Teezo Touchdown - How Do You Sleep At Night?
The enigmatic Teezo Touchdown drops off his debut studio album, How Do You Sleep At night? Featuring guest verses from Janelle Monáe, Fousheé and Isaiah Rusk, he says of the album in a handwritten note, "This is the ice breaker to a long relationship between you and I. So, how do you sleep at night?"
Listen: Spotify | Apple Music
Bakar – "I'm Done"
Bakar delivers his latest single "I'm Done," following "Right Here, Right Now" and "Alive!" The artist is set to tour Australia and Europe this Fall and will hit up the United States next year.
Listen: Spotify | Apple Music
d4vd - The Lost Petals
d4vd follows up his debut EP Petals To Thorns with The Lost Petals. Its five tracks almost serves as a continuation of its predecessor EP, which is described as songs that "represent a similar time in d4vd's creative process that he wants to share with fans before moving into his next phase of music."
Listen: Spotify | Apple Music
Yussef Dayes - Black Classical Music
Another debut solo album on this list is Yussef Dayes' Black Classical Music. He's joined by Charlie Stacey, Venna, Alexander Bourt and guest features Chronixx, Masego, Jamilah Barry, Tom Misch, Elijah Fox, Shabaka Hutchings, Miles James, Sheila Maurice Grey, Nathaniel Cross, Theon Cross and the Chineke! Orchestra. "My debut album and an art piece that has been in the works since the beginning. Feelings of love, healing, grief, inspiration, more life, unity, groove, spirit and travels… This album is the embodiment of my life to this point. For everyone that has supported my art or is discovering my music now, I am grateful to be able to share this with you," he shares in a statement. "Thank you to my team and all of the collaborators for helping me bring this vision to life. Sharing vibes and sounds from the UK, rooted in the gumbo pot of the Caribbean, South American culture & African rituals. Black Classical Music is an exploration of my own personal journey & musical style."
Listen: Spotify | Apple Music