Ye's Childhood Home Replica From 'DONDA' Concert Officially up for Auction
A replica of the rapper's Chicago home that he grew up in with his late mother.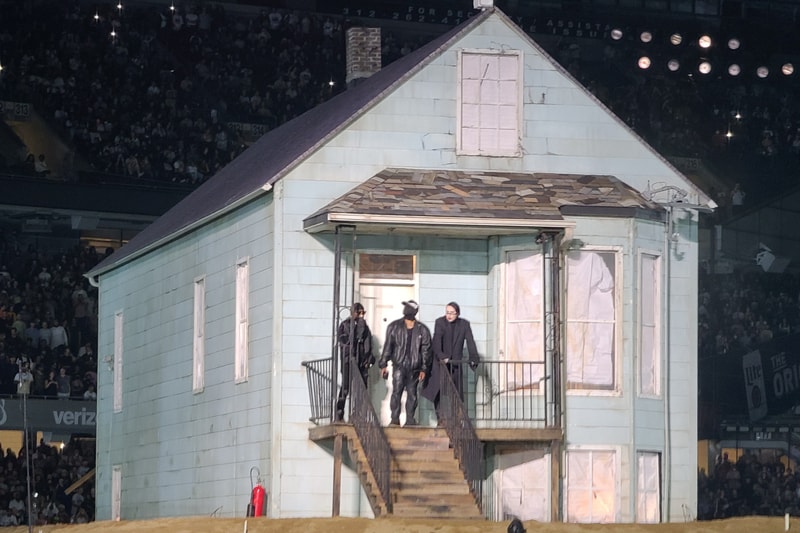 Arguably one of Ye's most recognizable archival concert set pieces is officially up for auction. The artist, formerly known as Kanye West, first released DONDA at the live listening party at Chicago's Soldier Field. At the center of the stage was an exact replica of the house Ye grew up in with his later mother.
The house, which holds sentimental weight for the rapper, is now up for sale. According to the president of The Levy Recovery Group, Jason Levy, the production company for Ye's DONDA tour has instructed them to sell the childhood home replica. TMZ has reported that the building is now sitting in a warehouse in Chicago, already broken down into multiple parts. The house's live auction is set to begin in October with the winning bidder receiving the option of the production team reassembling the house for free.
For both Ye's DONDA and DONDA 2 concerts in Chicago in 2021 and Miami in 2022, respectively, the 900 square feet house was the center piece for the stage setting. While it was previously rumored that the house would be a staple piece for his tour, it never happened. The initial reasoning behind the replica home is that Ye originally tried to bring his actual childhood home to Soldier Field, but Chicago's building department shut the idea down.
There has not been an official estimate on how much the house will go for. Stay tuned online at The Levy Recovery Group for more information on the auction. The sale opens on September 25, 2023 at 11 a.m. EST and ends on October 2, 2023 at 11 a.m. EST.
In case you missed it, Travis Scott brought out Ye during UTOPIA show in Rome.