Cautious Clay Charts His Origin Story on Jazzy New LP 'KARPEH'
The inquisitive independent artist discusses delving into jazz and enlisting his family members to help make the album.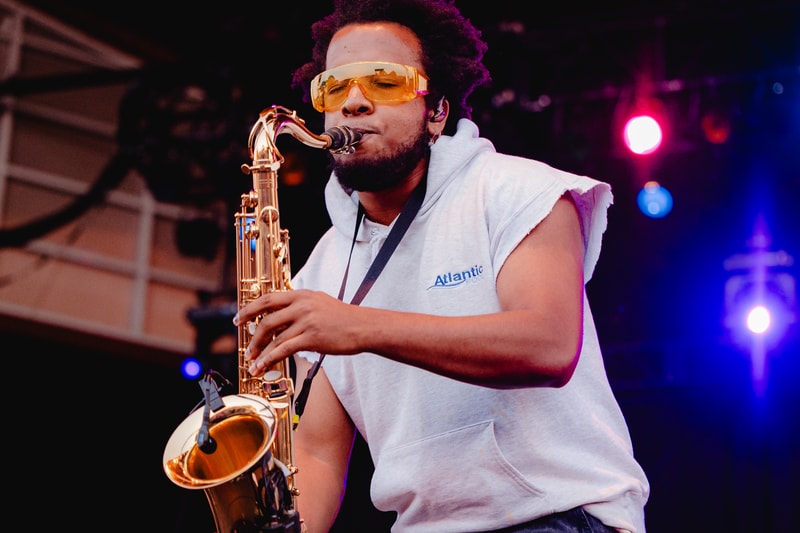 Cautious Clay has baked nearly a century of family lineage into KARPEH, his forthcoming collaborative studio album. The self-titled album – Clay's real name is Joshua Karpeh – was born from conversations with his parents and grandparents, where his elders recall bits of family history. The introspective artist uses audio recordings of these discussions, which are spliced into the LP, as a launching pad to consider his family's African roots and his own upbringing in Cleveland before moving on to exploring his present life in Brooklyn and what he envisions for his future.
The album also marks the typically R&B-leaning Clay's first full foray into jazz, a genre he was inspired by on his 2021 debut Deadpan Love. For the effort, Clay enlisted a fleet of jazz musicians, including his own uncle, bassist Kai Eckhardt, for vibrant instrumentations intertwining saxophone, soprano, guitar, synthesizer, and electric bass, the last of which he performs himself. It's fitting a move, given that KARPEH happens to be his first release via the storied jazz label Blue Note Records.
In conversation with HYPEBEAST, Clay reflected on his newfound embrace of jazz and the process of writing, composing and recording KARPEH.
Collaboration is so central to KARPEH, particularly your conversations with your parents, grandparents and girlfriend. What brought about these deep conversations?
Thematically, a lot of the content of the album is focused on my life chronologically. It's a summation of my family's cultural identity through the lens of both generations of grandparents. I'm outlining how my grandparents affected my family, starting with my parents, and then how my parents shaped me. Intertwining with that are my own relationships and conceptions of intimacy and ideas around solitude.
How did you go about transforming those conversations into compositions and lyrics? What did those talks with your family look like?
I did a ton of interviews with my family members. I talked with them about different situations that they were in, how they grew up and the house my dad was raised in. I would talk to them and then write about my own personal experiences and relationships and how those have developed over the years, and then reduce it down to something that felt like it captured the conversation.
There's like a skit called "Take a Half" on the album that is an amalgamation of my dad, my girlfriend and my aunt talking about all these different things. Listeners will probably be like, "what's going on here?," but with that, I was trying to mimic what it feels like to be on a psilocybin trip and have a bunch of different voices in your head talking to you as you're going through it.
Can you walk me through the timeline of assembling the album?
It was six days of recording, but also, obviously, several years of preparation. I usually record my music at my home studio, but I went into a live recording studio to finish everything. I got some of my favorite musicians together to record the different pieces of instrumentation that I had prepped ahead of time.
You've been making music for nearly a decade now. How did your approach to KARPEH differ from past projects like Deadpan Love or your earlier Table of Context and Blood Type EPs?
I was recording KARPEH in a very different way. For instance, I don't usually do live drum recordings. I used some early compositions I created when I was a kid too.
I'm also presenting this as a jazz album. It wouldn't make much sense for my fans to just be like, "Oh, this is a new Cautious Clay album" because it sounds so different from anything I've ever done. Working with Blue Note on this helped me to step into a different direction, and I was excited to explore that path.
"There are some songs on there that are very R&B, but there's also stuff that's very much in the jazz tradition. I wanted to be able to explore the convergence of those spaces without any unreasonable expectations."
Did you specifically want to make a jazz project or did that end up happening organically?
I had just finished up doing music for Godfather of Harlem, where I recorded 15 straight-up jazz songs. It was so much fun that I was "okay, I'm gonna make a jazz album." I wanted to give some deeper meaning to it as well. So many prototypical R&B dudes end up trying to make a jazz album.
There are some songs on there that are very R&B, but there's also stuff that's very much in the jazz tradition. I wanted to be able to explore the convergence of those spaces without any unreasonable expectations.
Do you envision yourself incorporating jazz in your future music?
This album is very much a side quest for me. Jazz has always influenced my music. If you listen to some of my earlier stuff, there are elements of me playing the saxophone and other jazz-related sounds.
Jazz will probably influence whatever I'm doing in the future, but moreso, I see this album informing the themes or contexts I bring to whatever is next. I wanted to make a jazz album, so I made it, though I don't plan on making strictly jazz records. With that in mind, the reason jazz was always so appealing is because it is so limitless.
It's fitting that you worked with Blue Note for your first jazz album. What drew you to join forces with a label after operating totally independently throughout your career?
Full disclosure: I have all the leverage in the world. I'm still independent and that's very much a part of my story. Meeting [Blue Note president] Don Was was a really great experience for me. We understood each other on a high level and I was like, "this feels right."
I think the perception – especially for people who aren't an artist or in the music industry – is "oh, Cautious Clay signed a record deal." It is that, essentially, but KARPEH is a special project and I wanted to be able to promote it in a way that I couldn't on my own. This music is so different from my past work that it felt like it could reach a different audience. Signing a deal with a label as respected as Blue Note felt like an interesting proposition. After this album, maybe I do another deal with Blue Note or I go fully independent again. There isn't any clause I would need to oblige by but I have a great relationship with the people there, so you never know what might come about.