Best New Tracks: Travis Scott, Ice Spice, Nas and More
Dive into the weekend with these music projects.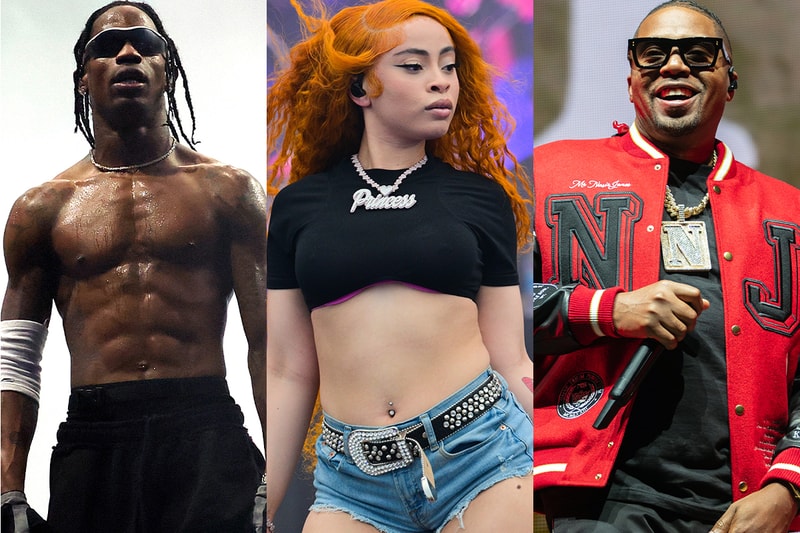 As the week in music comes to a close, Hypebeast has rounded up the best projects for the latest installment of Best New Tracks.
This week's lineup is led by Travis Scott with Bad Bunny and The Weeknd, Ice Spice and Nas, who each released the single "K-POP" and the records Like…? (Deluxe) and Magic 2, respectively. Also joining this selection are offerings from A$AP Rocky, Spill Tab, ((( O ))), RMR, Jay Rock with Anderson .Paak and Latto and Paris Texas.
Travis Scott x Bad Bunny x The Weeknd – "K-POP"
Travis Scott is officially kicking off his UTOPIA rollout with the release of its first single, "K-POP." The cut features production from Boi-1da, Illangelo, Jahaan Sweet and BYNX.
Listen: Spotify | Apple Music
Ice Spice - Like…? (Deluxe)
Ice Spice delivers a deluxe edition of her debut EP Like…?, which features the four brand new tracks "How High?," ""Butterfly Ku," "Deli" and "On The Radar," plus the original tracklist that includes "Princess Diana" and its remix with Nicki Minaj, and her viral hits "Munch" and "Bikini Bottom."
Listen: Spotify | Apple Music
Nas - Magic 2
Nas continues his stellar run of releases with Magic 2, the sequel to 2021's Magic. Executive produced by Hit-Boy and the artist himself, the new record features guest appearances from 50 Cent on "Office Hours" and 21 Savage on "One Mic, One Gun."
Listen: Spotify | Apple Music
A$AP Rocky – "Riot (Rowdy Pipe'n)"
A$AP Rocky drops off his latest single "Riot (Rowdy Pipe'n)," which features production from Pharrell. The track arrives as the artist shared his commercial directorial debut for the Beats Studio Pro.
Listen: Spotify | Apple Music
Jay Rock x Anderson .Paak x Latto – "Too Fast (Pull Over)"
Jay Rock follows up his June single "Eastside" — his first lead single in five years — with "Too Fast (Pull Over)," featuring Anderson .Paak and Latto. An official announcement for a new album is yet to be made, however.
Listen: Spotify
Paris Texas - MID AIR
Louie Pastel and Felix, the duo that makes up Paris Texas, drops off their latest project MID AIR. The tracks are described as "rife with anger, angst, prideful boasts, and an ever-present undertone of sly humor that makes the duo who they are," with the composition and instrument performance mainly played by Pastel.
Listen: Spotify | Apple Music
spill tab - KLEPTO
spill tab drops off her newest EP KLEPTO, with the tracks spanning across almost two years. "I feel like I've grown more comfortable in my skin and a lot as a producer during this time too, which is also a testament to the support and help of my friends and collaborators," the artist shares. "I made a lot of these songs during a time in my life where so much was changing, and with a lot of good evolution also came self doubt, imposter syndrome and loneliness. The lyrics talk about fantasies and hidden feelings and private thoughts. I've found that channelling this inner dialogue through alter egos in my music makes them more accessible to me in real life. In these sorts of songs I write up versions of myself I wish I could be, it might be my attempt at writing myself into something new."
Listen: Spotify | Apple Music
RMR – "FEVER"
RMR shares his latest single "FEVER," which arrives with an accompanying music video from Julien Chinchilla that offers a glimpse into the journey of the artist while creating new music.
Listen: Spotify
((( O ))) – "DON'T DIE"
((( O ))), known as The Sundrop Garden, announces her newest album ((( 4 ))) with the single "DON'T DIE." She describes the cut as "a song of celebration. Celebrating the unbreakable spirit that connects us. Our inner strength and resilience lies within everyone in the face of challenges, that we can find the strength to persevere and triumph together." ((( 4 ))) drops August 27.
Listen: Spotify | Apple Music