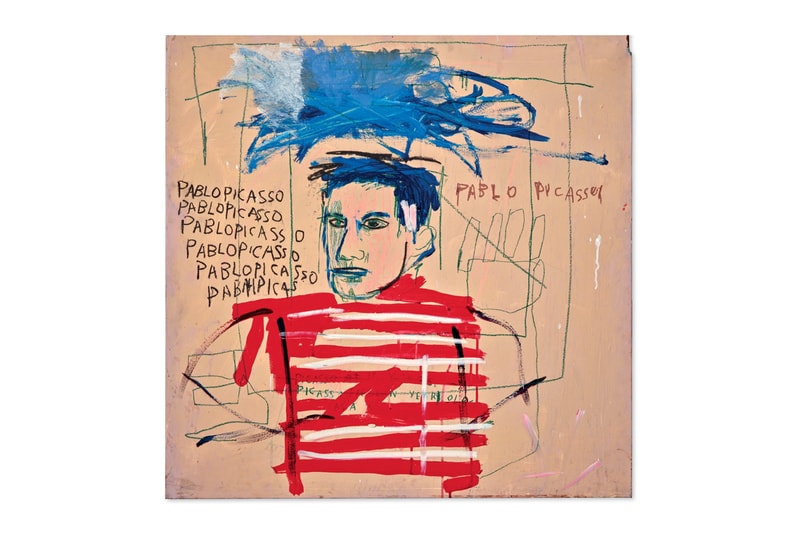 Jean-Michel Basquiat's Depiction of Pablo Picasso Is Headed to Auction
'Untitled (Pablo Picasso, 1984)' is expected to fetch anywhere between £4.5-6M GBP.
---
Jean-Michel Basquiat is one of the most popular and well-known fine artists in the world today, and his artwork auction results solidify that claim: in 2022 alone, his work fetched just over $222M USD at auction, with Untitled (1982) commanding $85M USD on its own. Basquiat is still big bucks in 2023 as well: his Now's the Time painting headlined a recent auction at Sotheby's and Untitled (Pablo Picasso, 1984) his depiction of Pablo Picasso, is now set to come up for auction at Christie's London as part of the auction house's "Evening Sale" series.
Basquiat's characteristically abstract and visceral painting of Picasso nods to his appreciation for the boundlessly influential (yet endlessly controversial) Spanish painter. "Seeing Guernica [one of Picasso's most famous works] was my favorite thing when I was a kid," he once said. However, Basquiat's depiction of Picasso wasn't a breathless homage: he was aware of Picasso's less savory traits as well, like his "primitivist" interpretations of African iconography from the early 1900s, a style that Basquiat's own works would intentionally subvert, albiet indirectly. When asked if he liked being called the "Black Picasso," a title bestowed upon him by curator Diego Cortez in 1983, Basquiat deflected the title. "Not so much," he said. "It's flattering, but I think [it's] also demeaning."
Untitled (Pablo Picasso, 1984) combines two eras of Picasso, taking his face from a photograph of him as a 15-year-old but contrasting it with the striped Breton shirt he'd wear in later years. Picasso's name is written seven times on the painting, and "PICASSO AT 15 YEARS / PICASSO AS A FIFTEEN YEAR OLD" can be seen across the figure's chest as well. Christie's notes that the themes in the painting were a further development of Young Picasso, an oilstick, pastel and watercolor creation on paper that Basquiat put together earlier in the same year.
The auction for Untitled (Pablo Picasso, 1984) will begin at Christie's London on June 28, and it's expected to fetch a price of between £4.5-6M GBP (roughly $5,718,825 to $,7625,100 USD).
For more from the art world, check out the HypeArt Visits series, in which Hypebeast pays visits to artists at their studios to learn about their process, get their thoughts on the art world and more.