vitaminwater Is Giving Away Once-in-a-Lifetime Experiences with its Interactive "zero holding back" Game
Act fast now through May 11 for a chance to win scenic getaways, concert tickets, gaming consoles, and more.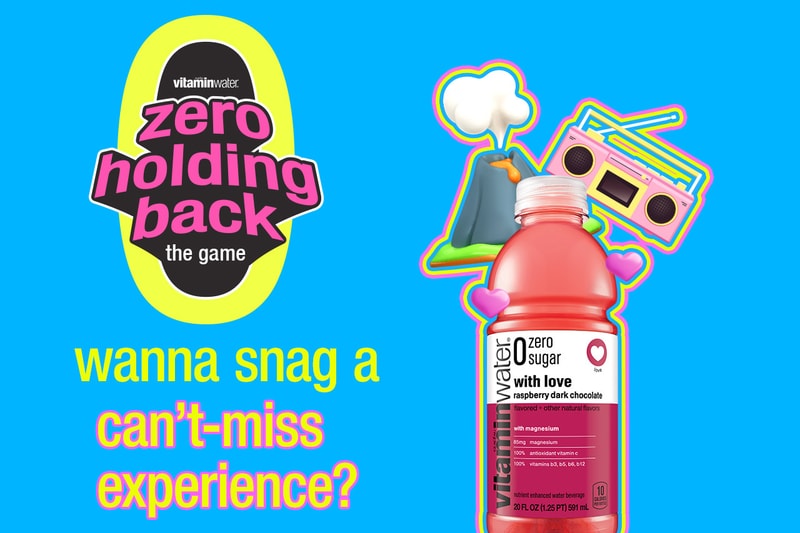 vitaminwater's promise to 'nourish every you' encourages fans to nourish every side of themselves — their bodies, their emotions, their complexities — and with vitaminwater's zero sugar lineup (featuring a new formulation and an all-new taste with zero compromise on flavor), there's a vitaminwater flavor to celebrate every facet of yourself. In that spirit, the brand has announced the debut of two new flavors to enliven your tastebuds and sentimental side — raspberry and dark chocolate-infused "with love" and coconut lime "forever you" — signaling the start of a new era for vitaminwater zero.
In celebration of this new era, vitaminwater is launching an interactive game experience: zero holding back: the game, because the most nourishing life is a life well lived — and well played. This cross-country gaming experience will allow players to win one-of-a-kind grand prizes from getaways to music gigs — but fans will have to act quickly and with 'zero holding back' to win big. Starting April 11, an array of instant win prizes inspired by different vitaminwater zero sugar flavors will drop, and flavors and prizes will change throughout the spring. 
In order to cop a prize, players will need to keep an eye out for "game cards" via online digital ad placements and digital ad kiosks in markets like Dallas, New York City, Los Angeles, Boston, and Miami — each of which will unlock an experience or prize pack. Players are encouraged to act fast, because the quickest submissions will win the most coveted grand prize experiences, from a sunset helicopter ride over a volcano in Hawaii to a glamping suite at Austin City Limits, and beyond. While grand prizes are limited, fans will still have the opportunity to win amazing prizes like subscriptions, concert tickets, and more via social media.
zero holding back: the game will take place in person via hidden game cards and on vitaminwater's Instagram each week from April 11 to May 11. Keep an eye out in participating cities and on social for a chance to win big. For more information, visit https://www.vitaminwater.com/zero-holding-back-game.
And remember, act with 'zero holding back' — just hold the sugar.