An Ultra-Rare 'Magic: The Gathering' Black Lotus Artist Proof Card Recently Sold For $615K USD
Setting a new public auction record, just weeks after a Gem Mint Alpa iteration sold for $540K earlier in the month.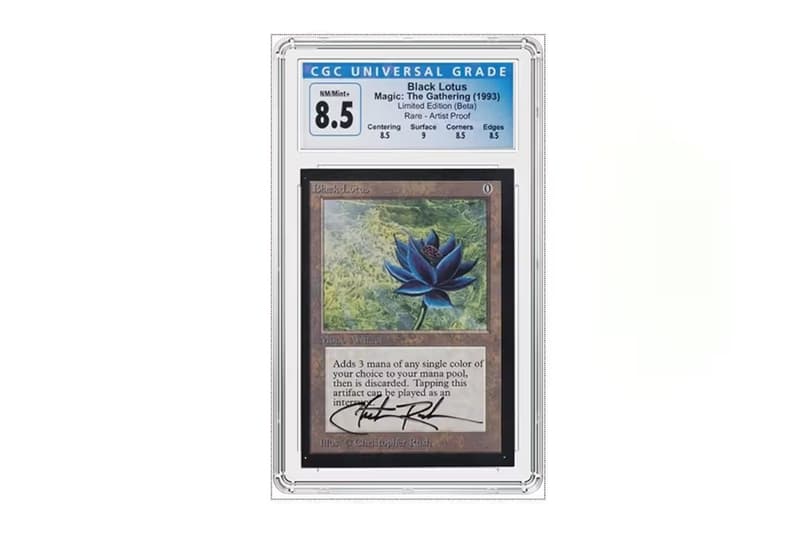 Counting alternate art, multiple editions and foil variants, Magic: The Gathering has seen over 78,000 different cards since it was founded in 1993, but among those tens of thousands of cards, none has ever been more valuable or desired than the Black Lotus. A true holy grail card for Magic fans, the Black Lotus was only printed for the game's early Alpha, Beta and Unlimited sets and has since risen to six-figure auction prices as part of the boom in the collectible market that's occurred over the last few years. Now, the Black Lotus has set another benchmark as an ultra-rare artist proof card recently sold for $615K USD at an auction on March 24.
The card in question diverges from its valuable standard version in two major ways: it's signed by late, legendary Magic: The Gathering artist Christopher Rush on the front and, as it's an artist proof, is totally blank on the back. The card came from the collection of Rush's former agent Jeff Ferreira, and was described in glowing terms by Heritage Auctions, who handled its sale. "The rarity of the card cannot be understated, as the [amount of] copies known to exist in the community is incredibly small," gushed Heritage. "For any copy, much less a signed copy, to come up for public auction is unheard of."
Just eight days before this artist proof sold, a PSA 10 Gem Mint Alpha — in layman's terms, the first iteration of the Black Lotus to release to the general public, in perfect condition — went for $540K USD at a PWCC Marketplace auction. Though the recent $615K USD sale is the highest price a Black Lotus has fetched at a public auction, it's not the highest price of all time. In 2022, Post Malone admitted to paying a private seller $800K USD for a signed artist proof during an appearance on The Howard Stern Show.
If you're in the market for a Black Lotus of your own and have almost a million dollars to burn, the owner of the $615K USD Black Lotus is taking offers starting at $922,500 USD.
For more from the world of gaming, check out a 10-minute gameplay trailer from Legend of Zelda: Tears of the Kingdom.