Keanu Reeves Only Spoke 380 Words in 'John Wick: Chapter 4'
The actor cut out dialogue so his character would give one-word responses.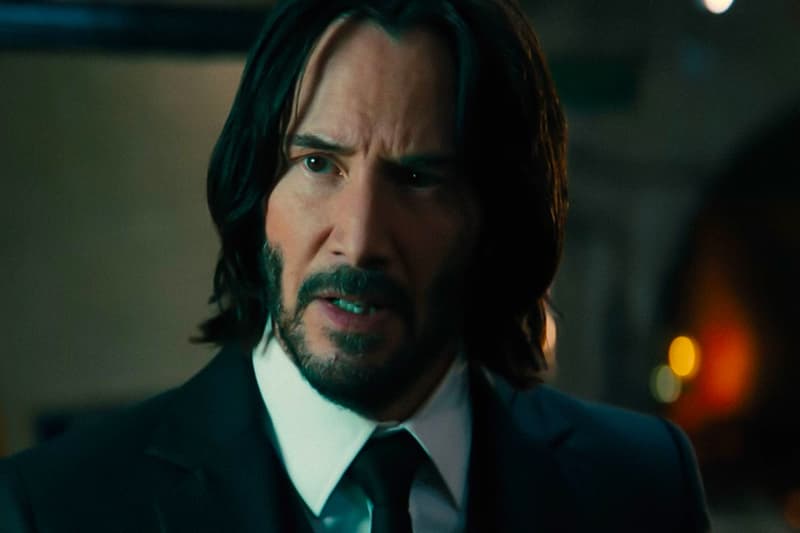 According to The Wall Street Journal, Keanu Reeves spoke just 380 words in John Wick: Chapter 4. Despite the film being three hours long with a 169-minute runtime, almost all of the John Wick actor's dialogue across 103 lines is comprised of just one single word.
"In the first installment, clocking in at 101 minutes, Mr. Reeves said a total of 484 words. With a run time of 169 minutes, the fourth movie pushes three hours but features just 380 words by Wick. About 10% of them are featured in the movie's trailer, which makes the hero seem almost chatty; Wick says more in that 2.5 minute clip than he does in the first 25 minutes of the movie itself," wrote The Wall Street Post."
The report goes on to note how the limited dialogue was planned by director Chad Stahelski and Reeves. For John Wick: Chapter 4, the duo "stripped out roughly half the dialogue written for his character in the initial script." For instance, the scene where John Wick and Marquis de Gramont (Bill Skarsgård) discuss the rules of their duel originally had Reeves delivering 50% of the dialogue. But following a re-write by the actor, his character only offered one-word responses.
The film's co-screenwriter Michael Finch shared, "It's a shock when you work with him how dedicated he is to not speaking." Throughout the entire film, the longest line of dialogue from John Wick comes from his interaction with Shimazu Koji (Hiroyuki Sanada), the leader of the Osaka Continental Hotel. Wick simply says, "You and I left a good life behind a long time ago, my friend."
Dropping the dialogue, Keanu Reeves decided to speak through action, noting that John Wick: Chapter 4 was the hardest action movie he has ever made. Reeves trained for nearly three months to deliver the stunts, with the most challenging being a car chase scene where he has to reverse 180 and drift around the historic Arc de Triomphe in Paris, France while reloading his prop gun and shooting out the door.
John Wick: Chapter 4 starring Keanu Reeves is in theaters now.
For more entertainment news, The X-Files creator says Ryan Coogler is developing a series reboot.