Corteiz is Giving Away its Nike Air Max 95 Collab in a Crossbar Challenge Event
Real Madrid's Eduardo Camavinga also shows us how it's done in the accompanying promotion video.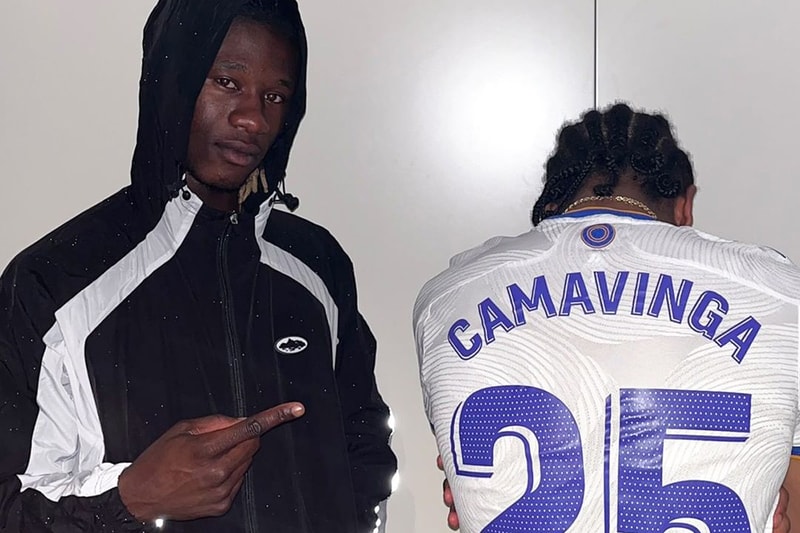 Following the announcement of its high-profile Air Max 95 collaboration with Nike, London-based streetwear leader Corteiz is now giving fans the opportunity the chance to win a pair of the sneakers for free, if they can complete a successful crossbar strike from outside an 18-yard box.
Taking to Instagram last night, Cortiez posted an unexpected video featuring Real Madrid midfielder Eduardo Camavinga, and the baller was captured hitting a halfway-line crossbar hit in Clint419's new Air Max design. What's more, is that the video featured a British voiceover explaining what fans can do to get their hands on a free pair of kicks. "Yo, mandem, gyaldem, you wanna pair of these Air Max 95s? Lemme show you what you gotta do. Dun know," it says.
View this post on Instagram
Furthermore, the new video also came with additional social content that explains that fans will be able to win a pair of the sneakers on a first-come-first-serve basis and all sizes from UK six to 11 will be available. Competitors will also have two chances to hit the crossbar and the coordinates for the footballing venue will be live this Saturday morning.
This latest Corteiz x Camavinga link-up is the second time the brand has been seen with the Madrid baller following an Instagram post that surfaced last year of Clint419 in a Real Madrid jersey, while Camavinga was sporting a Corteiz shell jacket.
View this post on Instagram
You can take a closer look at the latest out-of-the-box video campaign from Corteiz above and be sure to keep an eye on the brand's official Instagram page to stay up to date with the Air Max 95 release.
In other fashion news, take a look at the new collection from Jehucal.