Alicia Keys Is Tapping Into Her Truest Musical Form
R&B's most prolific singer-songwriter spoke to Hypebeast about her eponymous back-to-back albums, working as a newly independent artist and what's in store for her future music.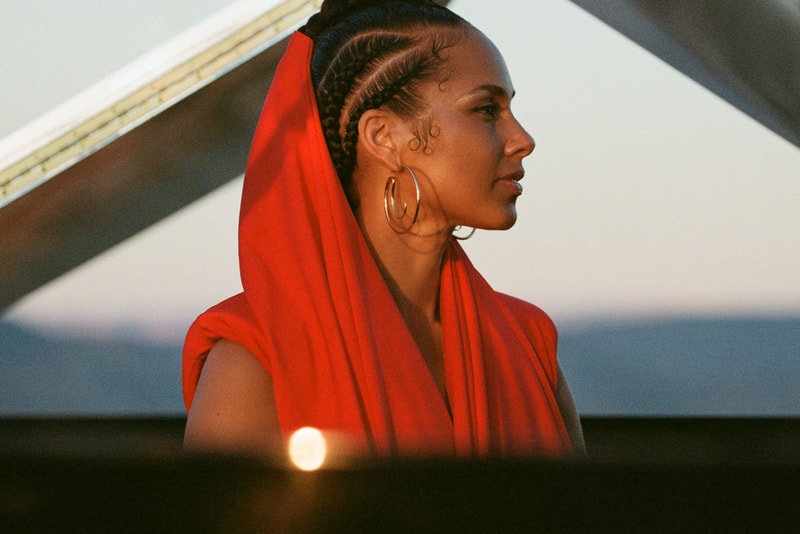 Over twenty years into her tenure as the poetic, canonical singer-songwriter of contemporary R&B, Alicia Keys is still turning corners in her music career. The classically-trained artist began composing as a child after being gifted an upright piano by a family friend, and at 15, she inked a deal with Columbia Records under which she began work on her debut album — before ultimately releasing it five years later under Clive Davis's Arista Records.
Now, at 42 years old with nine studio albums and 15 Grammy Awards under her belt, Keys has time and time again proven her capability to continuously evolve her sound without eschewing her base as a classically trained artist amid the rapidly-changing music industry. As music tastes shift and specific genres trend and eventually digress, few living artists have the awe-inducing staying power that Keys possesses. Her impact is not only manifest in her storied discography – a body of work that includes early aughts hits such as "If I Ain't Got You," "Empire State of Mind" and "No One" – but in more recent years, evidenced by her latest efforts, the eponymous back-to-back records ALICIA (2020) and KEYS (2021).
For her next act, Keys is maintaining her own epochal legacy. After decades of working under contract, she's gone independent. After officially fulfilling the terms of her deal with RCA Records in late 2021, she surprised fans with her first holiday album, Santa Baby, via the newly-launched Alicia Keys Records. Now that she's working within her own imprint, the Keys is considering the boundless potential of her next independent release.
"Do I find newfound freedom being a newly independent artist? I do" Keys muses, speaking with Hypebeast following an intimate performance at Joshua Tree's Kellogg Doolittle House celebrating her new role as the face of Hennessy Paradis cognac. As the first-ever female face of the brand, Keys carries on a musical legacy set forth by Master Blender Maurice Fillioux de Gironde, who was galvanized to create a "melodic" cognac in 1979 after hearing a symphony. "First of all, I feel so incredibly inspired," Keys continues. "I feel like I just haven't even begun to peel back the layers of what I'm going to do, and I see what I can do so much more clearly now."
Being released from her contract has freed Keys from the levels of approval and clearing necessitated by tightly-run label management. The singer describes having come to a newfound "vision and the ability to understand just how unlimited everything can be."
As a teenager signed to Columbia, Keys' first experience with a major label found her constantly fighting the label for the freedom to make the music she wanted to. She's spoken at length in the past of having songwriters and producers pushed on her, not to mention the ageism and sexism she encountered, both in the studio and in meetings with record executives.
Keys ultimately found her place after Davis bought out her Columbia contract in order to sign her to Arista. The vast majority of the neo-soul Songs In a Minor album was written, arranged and produced solely by Keys. Going entirely independent may be a whole different ball game from switching record labels, but it's one she's been prepared for her entire career.
"This freedom is really going to impact all my creative endeavors and just my life overall."
"This freedom is really going to impact all my creative endeavors and just my life overall," Keys says. I think sometimes there's so many cooks in the kitchen that it's kind of hard to navigate your North Star and now, I feel really really clear about my North Star."
Intertwining sounds from blues, soul and gospel, the ALICIA and KEYS albums laid the roots for Keys' continued exploration of genre and composition as well as the sheer aptitude of her vocals, which fluently dip into a gravely croon, and, a mere few beats later, effortlessly ascend into dizzying heights.
Building off of the world created within these back-to-back releases, "the themes and the sounds that I envision experimenting on my next album, I really feel like it's just going to be something that gets inside of you and does not let go," Keys says. And for what listeners can anticipate, she promises "there's going to be so much to sing along to." Her approach to the record will also see her lean more into "experimenting with different rhythms, different tempos, different energies."
Beyond the nitty-gritty physical freedom of going independent, Keys notes how the shift has renewed creative inspiration and empowered her as a woman, and through her imprint, a business owner.
"I just feel like I'm in a whole other space to create," she says. "I'm living in my own freedom, not just by becoming an independent artist, but by being the woman in the musical space I am now."