Intel Announces Arc Pro Trio of Graphics Cards Designed for Productivity
Supporting up to two 8K displays at 60Hz.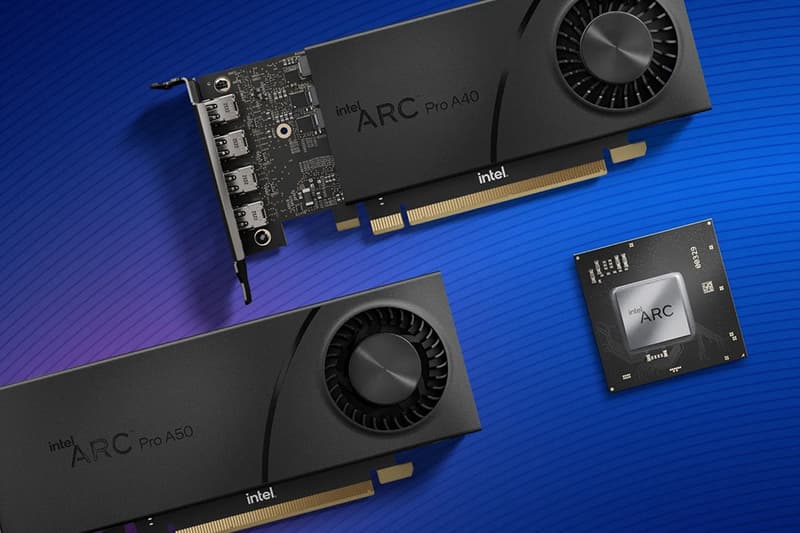 Shortly after debuting its new Arc series of graphics cards, Intel has now followed up with the Arc Pro series, a new collection of GPUs designed for productivity. Simply split into three different tiers, the Arc Pro consists of the A30M, the A40 and the A50. The first of the three is your regular laptop GPU while the A40 model is its desktop equivalent, carrying similar specs in a single-slot form factor.
The A50 is the top range model, with a dual-slot configuration for those who need more image processing power for their workstations. In terms of specs, both the A30M and A40 has 3.50 teraflops of power, but the latter shares the same 6GB of VRAM as the A50 while the former only comes with 4GB. Naturally, the A50 dials its power up a notch to 4.80 teraflops, with all three models coming with built-in ray tracing support and machine learning. All of them also boast four mini-display ports that will connect to up to two 8K 60Hz displays, two 5K 240Hz displays, two 5K 120Hz displays, or four 4K 60Hz displays.
For those interested, you can learn more about Intel's new Arc Pro GPU lineup over on the company's website.
Elsewhere in tech, Xiaomi's "MiGu Headband" can let you control your smart devices with just your thoughts.