DJ Khaled Reveals How Dr. Dre, Eminem and Ye's "Use This Gospel" Remix Joined 'GOD DID'
Noting that the process began a year and a half ago when Ye showed up at his house unexpectedly.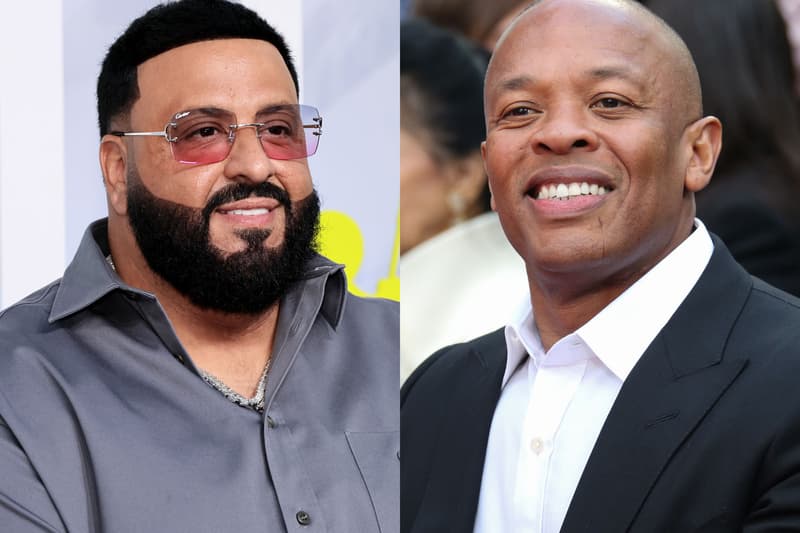 DJ Khaled has opened up about how the remix of Dr. Dre, Kanye West and Eminem's "Use This Gospel" ended up on his latest studio album, GOD DID.
Speaking to Zane Lowe on Apple Music 1, the producer revealed that their collaborative work for this record began about a year and a half ago at his house, where Ye showed up unexpectedly at 8 a.m. in the morning. "I never knew he was coming, tells the chef, 'Give me some eggs with ketchup,' and he had a drink. We go to my studio, I play him music, he plays me music, we both inspiring each other," Khaled explained. "He plays me an incredible album that he did with one of my idols, Dr. Dre, he played it from top to bottom for me. I couldn't believe what I was hearing. We had a great get-together at the crib, he leaves, that's a year and a half ago."
The producer the brought up the idea of the track making its way on to GOD DID, to which West replied, "I love the idea." Khaled continued that he managed to ask for the blessings of Dr. Dre and Eminem, the latter of whom told Khaled, "We got you, and we love you." He further expressed his excitement to Lowe about working with his "idol," adding, "We get the blessings, before I came up with calling Ye about this, a few months ago, I texted Dre to see if this was still his number because I ain't talked to him in a while. I said, 'Bless up, brother, is this still your number?' I think he hits me back like a week or two weeks later. I ended up catching the COVID, so I look at my phone, I'm like, 'he hit me back,' but I was sick with the COVID."
Khaled shared, "God bless, God is great, so I didn't want to hit him back right away because I didn't have my energy, my spirit wasn't. If I'm going to talk to Dre, my idol, I got to feel DJ Khaled, he got to hear DJ Khaled. I was working on another record that I wanted to present to him that I produced, that I wanted to present to him to get on, and I never played it for him. That's what I'm saying, this is God Did, instead I was blessed to get a gift from Dr. Dre, Kanye West, and Eminem, produced by Dr. Dre, man."
In related news, GOD DID is expected to open at No. 1.