Best New Tracks: Offset, Nicki Minaj, Mura Masa and More
Enjoy the weekend with these 10 essential music projects.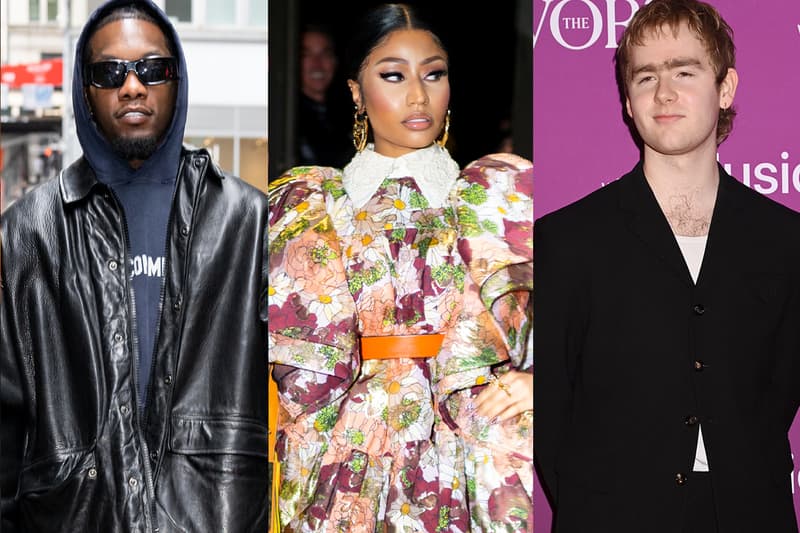 As the week in music comes to a close, HYPEBEAST has rounded up the best projects for the latest installment of Best New Tracks.
This week's list is led by Offset, Nicki Minaj and Mura Masa, who released the Baby Keem-produced single "54321," "Super Freaky Girl (Roman Remix)" and a remix of "blessing me" with a new feature from Kali Uchis. Also joining this week's selection are fresh offerings from Larry June, Armani Caesar x Benny The Butcher x Stove God Cooks, SwaVay, Sudan Archives, Anitta with Missy Elliott, Cautious Clay and 070 Shake.
Offset – "54321"
Offset delivers his first solo single of the year, "54321." The new cut clocks in at three minutes and is produced by pgLang's Baby Keem with additional work from Mike Dean, Jahaan Akil Sweet and Ruchaun Maurice Akers Jr. "54321" follows Offset's recent appearance on Calvin Harris' "New To You" with Normani.
Listen: Spotify | Apple Music
Nicki Minaj – "Super Freaky Girl (Roman Remix)"
Nicki Minaj enlists her Roman for a remix of her latest single, "Super Freaky Girl." The new edition is a minute longer and hears an additional verse and bridge from the rapper, the latter of which features her namedrop "Nick Minaj" — a tribute to Rick James, who is sampled on this track and 2007's "Dilly Dally."
Listen: Spotify | Apple Music
Mura Masa x Pa Salieu x Skillibeng x Kali Uchis – "blessing me (remix)"
Mura Masa adds a new appearance from Kali Uchis for a remix of "blessing me," which originally features Pa Salieu and Skillibeng. The track was first released in June and is set to appear on Mura Masa's upcoming album Demon Time, which "refers to those early morning hours at a party or with friends where a delivish yet innocent sense of mischief prevails, a headspace that Mura Masa felt was crucial to tap into following two heavy years of pandemic blues."
Listen: Spotify | Apple Music
Larry June - Spaceships on the Blade
Larry June drops his latest full-length effort Spaceships on the Blade, which features appearances from Babyface Ray, 2 Chainz, Curren$y, Syd, Duckwrth and an interlude from Wallo over G-funk-inspired beats produced by the likes of longtime collaborator Cardo, The Alchemist, Jake One, Turbo, Chuck Inglish (of the Cool Kids), Johan Lenox, Mr. Rogers and more.
Listen: Spotify | Apple Music
Armani Caesar x Benny The Butcher x Stove God Cooks – "Hunnit Dolla Hiccup"
Armani Caesar, the First Lady of Griselda, announces her upcoming studio album The Liz 2 with the new single "Hunnit Dolla Hiccup" featuring Benny The Butcher and Stove God Cooks. Her latest album follows 2020's The Liz, which she dedicated to Demetrius "DJ Shay" Robinson, the "first person to ever take a chance on me musically." The Liz 2 drops September 2 via Griselda.
Listen: Spotify | Apple Music
SwaVay – "FACES"
SwaVay's original full-length version of the lovesick track "FACES" is here, along with an accompanying music video directed by Conner Fisher. First revealed in April 2022, the updated visual was funded by the label this time around and sees the artist sweep his love interest off her feet.
Listen: Spotify | Apple Music
Sudan Archives – "NBPQ (Topless)"
Sudan Arhives debuts a music video for her newest single "NBPQ (Topless)," a cut that the singer/producer/violinist describes as "my autobiography." The visual is helmed by Augusta YR and is a psychedelic, Alice in Wonderland-trip boosted by the artist's lyrical refrain on repeat. "NBPQ (Topless)" is set to appear on her upcoming album Natural Brown Prom Queen, which drops September 9.
Listen: YouTube
Cautious Clay – "Camp Anonymous"
Cautious Clay follows up last month's "Puffer" with his new single "Camp Anonymous," the second of an upcoming list of releases from the artist. "I wanted to try and portray this idea that we do have the ability to go completely off grid on Camp Anonymous, even though sometimes we might feel like we need to be connected 24/7," he said in a statement. "It's kind of a responsibility we all have, a luxury almost, to be present and check out from time to time."
Listen: Spotify | Apple Music
Anitta x Missy Elliott – "Lobby"
Anitta joins forces with the legendary Missy Elliott for her newest single, "Lobby." Speaking to Zane Lowe's Apple Music, the young artist shared her excitement for having the musical icon hop on the track with her. "Whenever Ryan Tedder did this song and sent it to me… I loved it first side it was crazy. And then right after that… I wanted Missy on a song but I never thought that would be possible. I mean… I don't know… she just said yes! She heard the song and said yes," she explained. "She searched about all my other works and my music and my songs. She just said yes and I couldn't believe it! When I got the verse and heard it I was like 'OH MY GOD!' I jumped from the bed and was like 'OH MY GOD' and then when she came to shoot the music video I cried when she got there. I was crying, I was like 'I can't believe this is happening.'"
Listen: Spotify | Apple Music
070 Shake – "Cocoon"
070 Shake drops a music video for "Cocoon," a cut taken from her latest album You Can't Kill Me. Helmed by The C.O.R.E / 070 Shake, the visual sees her enjoying the company of friends and fans, being one with them as they dance to her music.
Listen: YouTube