Sole Mates: Mad Bad Ting and the Très Rasché x Reebok Club C Legacy "Diamanté"
The Très Rasché founder discusses her fashion career journey and the importance of knocking down gender barriers.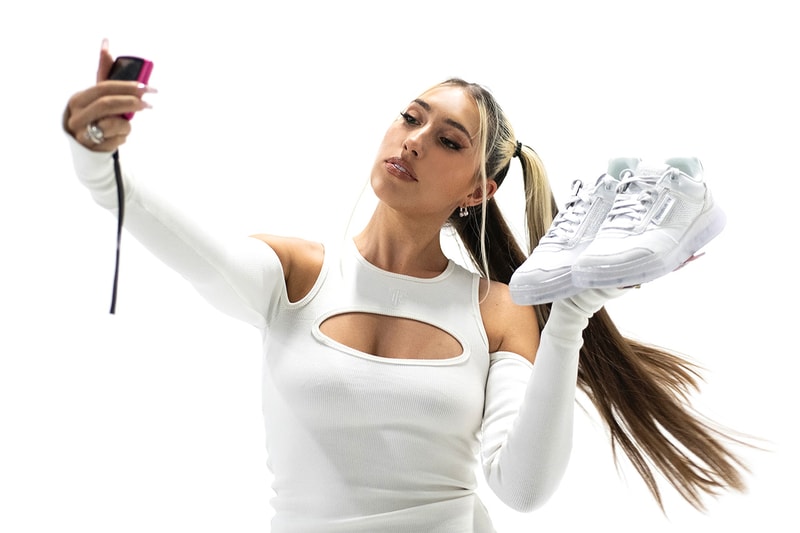 The ability to create from a place of authenticity is what typically separates the great designers from the good ones. Rolling out products that are trendy is effective if you want to make a quick dime, but the fashion in which you humanize your brand through genuine messaging and inclusivity is what ultimately results in longevity, and Mad Bad Ting — founder of unisex label Très Rasché — is a burgeoning hyphenate that understands this notion very well. Just visit the Très Rasché website and notice the second header that's spelled out in all-capitalized, bold font and reads "WEAR WHATEVER THE F*CK YOU WANT." This alone speaks volumes about her mentality towards personal style and her ethos of demolishing gender barriers through future-forward design.
For Mad, fashion has been an area of interest since she was an adolescent. Growing up in Phoenix, Arizona, she often participated in sports and was exposed to a barrage of subcultures that heavily influenced her tomboy-meets-skater-meets-street style sensibility. "When I get dressed, I use clothes and sneakers as armour", she tells HYPEBEAST. "Aligning my daily outfit choice with what I need today — do I want to feel tough, sexy, bold, quiet? My daily style helps me navigate the world and feel confident in different situations." And her affinity for fashion and its various cultures has guided her creative career trajectory where she's gone on to style and create custom performance wardrobes for some of the biggest names in music from AlunaGeorge to Billie Eilish to Megan Thee Stallion, DJ fashion events across the globe, design jewelry at Louis Vuitton for Francesca Amfitheatrof and of course, find success in running her own label.
In recent memory, Mad was given the opportunity to whip up her third sneaker collaboration with the vector brand: the Très Rasché x Reebok Club C Legacy "Diamanté." This serves as the latest chapter with Reebok after her take on the Club C Legacy that dropped in 2021, and it's the focal point of this newest Sole Mates installment. The blinged-out kicks serve as a nostalgic love letter to the early '00s — an era when bedazzled walkmans, Myspace top eights and Phat Farm sneakers were hot topics of conversation.
We caught up with Mad to talk about her career journey thus far, her favorite details on her newest collaboration, what sneaker culture means to her and more.
HYPEBEAST: Who or what got you into sneakers?
MBT: I'd say my father and my brother. My father was an athlete his whole life and even played professional football in the '80s for the Kansas City Chiefs. And because he was really set on me being an athlete, I was a hardcore volleyball player growing up and dabbled into basketball as well. Because of sports, I was really into sneakers because they were so important for my performance.
My brother was always into these cool subcultures like hardcore punk and skate, he listened to the most interesting music, and read every book. He had a lot of influence on me as he introduced me to so many underground scenes and was a big influence on my sneakers and clothing growing up.
Having a dad that's a former pro athlete isn't a luxury that most people have. When you ponder on the valuable lessons that he's taught you through sports, what immediately springs to mind?
My dad pushed me to attend Arizona State University running camps in the summer where he coached, and he would always tell me that I couldn't be last even though I was the youngest person there, not to mention a girl. Sometimes I was really annoyed about it, but as an adult I'm so happy about how, in my fathers eyes, being a girl had nothing to do with my abilities or capabilities. Because of this he prepared me to be a woman in the real world. As a kid, I never thought about the challenges (and benefits) my femininity would bring until I was older and experiencing it but my father helped create a strong foundation of confidence.
Can you recall what sneaker silhouettes you were into early on?
My all time favorite sneaker when I was a teenager was the baby pink and white Etnies — people called them the "Mall Rat Sneaker". We were always in the mall because it was too hot to be outside. My second favorite pair was my pink and white Phat Farms.
For volleyball I always wore Mizuno, then for basketball, I loved Allen Iverson's Reebok Questions. When it came to Jordans, I really loved Air Jordan 1s, but I couldn't really afford them at the time. However, I also gravitated towards more futuristic Jordans like the 19s and the 20s.
For skate, it was all about the thick silhouettes like Osiris D3s, DC, & Globe's CT-IV.
Let's talk about your upbringing. I know you spent much of your childhood growing up in Arizona, how would you say growing up there shaped your interests into fashion?
I think I always had a natural love and passion for fashion. One thing about me is that I love getting dressed. It was always a part of me. What I wear really impacts my mood, how I interact with people and how I present my vibe. Since I was little, it was always a really big part of my individuality. Growing up in Phoenix, I was naturally exposed to so many authentic subcultures like valley girl, punk, goth and jock scenes and I feel really nostalgic because I loved that I grew up in that era. I actually grew up in the real world version of the film Mean Girls. I'd say my style was very much so tomboy most of my life but I still loved Juicy Couture just as much and that's reflected in my style to this day because it sort of looks like I'm rocking boys clothes but they're adorned with pink crystals.
"I really want to access the full spectrum of humanity and my human abilities. I don't want to be stuck in one way, act one way, be one way or have a kind of life simply because I was born a woman."
Was there a specific moment that you knew you wanted to become a designer?
When I moved to LA I originally thought I wanted to be a fashion illustrator. I went to Otis College of Art and Design and started in their fashion program but I really didn't like it. From there I transitioned into the product design program and fell in love with design. In college I had a very clear vision of what kind of career I wanted.
During college, I started to design for a brand called DIMEPIECE and did styling for AlunaGeorge. I created custom costumes with Cross Colors for AG's Coachella 2015 set, styled their tour wardrobe, and finished with creating custom costumes for their arena tour with SIA and Miguel in 2016. And from there, I started to gain even more experience by illustrating for other brands and doing their tech packs, as well as working with Billie Eilish for her music video wardrobe. She was the easiest and nicest person I've ever worked with and had such a clear vision of what she wanted. The last artist I worked with, before transitioning all my time on to design and dj-ing, was Megan The Stallion working on her FEVER album & tour in 2019.
When I look at your brand you seem to put a heavy emphasis that the pieces are gender-neutral. Why is this so important to you?
I really want to access the full spectrum of humanity and my human abilities. I don't want to be stuck in one way, act one way, be one way or have a kind of life simply because I was born a woman. It's a personal and deeper relationship with femininity and the things that women have had to give up and sacrifice in their lives. I grew up tomboy so my first vision of Très Rasché was girls in menswear, skatewear, and streetwear because that is who I am and how I was raised. But as TR evolves, so does our product offering and aesthetic. Right now I am very inspired by (my) femininity and I am focused on integrating more femininity into TR. Overall, I would say Très Rasché creates womenswear with a masculine touch & menswear with a feminine touch.
I heard you have a funny story about how you connected with Reebok, would you mind sharing?
In 2018, Reebok was on a journey to learn more about the unisex market and came across my brand to try and tap further into it with a sneaker collaboration. So they cold emailed me multiple times and I just ignored all of them because I thought it was a scam. Then they finally slid into my DMs on IG and that's when I knew it was real. We worked out the contract shortly after that, and the rest was history.
Your last Club C Legacy was crafted with a bold green gradient pattern and this newest piece is much more minimal and elevated. What was your thought process behind this overt design departure?
The shoes were actually supposed to be released in 2021 (but COVID said nah), and so when I was approached by Reebok I wanted to reminisce on my life from 2001 and somehow convey that through the shoes. When I look back on this year I remember the lingering Y2K energy, stark whites & metallics, P Diddy and J.Lo's ultimate couple swag, Janet Jackson's "All For You" music video (that I would sneak out in the middle of the night to watch), my bedazzled Brat doll — this is what inspired me. Plus, I've always been a big fan of white sneakers because they're so fresh, I wanted to put my little spin on them.
Walk me through all of the details of the shoes and touch on your favorite part about designing this pair.
I've always been a huge fan of bedazzling things, especially as a kid. I was definitely the girl who had things like her CD player and headphones all bedazzled out, and that's clearly one of the main and most important details on the kicks. I'm a natural lover of juxtaposition and merging things together that you may not think work. And given the nature of the model and how it already comes deconstructed, I love how the clean white scheme and diamanté crystal appliqué complement that motif instead of clashing with it. I also really love the monogrammed outsoles and the touches of suede and metallic on the tongues and toe boxes. All of those subtle details make a huge difference.
"Your hair says who you want to be and your shoes say who you are."
Can we expect to see you and Reebok team up again in the future?
Definitely! We just debuted our upcoming Zig Kinetica II Edge capsule that's slated to drop in Spring/Summer 2023. It's by far my favorite sneaker that I've ever designed because the shape feels very me. Most of the times when you're doing collaborations you're not allowed to adjust the shape because of the mold that X company uses to make the shoes. It's just like making jewelry, you've got to be sensitive with the shape in order to produce a lot of units.
Why are sneakers and the stories they hold important to you personally?
Your hair says who you want to be and your shoes say who you are. And on top of that, sneakers are just really close to my heart. Comfort has always been a big part of me growing up as an athlete, so sneakers tend to fulfill that for me from a performance standpoint. And there's nothing quite better than a fly pair of kicks. It's hard to make great sneakers as well. Other things that you wear such as a t-shirt may not fit perfectly but you make it work anyway, and that's not exactly the same for shoes because it can really affect the wearer. Additionally, I really love sneakers, their culture and all the communities that they've created.
The Très Rasché x Reebok Club C Legacy "Diamanté" is slated to restock on July 31, 2022.