Sports and Fashion Collide on the 2022 ESPYS Red Carpet
Making way for modern double-breasted and single-breasted suits to take the lead for Summer.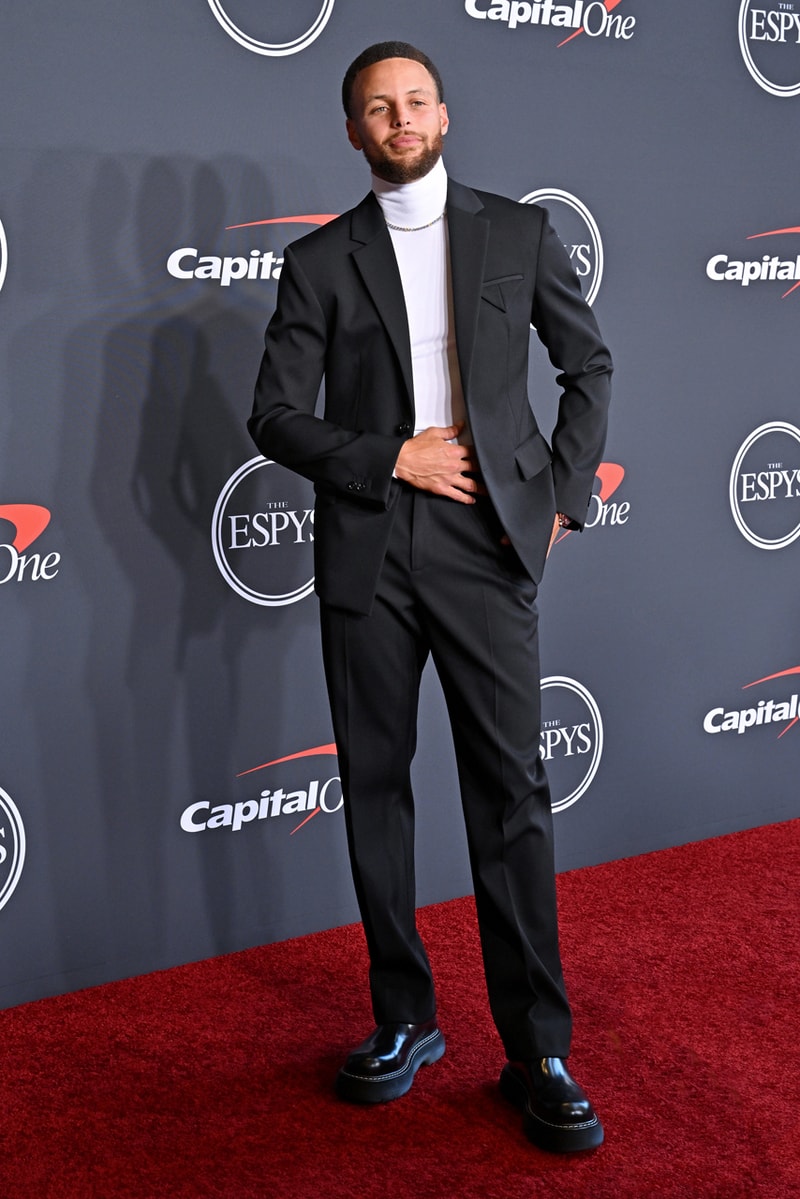 At one of the coolest events for the sports world – and perhaps of the summer – the 2022 ESPYS made way for modern double-breasted and single-breasted suiting to take the lead at this year's ceremony.
As sports and fashion collided together for a fun red carpet rollout, elite athletes showed up and showed out in tailored designer ensembles, blingy jewelry and stealth eyewear. Several stars wore athletic sneakers with paired-down outfits (which wouldn't be out of the norm for a sports-centered event), but others chose to dress up for the special occasion that honors "the biggest achievements, performances and moments of the year in sports."
This year's event was hosted by veteran NBA champion – and 2022 ESPY award winner – Stephen Curry, who in a super stylish display of fashion, made several outfit changes throughout the ceremony. Other award recipients included Cooper Kupp, Eileen Gu, Katie Ledecky, Klay Thompson and more.
Swipe through our fashion gallery below to see which athletes brought the heat to the 2022 ESPYS red carpet.
2022 ESPYS
Stephen Curry
Stephen Curry led the pack for the ESPYS as he not only walked the famous red carpet but also served as the event's host. For the carpet, the NBA champion opted for a sleek, single-breasted black satin suit with slim trousers. He gave a subtle nod to elegance with a fitted white mock neck shirt, minimal jewelry and black patent leather creepers.
Jarred Vanderbilt
Jarred Vanderbilt's cool blue suit was worn bare-chest with a diamond collar necklace, black oversized frames, an iced-out watch and black patent leather shoes. His double-breasted jacket featured a contrasting black lapel with black buttons.
Nigel Sylvester
Nigel Sylvester made a bold – but sleek – choice, opting for an orange leather suit. The ensemble was double-breasted and topped off with matching orange leather pants and minimal jewelry. It's keen to note that his leather pants were on-trend with side slit hems that opened to reveal a pair of two-toned hi-top sneakers.
Jalen Ramsey
Jalen Ramsey kept things very casual on the red carpet. He donned a "Miracle" logo trucker hat and a Nahmias zip-front jacket with matching pants. Attention to detail was paid to the jacket and pants' black with contrasting white piping detail on the sleeves and pants legs.
Travis Kelce
Travis Kelce looked smooth in his sky blue single-breasted suit. Underneath his crisp blazer, he chose a white button-down shirt with grey graphic print detail and finished the look with white low-top sneakers.
Evander Kane
Evander Kane dazzled in a silk floral-printed suit. The designs on his matching jacket and pants created a luminous effect with its teal, grey and white floral display, as he completed the look with a white mandarin collar button-down shirt, a diamond link chain and bracelet, and silver rings.
Bryce Young
Bryce Young's monochromatic moment was a hit on the red carpet, as his cranberry-colored double-breasted suit matched the event's step-and-repeat design. The suit jacket was an on-trend box cut shape with straight-legged trousers. His selection of a matching cranberry-colored shirt complemented his silver-spiked Christian Louboutin sneakers.
Iman Shumpert and Ahrii Shumpert
Iman Shumpert and Ahrii Shumpert tag-teamed the ESPYS red carpet in tailored – yet relaxed – black-and-white ensembles. Iman's black jacket rested atop a long white tee, while his black pants featured a white frayed top-stitch detail at the pockets. Ahrii's blazer leaned more to the traditional side with a black satin lapel dressed over a white convertible collar shirt. Both fellas paired down their looks with a pair of distinct black-and-white designer sneakers.
Ryan Garcia
Ryan Garcia's midnight blue moment provided just the right amount of flair on the carpet. While the suit could have been dressed up, he chose to pop the collar over the top of his blazer with an open chest, revealing an iced-out chain. The coordinated deep navy color scheme was amplified by his matching blue and white Dior skate sneakers.
Nick Mayhugh
Nick Mayhugh kept it dapper with a deep-colored gingham 3-piece suit. The midnight blue-and-black number comprised a sleek, single-breasted jacket with matching vest and pants, complemented by a crisp white shirt, black satin tie and black velvet loafers. He added a pair of black spectacle shades to finish off the look.
Taurean Prince
Taurean Prince shined bright in a canary-yellow linen suit with white piping trim. The slim-fitted number contained a single-button, single-breasted jacket with white piping trim on the pockets, and matching slim-fit pants. He completed the look with a white buttoned-up shirt and a white pocket square.
Gradey Dick
Gradey Dick gave a hint of rockstar chic on the red carpet in a square-cut double-breasted suit, with tapered trousers. His suit featured a contrasting true blue and sky blue windowpane print that was worn over a thin white T-shirt. He topped off the look with a cool pair of aviator shades, minimal jewelry and designer sneakers.