Devin Booker Officially Signs Four-Year Extension With Phoenix Suns
A supermax contract worth $214 million USD.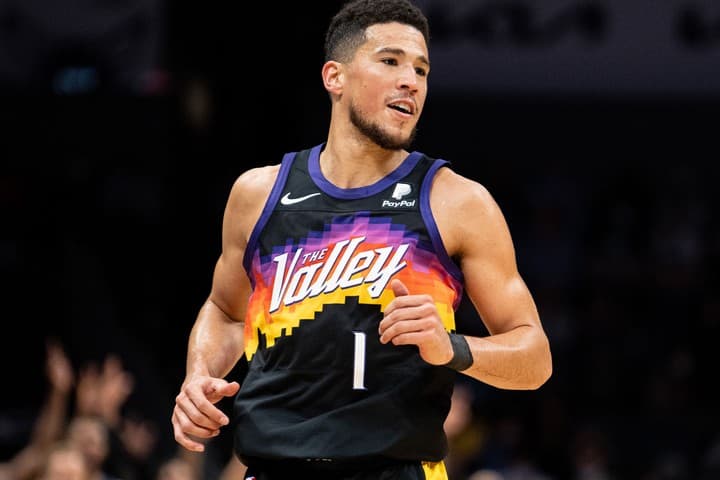 With Nikola Jokić recently signing a record $264 million USD supermax contract extension and the future for Kevin Durant still uncertain, the NBA offseason trade drama continues. The latest major announcement comes from the Phoenix Suns, as they officially sign 25-year-old guard Devin Booker to a four-year contract extension.
Booker averaged a career-high 26.8 points, 5.0 rebounds, 4.8 assists, and 1.1 steals last season, leading his team to win a franchise record of 64 games in the regular season.
"Devin, with his work ethic and commitment to excellence, has established himself as one of the league's best players, elevating himself and our organization," said General Manager James Jones in a statement. "We are beyond excited to extend the mutual commitment between Book, the Suns and the Phoenix community. He is just getting started."
Booker is currently the Suns' all-time leader in points scored with 70 back in 2017, and also holds the franchise record for most games with 30+, 40+, and 50+ points. Selected as a member of the All-NBA First team, Booker finished fourth in the race for 2021-2022 NBA MVP. The Suns ultimately made it to the second round of the playoffs last season, losing to the Mavericks in game 7.
While details have yet to be confirmed, the deal is reportedly a super-max contract worth approximately $214 million USD,  that will secure Booker's spot from 2023-28.
"Phoenix, Thank you for allowing me to grow. The love from this city has been there from the beginning. I'm honored and humbled to call this place HOME. Be Legendary," writes Booker.
Some of the top remaining 2022 NBA free agents include James Harden, LaMarcus Aldridge, Carmelo Anthony, Montrezl Harrell, and Deandre Ayton. Here is a full rundown of the official 2022 off-season trades so far.
More of this to come. Night y'all. pic.twitter.com/vYMAdB7hXo

— Phoenix Suns (@Suns) July 7, 2022
A night in history. pic.twitter.com/fThp0VSran

— Phoenix Suns (@Suns) July 7, 2022
Elsewhere in sports, Rudy Gobert has been traded to the Minnesota Timberwolves.