Charles Oliveira Stripped of Title for Missing Weight Ahead of UFC 274
He will be moved to the number one contender position even if he wins.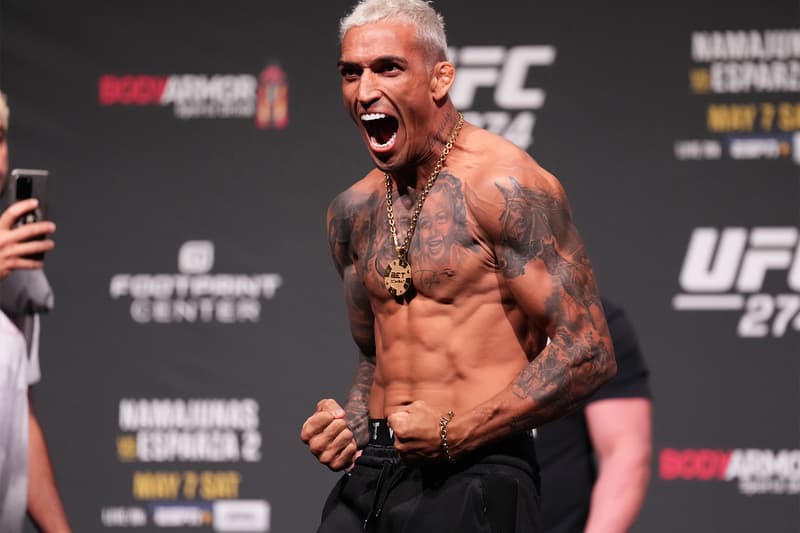 With just one sleep away from UFC 274, the MMA promotion has released a statement confirming that defending Lightweight Champion Charles "Do Bronx" Oliveira has missed weight. He stood on the scale at 155.5 over the 155-weight class limit.
This is the first time in UFC history that a champion has missed weight ahead of a main-event fight. Oliveira defended his position by stating that he was on weight the night before according to his scale and had no food or water before the weigh-in. This is also becoming a bit of a scale-gate scandal as many other fighters like Ariane Carnelossi and Casey O'Neill have responded confirming that the digital scales are 0.5 pounds off. Of course, Justin Gaethje was not impressed as he called out the missed weight by saying that he did not believe there was anything wrong with the scale at all.
The UFC's official statement reads:
Charles Oliveira missed weight for his UFC 274 main event bout against Justin Gaethje on Friday afternoon in Phoenix, weighing in at 155.5 pounds," the statement wrote. "Due to the weight miss, Oliveira will forfeit a percentage of his purse. As of this moment, Charles Oliveira remains the UFC Lightweight Champion, but upon the start of the Main Event Headliner tomorrow night he will vacate the 155-pound title. The fight will proceed as scheduled, but the championship will only be on the line for Gaethje. If Oliveira wins, he will be the number one contender for the vacant Lightweight Championship and will fight the next challenger for the undisputed title belt at a time and place to be determined.
I posted my weight 3 hours after I stepped on the scale. Average weight gained back by athletes in the UFC is 10% of body weight. You guys might not like it but it is the law of the land. #fyi

— Justin Gaethje ?? (@Justin_Gaethje) May 6, 2022
Congrats to the "genius" that messed with the fighter's scale leaving it with a 0.5lb difference. We only found out when we were informed as we were coming down to check our official Weight. Luckly I was under so that didnt hurt me.

— Ariane "Sorriso" Carnelossi (@ArianeSorrisoo) May 6, 2022
Often out the back my weight on the digital scale is different than the official scale, usually I'm 0.5 or so of a difference between the two. You gotta feel for Charles here

— Casey Oneill (@kingcaseymma) May 6, 2022
In other sports news, Kyrie Irving wants "four straight years of dominance" with Brooklyn Nets.