Best New Tracks: Kendrick Lamar, Post Malone x Roddy Ricch and More
10 music projects to dive into this weekend.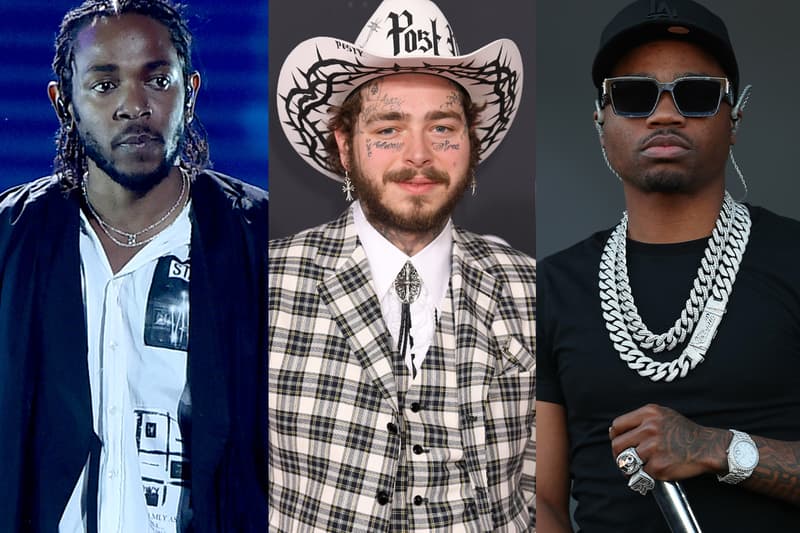 As the week in music comes to a close, HYPEBEAST has rounded up the best projects for the latest installment of Best New Tracks.
This week's list is led by releases from Kendrick Lamar and Post Malone with Roddy Ricch, who dropped the album Mr. Morale & the Big Steppers and the collaborative cut "Cooped Up," respectively. Also joining this selection are offerings from Blxst, Chance The Rapper with Vic Mensa, Bazzi, black midi, Lil Eazzyy, Boldy James with Real Bad Man, Stove God Cooks and Rome Streetz, Adekunle Gold with Ty Dolla $ign, and Obongjayar.
Kendrick Lamar - Mr. Morale & the Big Steppers
Kendrick Lamar makes his triumphant return after five years with Mr. Morale & the Big Steppers. The double album marks his final release with Top Dawg Entertainment and his debut with pgLang, and features guest appearances from Blxst and Amanda Reifer on "Die Hard," Sampha on "Father Time," Taylour Paige on "We Cry Together," Summer Walker and Ghostface Killah on "Purple Hearts," Kodak Black on "Silent Hill," Baby Keem and Sam Dew on "Savior," Tanna Leone on "Mr. Morale and Portishead's Beth Gibbons on "Mother I Sober."
Listen: Spotify | Apple Music
Post Malone x Roddy Ricch – "Cooped Up"
With his newest album Twelve Carat Tootache set to release on June 3, Post Malone enlists Roddy Ricch for the new single "Cooped Up." Their second collaboration following the "wow." remix from 2019, Posty gave his praises to Ricch while speaking to Apple Music's Zane Lowe, "He's just such an incredible man and just a natural performer and vocalist and lyricist. And he just gets after it, and it's so cool. Dude, and just to watch him grow. And he's such a beautiful, beautiful man. And so talented, man. I'm so pumped." He continued, "I've been out of my bag for a long time, and I'm trying to hop back in there, man. We knew what we wanted to say, and we knew what we wanted to express, not only in a song but in that particular moment on the album. And yeah, it just came super naturally. I couldn't even tell you. I was probably on the s***ter when I wrote it."
Listen: Spotify | Apple Music
Blxst – "Never Was Wrong"
Blxst shares an accompanying music video for his latest track, "Never Was Wrong." Set in a Beverly Hills mansion, the visual features guest appearances from familiar faces like Buddy and is a "peak into a modern day perspective of LA's black upper echelon" as they party in such a lavish area. "The lighting and camera angles shows everyone in a very glamorous demeanor and instantly transports you into Blxst's world, filled with diamonds, beautiful people and a full jazz band accompanied by soft 808s," the press release reads.
Watch: YouTube
Chance The Rapper x Vic Mensa – "Writing Exercise #3: Wraith"
Chance The Rapper and Vic Mensa reunite for their latest collaborative effort, "Writing Exercise #3: Wraith." Produced by Smoko Ono and Beat Butcha, Mensa reveals that fans can expect more music from them soon. "Me & Chano have been working on a lot of music for a while now, there's much more to come," he shared in a statement. "This was produced by the homie Smoko Ono & Beat Butcha."
Listen: YouTube
Bazzi – "Will It Ever Feel The Same?"
Bazzi wants to know "Will It Ever Feel The Same?" in his first single of 2022. The followup to last year's "I Like That," the new track is written by the artist himself and produced by his longtime collaborator Kevin White of Rice N Peas. Fans can expect a new album to release soon and even more music this summer.
Listen: Spotify | Apple Music
black midi – "Welcome To Hell"
UK trio black midi, comprised of Geordie Greep, Cameron Picton and Morgan Simpson, are set to release their third album Hellfire on July 15 and share the lead single, "Welcome To Hell." Written in isolation in London, Greep explained, "If Cavalcade was a drama, 'Hellfire' is like an epic action film."  He continued,  "Almost everyone depicted is a kind of scumbag. Almost everything I write is from a true thing, something I experienced and exaggerated and wrote down. I don't believe in Hell, but all that old world folly is great for songs, I've always loved movies and anything else with a depiction of Hell. Dante's Inferno. When Homer goes to Hell in the Simpsons. There's a robot Hell in Futurama. Isaac Bashevis Singer, a Jewish writer who portrays a Satan interfering in people's lives. There's loads!"
Listen: Spotify | Apple Music
Lil Eazzyy – Too Eazzyy
Lil Eazzyy teams up with GRAMMY-nominated producer Chop Squad DJ for his newest mixtape, Too Eazzyy. The 10-track project features guest appearances from Shoebox Baby and NLE Choppa — the latter of whom Eazzyy is currently tour with until June 5.
Listen: Spotify | Apple Music
Boldy James x Real Bad Man x Stove God Cooks x Rome Streetz – "Open Door"
Real Bad Boldy collaborators Boldy James and Real Bad Man are set to drop their newest collaborative album, Killing Nothing, on May 20. The pair also releases the album's second single "Open Door," featuring Stove God Cooks and Rome Streetz. "Lyrically, a lot of rappers are so caught up in what everything thinks they're supposed to be doing, that they don't kill records anymore. I feel like even though I don't make the biggest energy records, or club records, for girls to shake their ass too, I feel like I got the most consistent flow in the game," James shared. "When I work with Real Bad Man, we be killing shit, to me even on our off days, we be killing shit. There are others who try their hardest, but they ain't killing nothing or letting nothing die."
Listen: Spotify | Apple Music
Adekunle Gold x Ty Dolla $ign – "One Woman"
Adekunle Gold is hot off his newest album Catch Me If You Can, dropping an accompanying music video for "One Woman" featuring Ty Dolla $ign. The stunning, vibrant visual is helmed by Ghanaian photographer and visual artist Mike Amofah and features a cameo from top model and Armani Beauty spokesperson Madisin Rian.
Watch: YouTube 
Obongjayar - Some Nights I Dream of Doors
Nigerian-born, London-based multidisciplinary artist Obongjayar finally drops off his highly-anticipated debut album, Some Nights I Dream of Doors. The 12-track project was recorded over 12 months alongside Barney Lister, and features a sole guest appearance from Nubya Garcia on "Wrong for It."
Listen: Spotify | Apple Music