DRIVERS: Vincent Chan and His 1986 Toyota Corolla SR5
Not only is the car inspired by 'Initial D,' his cafe business is as well.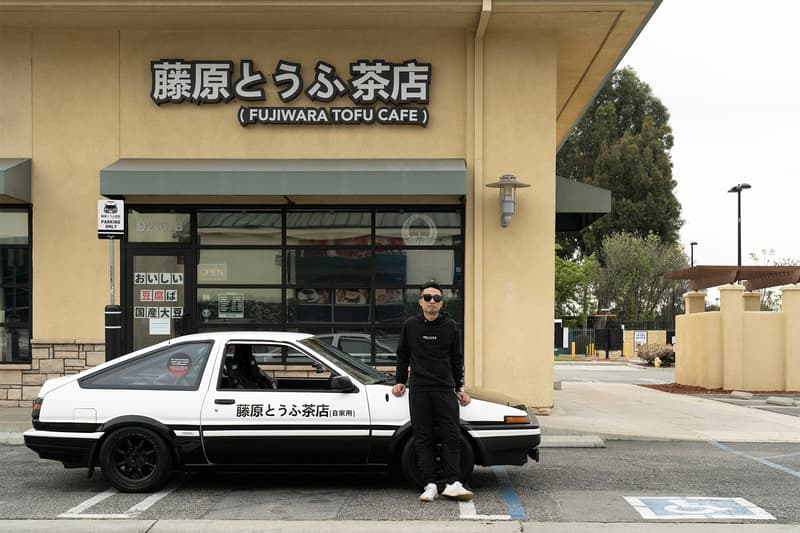 DRIVERS is a series highlighting influential individuals in the HYPEBEAST sphere and their passion towards all things automotive. The approach is simple: what is car culture to you, and why do you have a passion for it? Each contributor is given a chance to shine light on their personal vehicle or vehicles, and asked to remark on how they are driving culture forward, both metaphorically and literally.
---
When subcultures converge, it's a beautiful thing. For our latest DRIVERS, we highlight Vincent Chan, whose dream was to turn his love of a specific manga and channeled it not only into his car, but his business as well.
Born in Hong Kong and emigrated to the States only a few years back, Vincent and his girlfriend's thought was first to open a coffee shop. Their eventual idea spawned out of a dream, with a mutual love for cars and the Japanese manga/anime Initial D.
For those unaware, Initial D is the "underdog" story of Takumi Fujiwara, a tofu delivery boy out of Gunma, Japan. His father Bunta, who handed Takumi the keys to the family Toyota at a very young age, noticed his son's deliveries from the Fujiwara Tofu Shop started completing quicker and quicker, as he drove both up and down the Akina mountainside. Driving skill, it seemed, ran in the Fujiwara blood, as Bunta's honed racing skills was a secret to Takumi, as was the family's Toyota Sprinter Trueno AE86's true ability.
Without delving into the entire series, most fans will tell you the real star of the show was the Toyota "Hachiroku," Japanese for "86." Its panda paint job, pop-up headlights, carbon fiber hood, black Watanabe wheels and, perhaps most of all, the "Fujiwara Tofu Shop" decal across the driver side is widely mimicked for all who own the humble Trueno/Corolla, but Vincent's example is a serious contender for best of show.
Vincent has gone to great lengths to replicate the Takumi 86 to the finest detail; beyond the aforementioned characteristics, his example goes as far as to copy the steering wheel, the lighting, even the paper cup with water that's not to be spilled – a recurring theme in the story – is sourced and applied correctly. The replicated Initial D theme extends to his Fujiwara Tofu "Cafe" as well, serving tofu and soy-based desserts that not only reference the series, but stands out in a sea of bubble tea joints in the greater Los Angeles area. The shop, which is reopening after a short hiatus on April 14, is welcoming to all and hosts car meets, get togethers, and even competitions on the Initial D video game setup in the rear.
Fujiwara Tofu Cafe
9216 Flair Dr, Unit B
El Monte, CA 91731
Check out Vincent and his Initial D setups, and in case you missed it, we featured pro drift driver Jhonnattan Castro and his 2022 Toyota GR86.
---
Tell us about your business.
Fujiwara Tofu Cafe was founded in 2017 by me and my girlfriend Cheri Kyoo, she's also a car enthusiast. Cherri always wanted to open a coffee shop, so we decided to combine both of our hobbies together and that's how we came up with the idea of opening an Initial D theme shop – Fujiwara Tofu Cafe.
We noticed there's a ton of milk tea places here in Los Angeles but none of them sell soy milk. Therefore we wanted to be unique and be the first car-themed boba shop in this area. We truly think that's exactly what is missing here in Los Angeles.
Here at Fujiwara Tofu Cafe, we mainly sell tofu and soy milk related desserts, not because it fits the theme, but also that's what we had when we were kids. Although much of the soy milk drinks and tofu desserts might not be appealing to people who are allergic to soy, Fujiwara Tofu Cafe is still welcoming to those who are looking for Initial D theme merch, and all car enthusiasts to come experience the Initial D vibe since we do car meets everyday here.
Tell us about your car.
It is a 1986 Toyota Corolla SR5 with a complete GTS conversion. As far as you can tell, yes it is an Initial D themed AE86, however the main difference between this one and the other replicas out there is mine actually says "Fujiwara Tofu Cafe" on the door instead of "Fujiwara Tofu Shop." I don't want to just snap a tofu sticker on the door and just call it an Initial D replica 86; I'm really trying to make it as close to the anime as possible, such as the iconic panda theme paint job, water cup holder, Italvolanti Admiral steering wheel, carbon fiber hood, Recaro SPG seats and the Safety 21 roll cage Takumi got from Final Stage. And I also swapped an AE101 Silvertop engine just like the show.
When did you acquire it?
I found this car on Craigslist back in 2015. The seller was selling this car because he needED the funds to fix his [Nissan] 240SX. The car was red, bone stock, all the interior panels and seats were there, clean title – basically just needed a new paint job. No strange vibrations, no funny noises, it ran great. He was selling it for $2,000 and I thought it was a steal, but I ended up getting the car for $1,500. What a deal!
What made you choose this car specifically?
People have asked me that in the past; it's really embarrassing, but I didn't really have any hobbies when I was a kid. Quite some time passed until one day, I was watching TV with my family and I came Initial D and I just fell in love with cars since then. I've told myself that one day, when I can afford it, I want to buy my own AE86.
What is the main purpose of this car for you?
The main purpose of this car right now is as a display vehicle outside of my shop Fujiwara Tofu Cafe. I used to just take it out during weekends back then, but now whenever the tofu cafe is open for business, the 86 has to be there. It pretty much became a signature of the cafe, and I'm just so happy to see it sitting outside instead of inside the garage. Watching our customers getting hyped seeing the 86 really reminds me of when I was a kid, and I think I will never get tired of seeing that. I do plan on tracking/drifting the 86 later in the future though.
"I believe that cars reflect our personality… They are connected to us; the way you treat them is the same way they treat us."
Any details? Modifications? Changes?
Exterior:
The car was wrapped in Avery Pearl White by Aerowerkz when I first got the car in 2015, but now it's fully painted in a panda theme. It's got a carbon fiber hood and headlight covers, Trueno JDM window visors, JDM Zenki front and rear bumpers, JDM Zenki corner lights, Konig (Watanabe Style) wheels w/ Federal 595RS RR tires, JDM Zenki bumper lights, the signature Cibie yellow fog lights and Takumi's 13-954 license plate just like the show.
Interior:
I'm trying to keep it as clean as possible so it's got the the full maroon color interior just like the anime/comic, but also a Safety 21/Cusco 7-point roll cage, Recaro SPG bucket seats with some Buddyclub rails and sliders, Italvolanti Admiral steering wheel, Works Bell quick release, Iconic cup holder, Expert OZ floor mats, a TRD short shifter and a TRD shift knob.
Suspension/Engine Modifications:
I'm proud to say the car is sponsored by BC Racing, so it's got a set of BC Racing BR Series coilovers, as well as BC Racing RCAs and BC Racing camber plates, a Cusco front lower radius bar, Cusco front and rear strut bar, Cusco rear sway bar, T3 4-links, T3 Panhard bar, T3 traction brackets, White Line front sway bar, and a Prothane Bushing Kit all around. As far as mods go, engine-wise I have a stock AE101 Silvertop engine under the hood with a set of 100mm 20V 4AGE velocity stacks, T3 ITB splash guard, Trust oil cooler, Mishimoto radiator, and a Cusco oil catch can.
Any interesting stories you'd like to share about this car?
Ever since I owned this car, there were so many interesting stories with it so I'll just list some unforgettable ones.
After I drove the 86 for about a year or so, I blew the stock engine on the freeway. It really shocked me but at that moment I just seriously thought I'm Takumi and I knew I had to swap the AE101 20v engine in there.
Not too long ago after we started Fujiwara Tofu Cafe, Donut Media actually emailed us and invited the 86 to be featured on their "Bumper To Bumper" show, and that video is still my favorite Donut Media video.
Before Fujiwara Tofu Cafe have an actual location, we actually were doing Night Market/Food Festival events for four years. And during that time I've met some of the most amazing people that I don't think I would have had the chance to meet, such as the Director of Formula Drift Andy Luk. He came to our booth and invited us to be a vendor at Formula Drift Irwindale 2019; I'm still mind blown till this day. Later on down the road, he introduced me to my favorite Formula D Driver Ken Gushi, and it was just the funniest thing now. We actually became friends off that whole thing, I remember I always watched his drifting videos online when I was a college student.
In 2021, Leen Customs invited us to do a collab with them and they made a limited edition pin for our 86.
Early this year, right after Toyota released the new GR86, their marketing team contacted us to display our 86 next to their GR86 at the Asian American Expo with the GR86 commercial playing in the background. It's definitely one of the greatest things that ever happened to me and the 86. Since then, I don't think there are any 86 owners out there who will have this kind of opportunity. Thank you Toyota USA for the whole experience!

Ever since I owned this car, everything around me is pretty much Initial D related, and I'm looking forward to see what new adventures await.
What are cars to you: aspirational achievements, functional tools, stress-relievers, etc?
I believe that cars are not just a tool for us to travel. They reflect our personality. There is always a story, a memory with your cars. Cars are a part of our daily lives, and there are no two ways about it. Seeing our beloved car break down worries us, and it can even make us sad. I remember the night when I blew my engine, I couldn't sleep that night at all. So I truly believe they are connected to us; the way you treat them is the same way they treat us. To be honest, sometimes I even talk with my 86 after I got home, I would say things like 'Hey there buddy, how's your day going?' Silly right?
What have you owned before?
So I've owned a 2001 Toyota Celica GTS during college, sold it and got myself a 1995 Mazda Miata NA 1.6. Drove the Miata for around two years and figured I needed a newer car so I bought my first brand new car: a 2009 Honda Civic Si sedan, which I still have and it's currently my track car. Then I got my 86, but I always think it would be more complete with Bunta's [Subaru] Impreza parked next to it in the garage so I bought a 2001 Subaru Impreza 2.5RS coupe. I saved it from a junkyard actually; they were about to put it out in the yard and then it would've been parted out and it would've been done. And my girlfriend Cheri drives a 2005 Honda S2000, which is currently also one of my daily drivers.
What's in your three-car dream garage?
One of them has got to be my AE86, [plus] a Ferrari 458 and I would daily a [BMW] M3 E92.
What is the future of the automotive industry, and car culture in general?
In my opinion, I think the future of the automotive industry is already here; everything is going to be electric and smart technology sooner or later in the future. But I'm pretty sure the car culture will still be there. We can see people put mods on Teslas and some of them actually don't look too bad.
Life only comes around once, so do whatever makes you happy, and drive whatever makes you smile. I'd say don't give up on your dream car too easily, because "Everything Starts With A Dream."