Sole Mates: Chris Echevarria and the Blackstock & Weber Ellis Penny Loafer
Blackstock & Weber's founder/creative director talks about why building his life's work will always be rooted in home.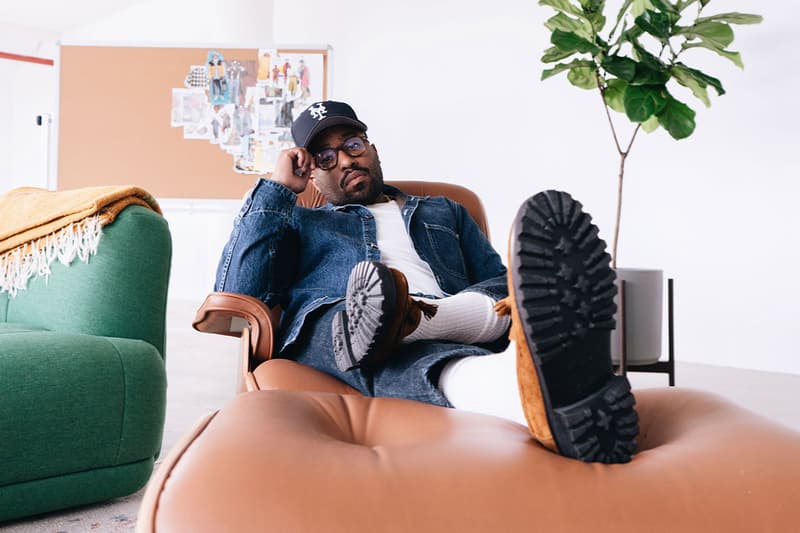 Seldom has the penny loafer, a hallmark of men's classic footwear, been cast a newfound light that rests within contemporary fields of view. Both its existence and aesthetic have usually reflected tradition, formality and a singular idea of what its presentation should be. But for Chris Echevarria, these stylistic ideals were too rigid and in dire need of evolving to reach the shoes' greatest potential. So naturally, Echevarria led his own charge.
The Blackstock & Weber founder eventually created his brand to put a new spin on just how cool loafers could actually be. From pony hair fabrications to Goodyear-welted or Vibram 1757 soles, it's fair to say Echevarria is making loafers for prepsters, sneakerheads and everyone in-between. But the formation of his brand has been the product of many years of training.
When Echevarria sat down with HYPEBEAST in his Brooklyn design studio, he motioned towards a silver Rimowa suitcase teeming with a lineup of new and unreleased silhouettes. Spilling out onto a nearby rug, the gambit of refreshed animal prints and electric suede hues was a testament to just how far the designer has come.
The New Jersey native got his start at the infamous J. Crew Liquor Store when he was a menswear design student at the Fashion Institute of Technology. It was during his time at J.Crew's menswear boutique when he was pulled by former C.E.O. Mickey Drexler to assist in collaboration scouting on a corporate level. Later on, he moved on to work as a menswear trend forecaster in addition to working on strategy/design with several brands like Stone Island. But this was all just fuel to the larger fire for Echevarria.
In this issue of Sole Mates, HYPEBEAST speaks with Chris Echevarria about the influences and multi-faceted experiences that gave way to his label Blackstock & Weber and its signature silhouette, the Ellis Penny Loafer.
HYPEBEAST: Who or what got you into shoes?
Chris Echevarria: Well, I was always a kid that liked dressing up and picking out my own clothes to the point where I would cry if my mother didn't let me pick out my own clothes.  But the thing that dragged me into shoes was going to church with my grandmother. So you know, that church uniform, put on some khakis, white shirt and some loafers.
So, that was my first introduction to what it was and since then it stayed in my wardrobe. It would be something that I'd lean on for formal things and as I got older, I got more of an appreciation for it and it began to trickle into my casual wardrobe. This was a result of going to prep school. I was kind of unruly during prep school in the regard that I was always trying to find ways to change the rules of how the uniform was supposed to be put together. I would look for the red tape. So that's where it became a really big part of the wardrobe.
Where you grew up, was there an emphasis on shoes?
I grew up in the suburbs, in West Orange and there were a lot of Sperry boat shoes. The boat shoe was sort of my introduction and as I'd see other people in boat shoes, I had to separate myself from what this is, because everybody's wearing this one shoe. So how am I going to differentiate myself, but still kind of get that same look that I want?
Did you have a favorite pair of loafers growing up?
The Bass Weejun. Bordeaux color. When you don't choose a black or brown and you choose the Bordeaux, it gives you a lot of options as far as color play is concerned. It also teaches you that a shoe doesn't necessarily have to be black or brown in order for you to kind of work it into an outfit. The Bordeaux was just so powerful because you can wear it with blue, green or anything.
Tell me about how you got started with Blackstock & Weber?
"I wanted something that had a deep origin in craft and I wanted to create a wave of change in a place that didn't have it or where it didn't exist."
So if you walk into a men's store, the shoe section always sat in the back of the store. You get back there and it's just different iterations of the same brown leather on different shoes. There wasn't anything that was profound back there. I didn't really see anything that was making me want to shop back there. I decided that would be the place where I would start and it took me a little bit of trial and error. I first started out selling 20 different types of shoes. Those shoes range from Chelsea boots to combat boots.
I was proud of the products, but 99% of the stuff that I was selling I didn't wear myself. I didn't necessarily like all the stuff that I was selling. At some point, I had an epiphany about what it is that I was selling and I was like, I need to turn within and focus on that. That'll be something that I'll be proud of no matter if it hits or not.
"I started thinking about my grandmother. She had passed two years before I started the brand and I wanted to do this as an homage to her."
So I folded all the other stuff and decided to focus on loafers. With the loafer, you have three different silhouettes. You have your penny, you have your tassel and you have your horsebit. So, I was going to focus there and the first thing that I really wanted to do was reformat and restructure the entire thing.
Was the Penny the first silhouette?
Yes, the Penny was the first and then I started adding different components onto it. I wanted to take what I had known through the Bass Weejun and things of that nature and correct everything that I didn't like about that shoe. That shoe was very flat. The soles were very flat. It wasn't wide enough. You know, it didn't have a presence at the end of your outfit and I always wanted a shoe that had a presence at the end of your outfit. One of the shoes that I based this on was my favorite sneaker, the Air Force One. Not just from the shape and silhouette perspective, but I thought about it in the same aspect that if you look at the Air Force One, it goes from all-white to every color and fabrication that you can think of and it holds it well. So I wanted to create a silhouette that holds anything that you can throw at it well. Then I went to work on just finding different things that I wanted to throw onto this one silhouette.
"So the thing that I really had to do was show people that it can be comfortable. It can be just as playful, just as colorful, and just as versatile as that Air Force One that you like."
Where did the name come from? 
Home. I grew up on Weber Road and my grandmother lived on Blackstock Road.
What has been the most memorable moment in designing any of your shoes? 
Just being able to live in this moment is super memorable. I couldn't pick one. Every name has a meaning. So, Ellis here, our first intern, the Ellis Penny Loafer is named after him.
This brand is my life's work. So every little bit of it I hope is super authentic. The model that we use in our shoes. The people that I have around me are the closest to me. The way that I choose to go about putting the collections out and talking about the different areas that influence me.
"I think that you spend a big part of your 20s and your teens trying to figure out who you are. One of the things that I think is inaccurate in a lot of those statements is you're not really trying to figure it out. You're building it."
I got to a point in my life where I felt like it was built. Now it's built to the point where I'm like here's the package and I'm showing it to the world.
Why are shoes and the stories they hold important to you? 
You know what they say, you spend most of your time either in your bed or in your shoes. So other than that. The way that I look at it, your shoes are the most important piece of what your wardrobe is. They show individuality through the colors and silhouettes that you pick. But, it's all about craft. The body of what this is is just as important to me as the outside. I think that that is just a reflection of how I see the world in general.