Samuel L. Jackson and Uma Thurman Join Forces on Dark Comedy Thriller 'The Kill Room'
Production will begin this spring in New Jersey and New York.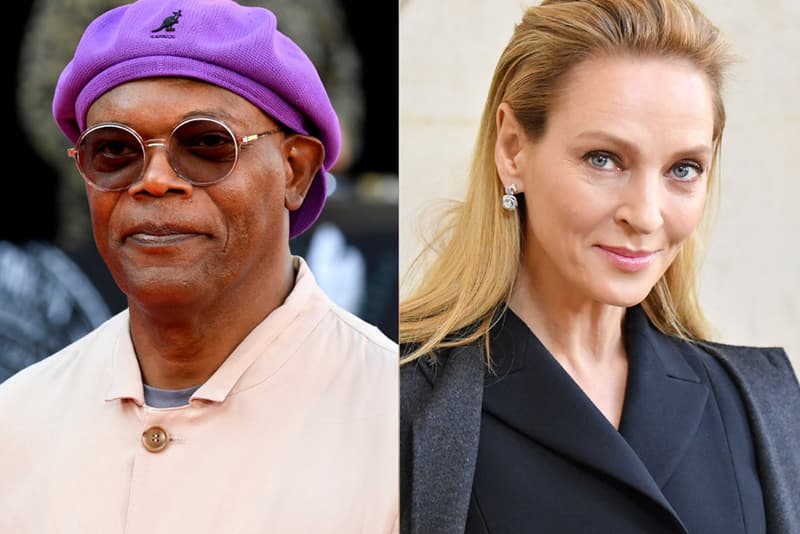 Samuel L. Jackson and Uma Thurman are slated to star in an upcoming dark comedy feature titled The Kill Room, according to The Hollywood Reporter.
The thriller centers on three central characters — a hitman, his boss (Jackson) and an art dealer (Thurman) — who become entangled in a money-laundering scheme that ultimately transforms the killer into a fastly-famous figure who must navigate the art world with a cunning mind. Nicol Paone is directing the film based on a script written by Jonathan Jacobson.
Jordan Yale Levine, Jordan Beckerman and Jon Keeyes are producing under Yale Productions, with Anne Clements (Idiot Savant Pictures), Paone, Thurman, and Dannielle Thomas and Jason Weinberg from Untitled Entertainment.
"Getting to make The Kill Room — an already incredible script — with Uma Thurman and Samuel L. Jackson is beyond my wildest dreams," said Paone, who has previously worked on Funny or Die, Friendsgiving and more, in a statement to the outlet. "Every moment they're onscreen, they are both enviable and eye-catching. I am eternally grateful to both of them for saying yes, and I am thrilled to bring this to life alongside Anne Clements and Yale Productions."
"The combination of Uma and Sam for this project is a dream come true," Levine and Beckerman added. "We are certain that Nicol is going to deliver a special film, and one that strikes the perfect balance between dark humor and edge-of-your-seat thrills."
Thurman, who is known for her starring roles in Pulp Fiction and Kill Bill, is currently fronting Showtimes' Super Pumped. Meanwhile, Jackson, who was honored at the Oscars for his wide-spanning acting career with films including Pulp Fiction, Goodfellas, Django Unchained, The Hateful Eight, three Star Wars films and 11 Marvel movies, is currently leading Apple TV+'s The Last Days of Ptolemy Grey.
Production on The Kill Room will commence this spring in New Jersey and New York. Stay tuned for more information on the forthcoming project.
In other entertainment news, Obi-Wan Kenobi will premiere two days late with two episodes.