DRIVERS: Vin Anatra and His 1991 Acura NSX
For Hoonigan's VP of Business Development, the NSX was an absolute steal.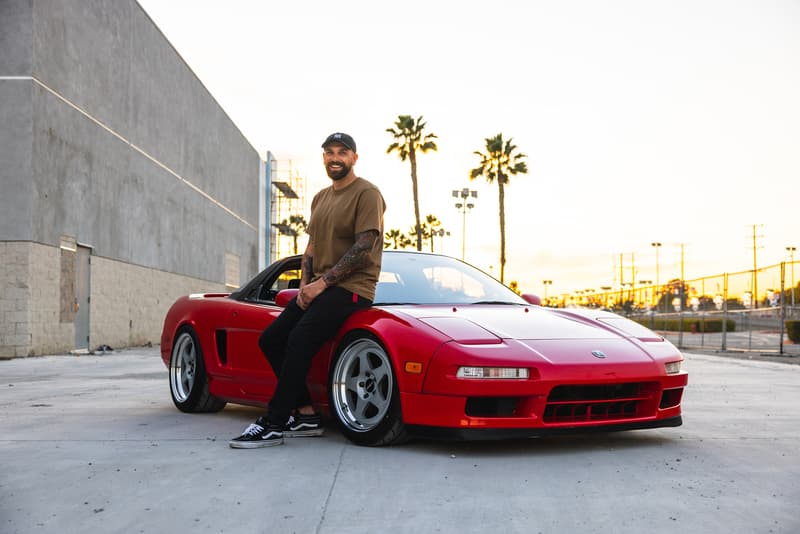 DRIVERS is a series highlighting influential individuals in the HYPEBEAST sphere and their passion towards all things automotive. The approach is simple: what is car culture to you, and why do you have a passion for it? Each contributor is given a chance to shine light on their personal vehicle or vehicles, and asked to remark on how they are driving culture forward, both metaphorically and literally.
---
Sometimes life will hand you the sweetest deals, whether it's a dream job opportunity or something as simple as an offer you'd been holding out for. For Vin Anatra, both seemed to have been the case.
Vin is the Vice President of Business Development over at Hoonigan, the end-all location for everything you love about car culture. The brand goes deep to cover all aspects of the automotive lifestyle, from industry updates and original video content, to an expansive merch line and its own star athlete for a dedicated racing division.
Not unlike the site you're literally reading this on, Hoonigan has veritably created its own subculture of diehard fans – it has become a household name for anyone who has ever wondered how much more power a turbo could add, or for the people who actually look forward to cleaning and waxing their own car. You may laugh at the notion, but it's a real thing, and Hoonigan is at the forefront of it all.
For such a prominent figure in the "Hooniverse," there are so many cars that would fit the persona, but the original Honda/Acura NSX is on a pedestal of sorts. First conceptualized in 1990, the NSX was Honda's competition in the low-slung, high-revving sports car market dominated by Italians – the Prancing Horse to be precise. Along with Honda's Formula 1 team and its star driver at the time, Brazilian superstar Ayrton Senna, the NSX was developed to be the final word in race car handling, street-able performance and killer aesthetics, all with the Japanese automaker's fabled reliability.
The NSX would eventually become a cult classic after its original design retired in 2005. A resurrected NSX name re-appeared with the generation 2 model and while it has yet to capture the hearts and wallets of car enthusiasts, the NSX remains the flagship sports car Honda/Acura have under their belt.
Vin's example is perhaps one of the cleanest you'll ever find and, if it makes you even more envious, he got it for a screaming good deal. Read more about his gorgeous '91 NSX and in case you missed it, our previous DRIVERS entry is none other than famed car collector Magnus Walker and his 1976 Porsche 911 Turbo.
Tell us about your car.
It's a 1991 Acura NSX, the first model year of the car. [Produced as a Honda in Japan], it was their answer to the Ferrari.
When did you acquire it? 
I bought this car in April 2021 after many months of searching. It was in the same family for the last 21 years but after the father left the car to his son, who I purchased it from, it remained unused for many years. He was too nervous to drive it and afraid of the maintenance costs. When I found the car it was a bit neglected and didn't present well but the bones were good and the deal was too good to pass up!
What made you choose this car specifically? 
The deal. I'm a sucker for a good deal and this was nearly too good to be true. The car looked iffy in photos but the seller was awesome and very knowledgeable about the car, he even had maintenance history dating back to the 90s! A bit skeptical, I drove up with my truck and trailer and told the seller that I would take it on the spot if it all checked out – it did. It needed all of the routine NSX services done but it was a clean titled, unmolested NSX for nearly half what it is worth today!
What is the main purpose of this car for you?
It is a bucket list car for me. I have always loved them and never thought I would have the opportunity to own one. It's no secret that I love hunting for cars and when I found this one I had to have it. I hardly fit in it which stops me from tracking it, so it's just a cruiser for me. Currently it is the most fuel efficient car I have so I nearly daily drive it – I've put 5k miles on it in under a year!
Any interesting stories you'd like to share about this car?
Because of my job at Hoonigan I am in YouTube content often, including many videos with 10M+ views (weird flex) but the most viral thing to happen to me was a stupid situation in this car. We (Hoonigan) were caravanning out to SEMA 2021 with our 90's JDM hero fleet- NSX, R33 GT-R, FD RX7 and a GTI – sitting in typical LA stop-n-go traffic when some lady hanging out of the passenger side of her assumed-to-be best friend's ride chucks her coffee at my car, followed by the cup. While she is physically hanging out of the window screaming at me, for no reason mind you, the driver of the car, likely distracted by her insanity, plows into the back of a Cadillac. In the moment, I found this hilarious. As did my buddy who was following me and had his external and internal dashcam running. The situation paired with his reaction made its way onto the main page and 1st post on reddit and got re-shared all over. Amazing. Now dubbed the Instant Karma NSX.
However I'd love to know what happened to that relationship following the accident, (laughs)!
Any details? Modifications? Changes? 
It is a pretty basic setup. To me, this car is beautiful and so unique from the factory that I don't see the need to do crazy aesthetic modifications. It has KW 2-way clubsport coilovers with axle lift (HLS), custom Rotiform ROC wheels (17x 8.5 & 18×10.5) and Falken RT660 tires(235/40 & 275/35). It also has a full exhaust because this car is virtually silent from the factory and a Renown steering wheel.
What are cars to you: aspirational achievements, functional tools, stress-relievers, etc? 
Man, cars are everything to me. My career, most of my friends and a lot of my motivation has been because of cars. Each car provides something I feel is valuable to my life. Whether it is a tentpole achievement to purchase, the thrill of driving/tracking or the people it connects me to. I couldn't imagine my life without the car scene.
What have you owned before? 
Ouff, too much to list. Many people think I flip cars – I don't. I simply love cars and the experience they offer. Life is too short to be tied to a single chassis forever and storage in California is too expensive to keep them all. I started in VWs and have had way too many BMWs… but I have a broad taste for cars so I've had everything from stanced VWs to fast [Mitsubishi] Evos and [Subaru] STIs, a bagged big-body Lexus, hot rod patina [Chevy] C-10 pickup to all sorts of performance oriented sports cars. My current lineup is: This NSX, Porsche GT3 (997), Ford Raptor and four BMWs: e90 M3, e36 M3 with a 700hp LS, e36 328is for drifting and a e30 touring wagon. Crap, now noticing I may have a problem…
What's in your three-car dream garage?
This is a wild time in my life where I think I have all the ingredients for my dream car line up. But if we're talking dreams, I guess I would up the specs: [Porsche] 997.2 GT3RS for street and track, [Ford] Raptor to tow/haul and get off the grid and a [Toyota] MK4 Supra so I can have an ignorant fast street car with all the right noises!
What is the future of the automotive industry, and car culture in general?
I'm supposed to say electrification but, snooze. I think the future is seeing the core demographic within automotive balance out to 50/50 – male to female. A once male dominated space seems to have a new emergence of young and enthusiastic female participants. It is awesome to see our industry expand and become more inclusive to everyone.
Beyond that, let's just take a moment to respect the performance wars and achievements that we are currently making. While electrification is on the horizon, we are in a golden era of producing bonkers factory performance cars. Almost to the point where it is discouraging to modify an old car to be slower than a new pickup truck (laughs)! I'm fortunate to have the opportunity to drive many new (press) vehicles and I'm often shocked that any ole goober with good credit and a paycheck can just buy one of these and be allowed on the road – think: Hellcats.