Samsung Unveils New Galaxy Tab S8 Ultra With 14.6-Inch Screen
Featuring 512GB of storage and two front-facing cameras.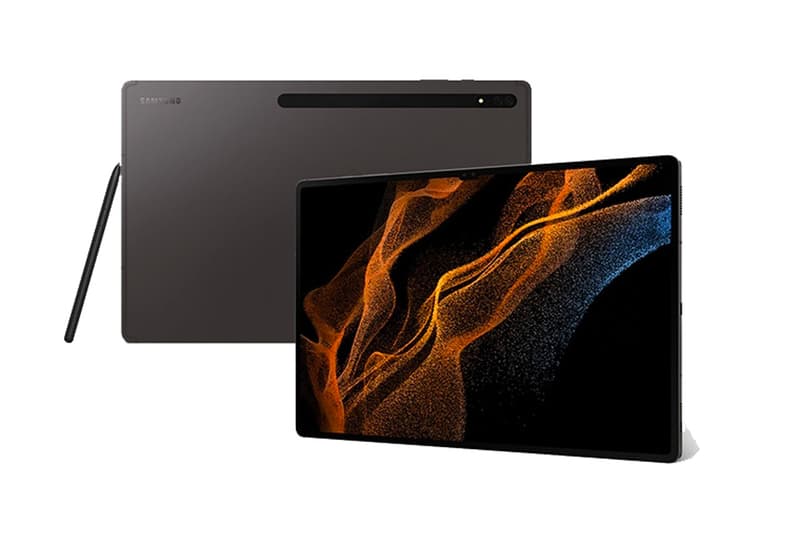 Samsung unveiled the Galaxy Tab S8 Ultra, an all-new tablet with a massive 14.6-inch screen, during its Unpacked event on Wednesday.
The tablet, which is priced at $1,099.99 USD, was released alongside the S8 Plus and S8 devices, though it is the largest and most feature-packed of the trio. The display enlists an AMOLED screen with a 2,960×1.848-pixel resolution at 240 pixels per inch and 120Hz refresh rate. The Ultra's screen measures 20% larger than the 12.4-inch screen on Samsung's Tab S7 Plus and Tab S8 Plus.
Additionally, the device is equipped with up to 16GB of RAM, 512GB of storage, two front-facing cameras and Qualcomm's Snapdragon Gen 1 chip, which is also used in the brand's S22 phones.
The two front-facing cameras, which include a standard wide lens and an ultrawide lens, have the ability to blur a user's background on calls and center subjects in the frame. The device also has a three-way microphone that offers three types of noise cancellation for quality audio.
The Tab S8 Ultra weighs 1.6 pounds and measures almost 13 inches wide and 8 inches tall. The company claims that the device's aluminum is 30% more scratch-resistant than that of the Tab S7.
Samsung's Galaxy Tab S8 Ultra is available for preorder on the company's website today. Take a look at the device above.
Elsewhere in tech, Tesla now owns $2 billion USD in Bitcoin.