Best New Tracks: NIGO x Kid Cudi, Jack Harlow and More
10 music projects to dive into this weekend.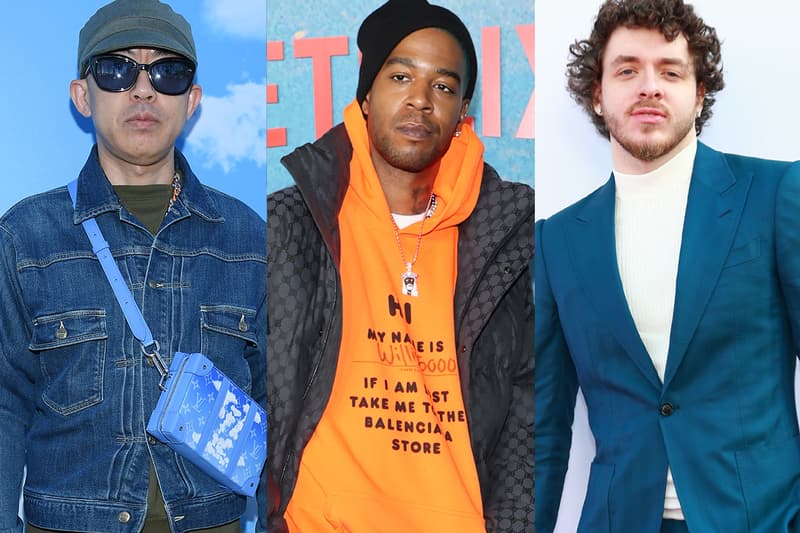 As the week in music comes to a close, HYPEBEAST has rounded up the best projects for the latest installment of Best New Tracks.
This week's list is led by releases from NIGO x Kid Cudi and Jack Harlow, who dropped the singles "Want It Bad" and "Nail Tech," respectively. Also joining this selection are offerings from Yves Tumor, Deante Hitchcock, Guapdad 4000, Teezo Touchdown and Mahalia, plus collaborations from Kojey Radical x Masego, Curren$y x The Alchemist and Fly Anakin x Pink Siifu x Billz Egypt.
NIGO x Kid Cudi – "Want It Bad"
NIGO delivers his second I Know NIGO offering with "Want It Bad," enlisting Kid Cudi for the three-minute cut. Produced by Pharrell, the new single arrives shortly after the A$AP Rocky assisted- track "Arya," the latter of which was initially previewed during the Japanese streetwear icon's Fall/Winter 2022 debut for KENZO.
Listen: Spotify | Apple Music
Jack Harlow – "Nail Tech"
Jack Harlow is making a return with "Nail Tech," marking his first solo single his platinum debut album THAT'S WHAT THEY ALL SAY from 2020. Speaking to Apple Music 1's Zane Lowe, the Louisville rapper shared, "This is one of those ones, I've had it for a few months, Boi-1da played me the beat, we were in the studio. And as soon as I heard it, those horns have something epic about them, but as soon as those kicks come in and the drums, they're not on the one, so it's a different type of bounce. So when it hit me, I was like, it's just one of those ones you're like, 'Mm.'" He continued, "And when somebody plays a beat in front of a group of people that's that special and you're sitting there, you feel an obligation to go rap because everyone's like, 'Wow, we'd love for this moment to happen.' You know, that's what makes you sort of a performer. So you become a performer in the studio because it's like, 'Okay, let me give these people what I want.' Because you're always proving to even your closest company, 'Yeah. I'm really that.' So he played me that and I just started pinning something. And I went in the booth and I just laid a verse. And I remember, I went back to Atlanta a little while later and I played Don Cannon a bunch of my music just to show him where I was at. And I was playing stuff, and then at the very end, I played him this verse that was on "Nail Tech". He's like, 'Yo, what is that?' I was like, 'Oh, you like that?' He was like, Y'eah, you need to finish that.' So I got it together, man."
Listen: Spotify | Apple Music
Curren$y x The Alchemist – Continuance
Curren$y reunites with The Alchemist for the rapper's newest album, Continuance. Clocking in at just under 40 minutes, the 13-track record is the latest collaboration between the pair's decade-long partnership and features guest appearances from Wiz Khalifa, Larry June, Boldy James, Babyface Ray, Styles P and Havoc from Mobb Deep.
Listen: Spotify | Apple Music
Yves Tumor – "Secrecy Is Incredibly Important To The Both of Them"
Yves Tumor is revisiting their 2021 EP The Asymptotical World with an accompanying music video for "Secrecy Is Incredibly Important To The Both of Them." Helmed by frequent collaborator and art director Jordan Hemingway, the visual is billed as a symbol of "Yves' unrelenting commitment to pushing boundaries in every aspect of their craft: a surreal and vibrant homage to multiple genre tropes throughout – blurring the lines between protagonist and antagonist."
Watch: YouTube
Deante Hitchcock - Everyday the 14th
Deante Hitchcock shares his first EP of 2022 with Everyday the 14th, "an explorative journey of love and the dynamics of relationships." The four-track project features guest appearances from Bairi, Dende, DaVionne, JaelSpeaks, Chris Patrick and ELHAE and examines love in its different forms. "This EP is about not taking relationships, situationships, or whatever you're in at the moment too seriously," he explained. "Those times are fun, man, let it be that. It's not always love, but sometimes it is. Only way to find out is to find out, right? This year a lot of my music is gonna be about finding out."
Listen: Spotify | Apple Music
Mahalia – "Letter To Ur Ex"
British-Jamaican artist Mahalia is prepping to release her upcoming EP Letter To Ur Ex with the record's debut single of the same name. The project promises a "more stripped-back, authentic Mahalia sound with no features involved" and is a precursor to her sophomore album, which she is currently writing in Los Angeles alongside Andrew Wansel, Kenny Beats, Tayla Parx and more.
Listen: Spotify | Apple Music
Kojey Radical x Masego – "Silk"
With his debut studio album Reason to Smile set to release on March 4, Kojey Radical enlists the help of Masego for the newest single, "Silk." The upcoming project arrives after Radical's four EPs: Dear Daisy, 23Winters, In Gods Body and Cashmere Tears.
Listen: Spotify | Apple Music
Teezo Touchdown – "Handyman"
New Gen: Spring 2021 honoree Teezo Touchdown joins forces with producer Kenny Beats for "Handyman." Drawing influence from '90s pop-punk nostalgia, the genre-bending artist sings of heartache in his own eclectic way. "There's going to be a lot hammer slangin', pipe laying, and deep drilling," Touchdown said of the song.
Listen: Spotify | Apple Music
Fly Anakin x Pink Siifu x Billz Egypt – "Black Be The Source"
Fly Anakin teams up with Pink Siifu and Billz Egypt for "Black Be The Source," the final single off Anakin's debut album Frank. Infused with hints of melodic soul, the track pays tribute to and highlights the undervalued contributions of Black artistry as the blueprint for popular culture today. Frank drops March 11.
Listen: Spotify | Apple Music
Guapdad 4000 – "Ruthless"
Guapdad 4000 kicks off his 2022 with the brand new single "Ruthless." Clocking in at approximately two-and-a-half minutes, the cut features production from James Delgado and hears the Oakland artist explore his success and monetary achievements without the need to brag.
Listen: Spotify