12 Emerging U.K. Designers to Put on Your Radar
From Olly Shinder's subverted techwear to HYO-ISAK's abstract streetwear, this is the new Great British vanguard.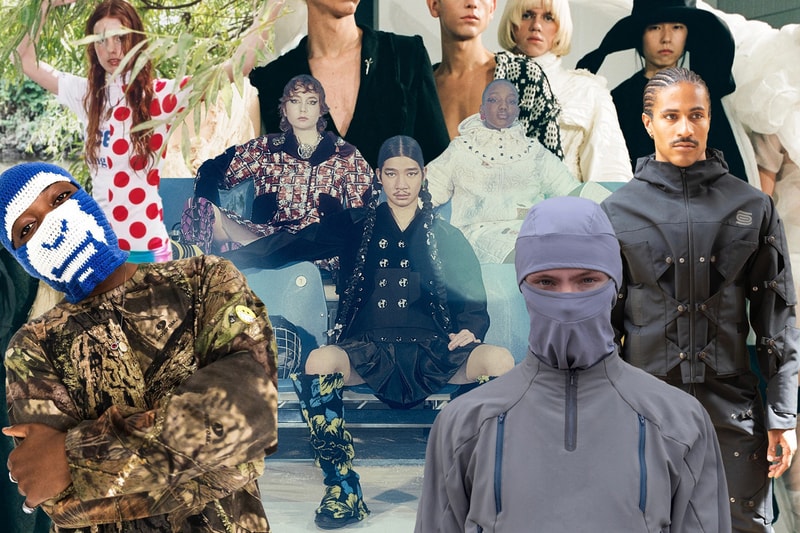 After the creative slump that underpinned the nation's collective pandemic blues, the U.K.'s fashion scene has risen up stronger than ever before.
With London Fashion Week back up and running and in full bloom once again, runway shows addressing the current mood of the world our future clothing choices returned – and the Great British sartorial spirit looks to be back in full swing.
Outside of the high-fashion world, grassroots U.K. brands are taking the world by storm. While labels like Corteiz, Always Do What You Should Do, Clints, and many others now dominating the streets, there's a separate, burgeoning scene of up-and-coming designers that also continue to go from strength to strength.
Fashion East members like Standing Ground, Central Saint Martins alumni FEBEN, Savile Row talents such as Tokyo James, or gender nonconformists Danshan are all ones to keep an eye out for. But before the year ends, Hypebeast would like to spotlight a slew of U.K. designers that continue to set the standard. Read on for our tips on the names you need to put on your radar.
Hot on the heels of its London Fashion Week Spring/Summer 2023 runway debut, Emma Chopova and Laura Lowena-Irons' eponymous label is arguably the hottest high-fashion output right now. Having captivated the glitterati at LFW, the design duo has set the tone for the upcoming season, that being a wardrobe informed by punk teenage angst and camp flair.
It's opening the doors to an industry that still subscribes to a "male" or "female" narrative, showing that you can blend the two remits without steering into a truly subversive environment for the general consumer. Injecting fun into clothes is a difficult challenge as it's tempting gimmicks, but Chopova Lowena proves there's plenty of fun to be had in traditions. With this in mind, expect the label to blossom next year as it continues to break conventions. – Eric Brain
As one of many people that pursued a new passion during the Coronavirus pandemic – and subsequent lockdowns – London's Jean-Luc Ambridge is one of the stand-out success stories throughout experimental fashion design. Ambridge's journey to success in the fashion industry, however, came six months before the lockdown-launch of his J.L-A.L_ imprint when he undertook an "Introduction to Sewing" course which allowed him to teach himself how to sew and pattern cut at an abnormally high standard for the short amount of time he was doing it.
Ambridge's designs are also consistently technical; his use of 3L waterproof materials, clean-cut seams, and breathable pit zips are all made accessible through his regularly-used adjustable detailing and oversized silhouettes.
Furthermore, his eye for detail and creativity is seen in more than just his garment creation. His recent "Entanglement" campaign, which he directed alongside Rory Griffin, Jack West, and Will Pegna, was a classic example of pure intrigue and individualism that staples Ambridge down as a serious figure to keep your eye on going forward. – Jack Lynch
Look beyond what's in front of you and you'll start to recognize that it's the finer details, the nuanced references, and the sexual undertones that make Olly Shinder – a Central Saint Martins alumni – one of our designers to watch.
Deception is key to Shinder's ethos: what seems like techwear (which it is at its core) is twisted into lingerie or underground nightclub-ready garments. Buttock-revealing shorts, sheer shirts, pectoral-peeking GORE-TEX jackets worn by Pa Salieu, lace-paneled shirts, and shorts with veins clash for a collection of clothes that veer towards running and hiking gear that's been put through the Berghain mill.
But throughout Shinder's work is a semblance of familiarity, which is why his work bridges the gap between menswear norms and a daring side of fashion, making his clothes that extra bit more special than you're average gorpcore garms. – Eric Brain
Charlie Constantinou creates clothing unlike anything you've ever seen before.
The 24-year-old's use of brightly-coloured, stretchy quilted nylon on outerwear pieces is immediately eye-catching, with the London designer inspired by Inuit clothing created to withstand extreme temperatures. Using deep greens, mauves and blues on bulbous yet beautiful garments primed for the outdoors, Constantinou's statement clothing speaks for itself, with his eponymous label now among the most talked-about names in London menswear right now.
Basic knitwear like gloves and tights are given new elasticity, flared pants are ribbed with laces and zips, and when an ensemble of Constatinou's garments comes together, it collectively looks like an alien uniform designed for hikebeasts of the future. – Jacob Davey
Romanian-born designer Ancuta Sarca is nothing short of an innovator, recognized globally for her sneaker-heel mashups that have stepped into a new realm of footwear design. The footwear designer joined U.K. talent incubator Fashion East and made her official debut in 2019, presenting her first collection during the Spring/Summer 2020 season at London Fashion Week.
Sarca's hybrid silhouettes combine masculine and feminine styles, utilizing recycled materials to create her kicks worn by the likes of Dua Lipa, Rihanna, and Bella Hadid. From heels to mules and so much more, the designer is mainly known for her Nike recreations, refreshing unwanted kicks that would otherwise be discarded and giving them a new lease on life. The designer recently presented a moto-inspired collection at London Fashion Week and is sure to continue her ongoing journey to the top this forthcoming year. – Andrea Sacal
HYO-ISAK is one of Manchester's most exciting emerging designers. Best known for combining abstract art with your favorite streetwear garments, the northern creative has been keeping busy as of late with off-the-cuff releases and an abundance of designs that stretch much further than garment production.
Isak's inspiration comes from the cartoons he used to watch as a child, such as Dragon Ball Z and Naruto. But as he got older, movie directors such as David Cronenberg and franchises such as Star Wars allowed the young designer to develop the true meaning of owning an ethos and sticking to it.
Since, Isak's self-named brand has consistently explored the versatility of knitwear – check out his new-school balaclava and hoodie designs for proof of that. Furthermore, Isak is known for his abstract art painting – which he regularly integrates into his clothes and skateboards – as well as deep-diving into the production of high-profile Jordan footwear creations; taking elements from the latter to evolve and improve his already exciting craft. – Jack Lynch
Silly, sustainable and sexy: those are the words that Connor Ives uses to describe his own brand. Based in Tottenham, London, by the way of his hometown of New York, Ives has carved out a niche for garments that are cut with couture references, but couldn't be further away from that lauded field that's filled with antiquated hierarchy.
How? Through Ives' use of vintage cycling jerseys and T-shirts that he and his team gather from the North of England that he uses as the base of an upcycling collage, coming together in a mishmashed puzzle to create flamenco skirts, new tees, reconstructed camisoles, and even BET Awards-worthy gowns.
His eye is trained by his formative years in New York as well as his Central Saint Martins education, drawing from the individualistic aesthetics of the people that walk those streets and corridors. From Y2K pop-culture "American archetypes" to high fashion shows he dreamed of being a part of, such inspirations make Ives everyone's next "it" designer. – Eric Brain
House of Errors designer Fully has quickly garnered attention due to his eye-catching puffed outerwear. Rising through the ranks as one of Britain's most exciting emerging labels, House of Errors is a learning ground for its founder, who aims to educate himself on design basics by creating free-flowing silhouettes that move with the body.
WIth its third eye wide open, House of Errors communicates a spiritual identity through its singular eyeball design that resembles the superstitious evil eye. The brand is grounded in premium construction and utilizes a down-filled design that provides a blown-up look.
From futuristic jackets to vests, knits, and more, the British label is home to streetwear lovers searching for protective gear to shield them from otherworldly matter. In 2023, House of Errors is sure to hit the ground running and is set to resume its assent to British fashion domination. – Andrea Sacal
Fashion often feels like a fantasy land, but what happens when clothes become fairy-tale creations? This is where Paolo Carzana steps in; his designs are intricately made by hand and tell their own story, exploring narratives surrounding sustainability, nature, fragility and innocence.
Distressing is key to this melting pot of themes: bamboo silk is dyed in tea and orange spice before being crafted into a shirt that's purposely, delicately fringed, torn and deconstructed. Wool is knitted into an homage to Welsh tapestries for tailoring that's informal like a pair of pajamas, serving the aforementioned innocence, while an organic cotton canvas textile is warped like tree roots to create a dramatic dressing gown coat.
Exquisite execution makes Carzana's work incredibly desirable and destined for closer inspection – and upon such a look in, we find the power in fragility that makes his work so spectacular. – Eric Brain
Aaron Esh is ushering gender fluidity into the UK menswear scene with his grown and sexy brand of clothing design.
The CSM graduate's elevated tailoring, attention to detail and subversive sensibility is intentionally steeped in romance, with Esh telling I-D his clothing is "about being in your late 20s and early 30s and falling in love." We happened to have done exactly that with his garments.
The Islington-born designer uses 3D printing, leather manipulation and metal casting to create sustainably-crafted pieces, that arrive in deep greys and moody teals that look and feel distinctly like London. His statement 'comma' shoes also provide further pause for thought, with the tongue-in-cheek approach Esh is quickly becoming renowned for. Stocked by Ssense, Machine A, Antoniloi and LNCC in February, expect Aaron Esh to continue levelling up next year. – Jacob Davey
Cutesy, yet grungey. Sophisticated, yet playful. When you look at Venice W's garments, it's clear to see they have multiple personalities.
Stripped-back materials are vividly brought to life by the Thai designer, with characters and cartoon drawings running riot throughout her work, ensuring each piece has a life of its own. While her garments may look youthful on the surface, the attention to detail is truly masterful. Wools, hemps and linens are intricately woven using Thai-inspired techniques, with ordinary strips of cloth transformed into extraordinary, out of this world items packed full of energy. As the brand continues to build a cult following in London and beyond, expect more and more people to book a one way ticket to VeniceW world in 2023. – Jacob Davey
If you're on the lookout for a fresh accessory to elevate any look, look no further than Benny Andallo's headwear.
The London-based designer is known for his eccentric hats, adorning the likes of Rihanna, SZA and FKA Twigs with beautiful bespoke pieces. The Central Saint Martins MA student has an experimental imagination, often turning to upcycling practices for the creation of his outlandish hats that deserve a second look.
Andallo's cheeky designs have been seen across the globe, recently teaming up with Welsh native Adam Jones on a series of fitted baker boy caps fabricated from beer towels. His union with Japanese designer Junya Watanabe really threw him under the spotlight, jazzing up his Autumn/Winter 2022 collection with a hat collection inspired by Jamiroquai member Jay Kay and his deep appreciation for indigenous attire. Benny Andallo is on the rise and is slated to storm the new year in style. – Andrea Sacal