Rick Owens Projects "Black Lunar" Darkness Over Dr. Martens' 1460 and 1918 Boots
FW22 isn't over until Owens delivers another pair of brutalist-goth boots.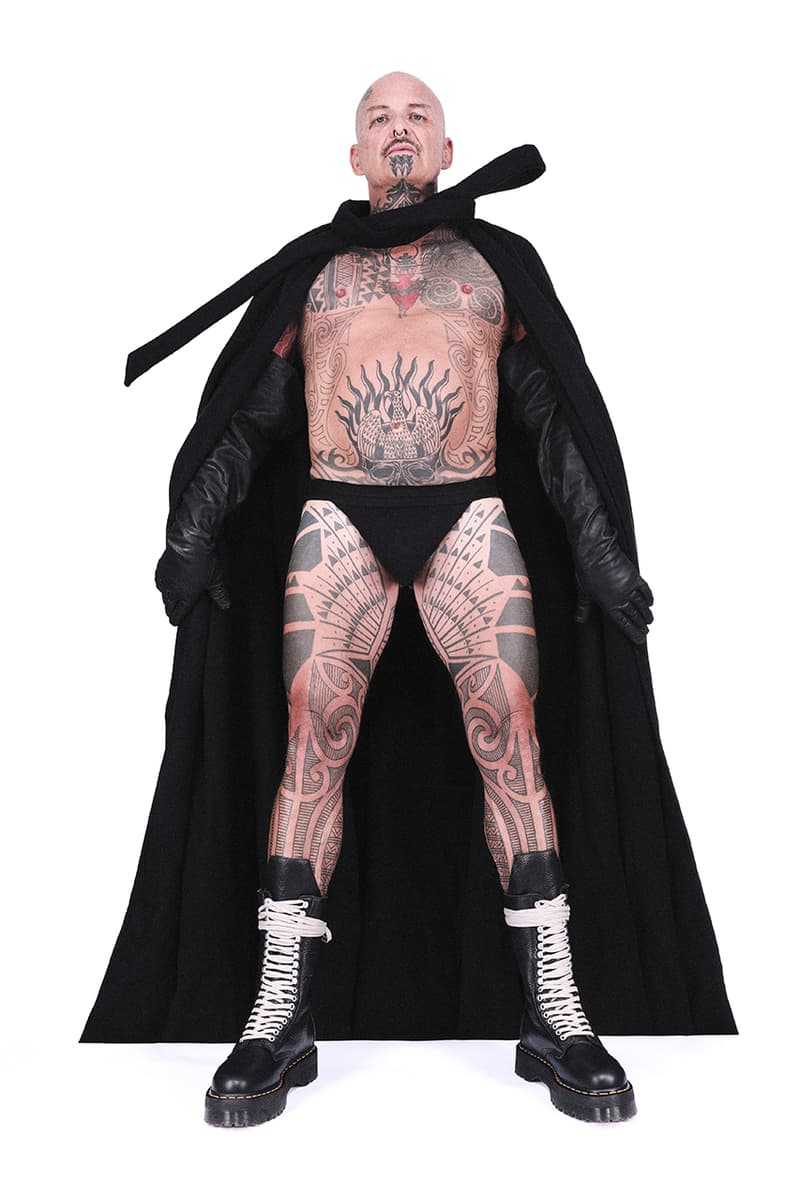 1 of 10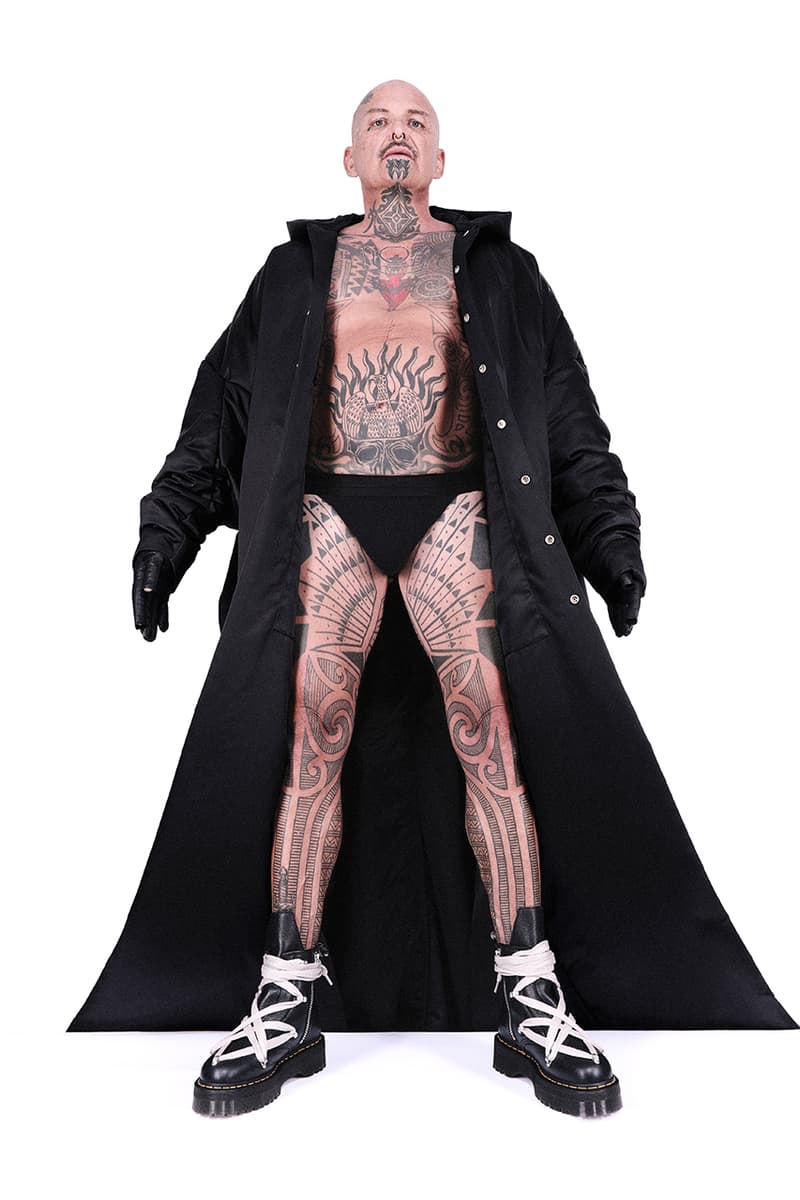 2 of 10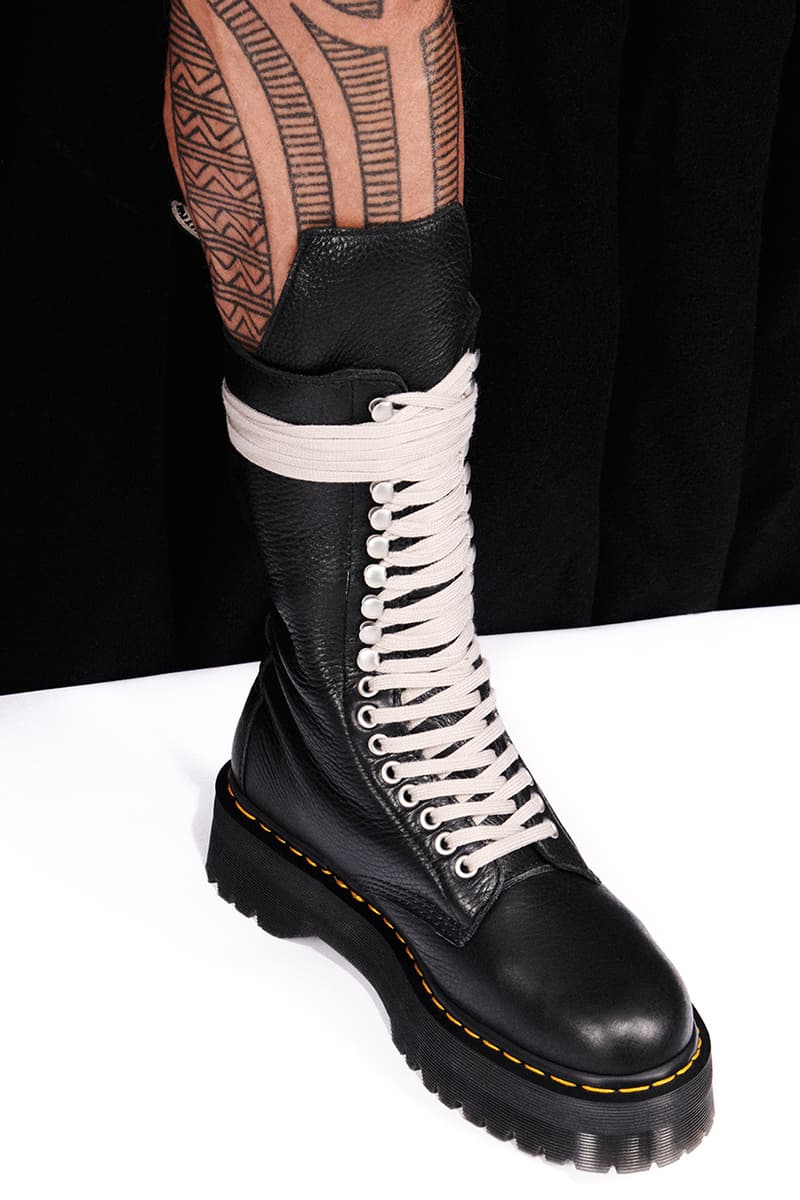 3 of 10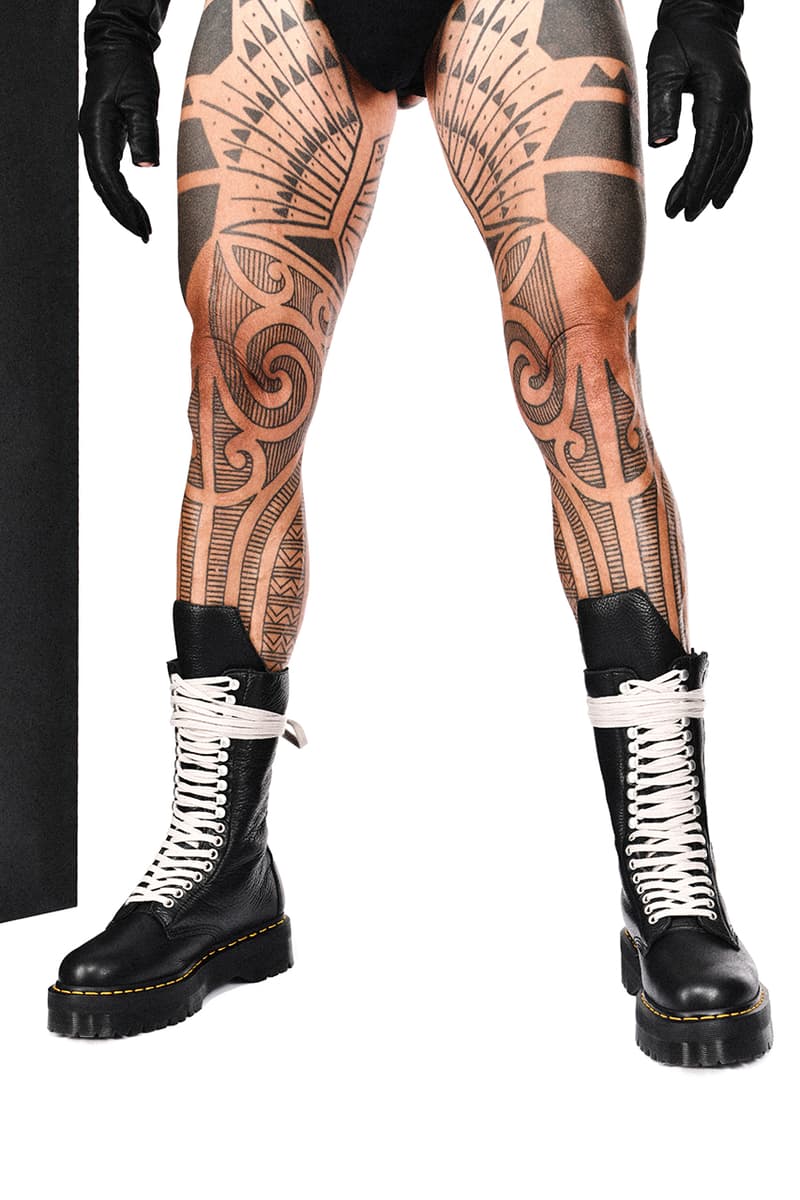 4 of 10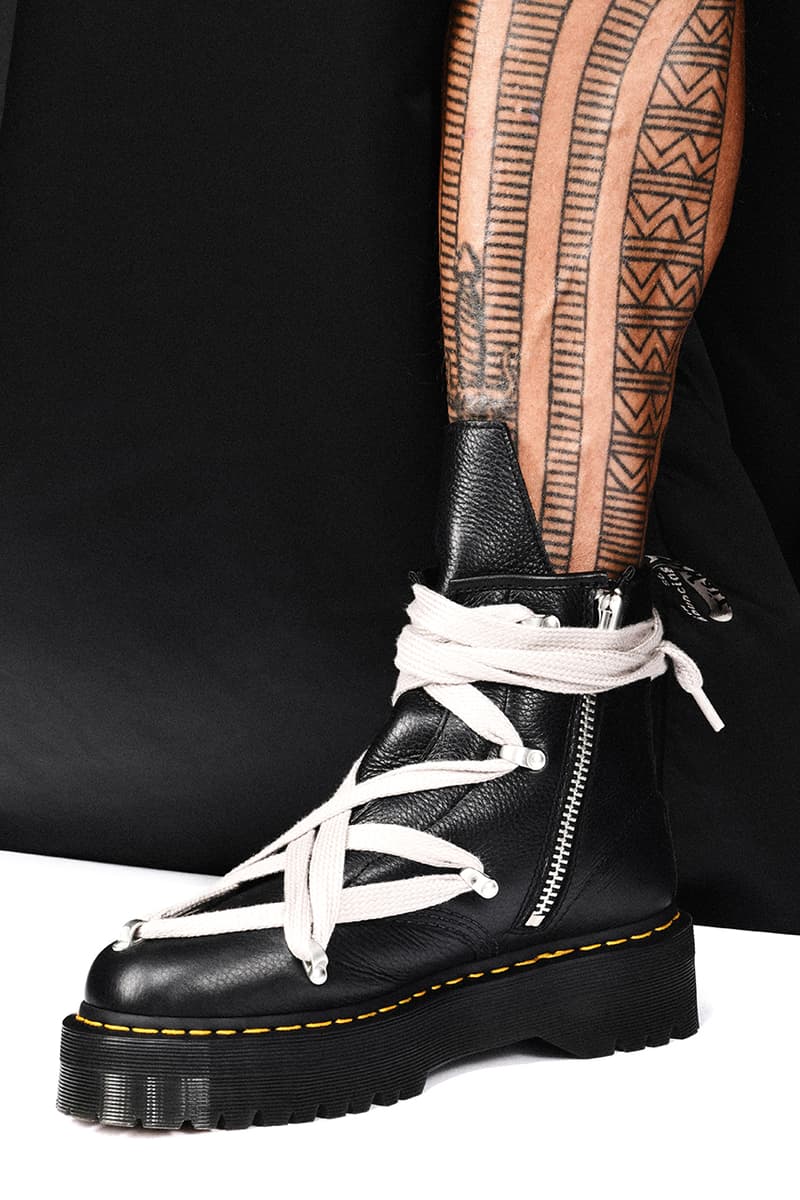 5 of 10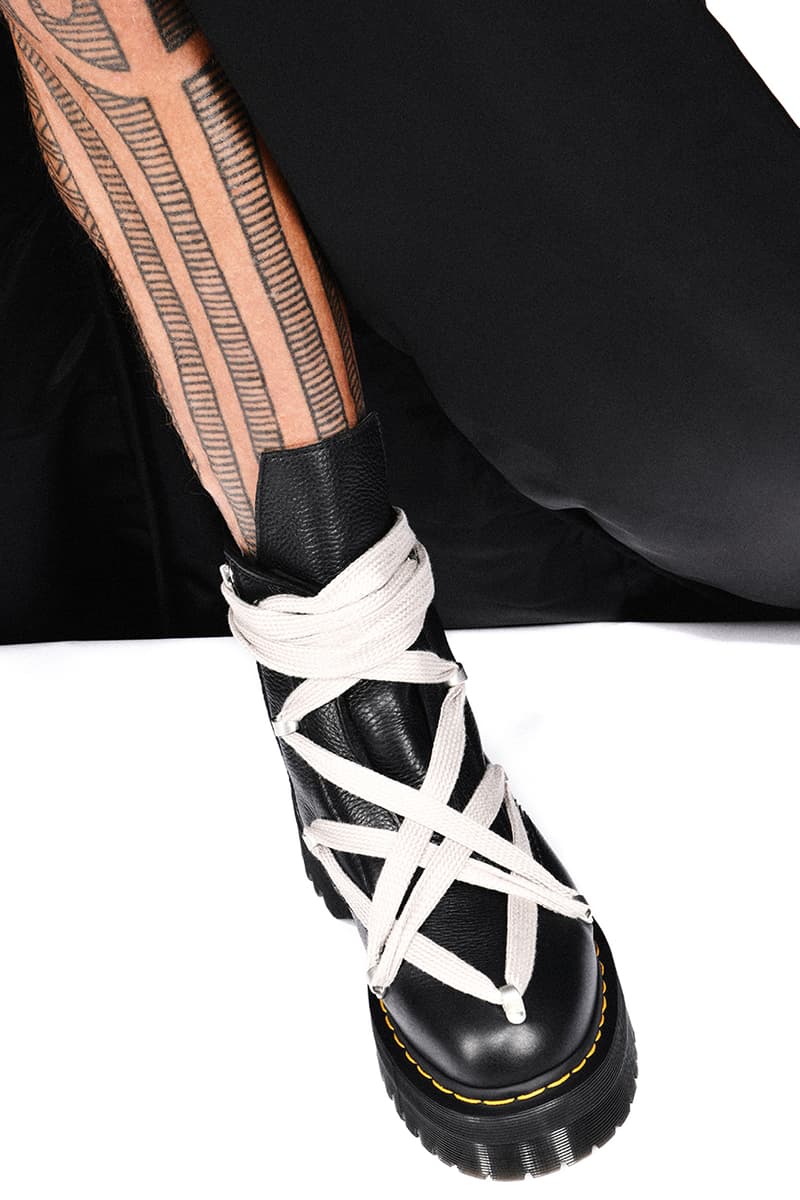 6 of 10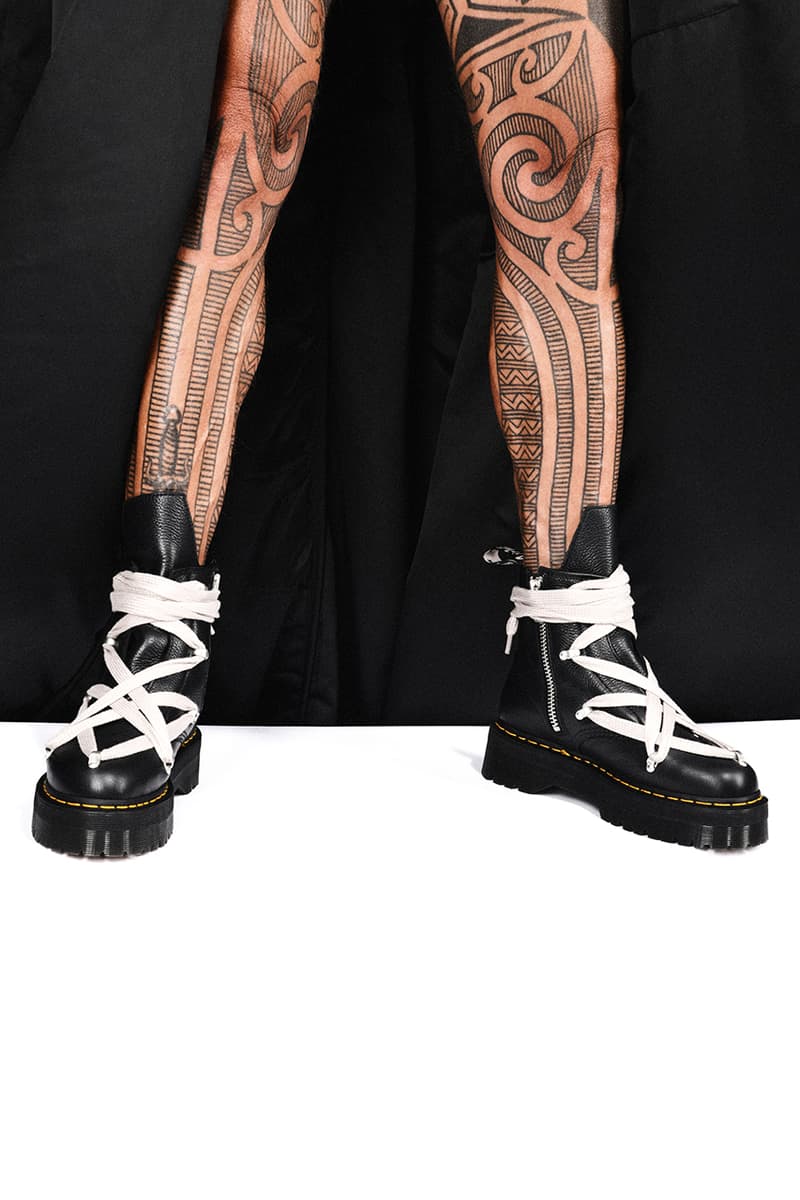 7 of 10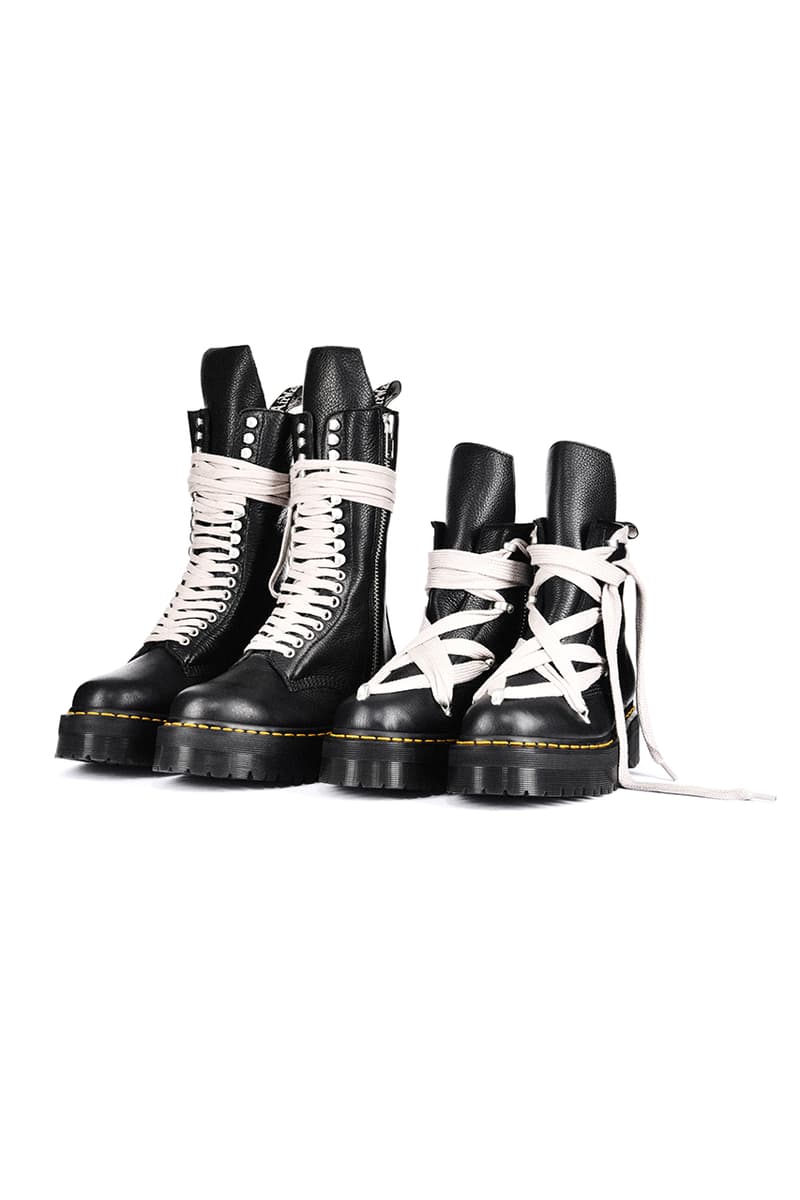 8 of 10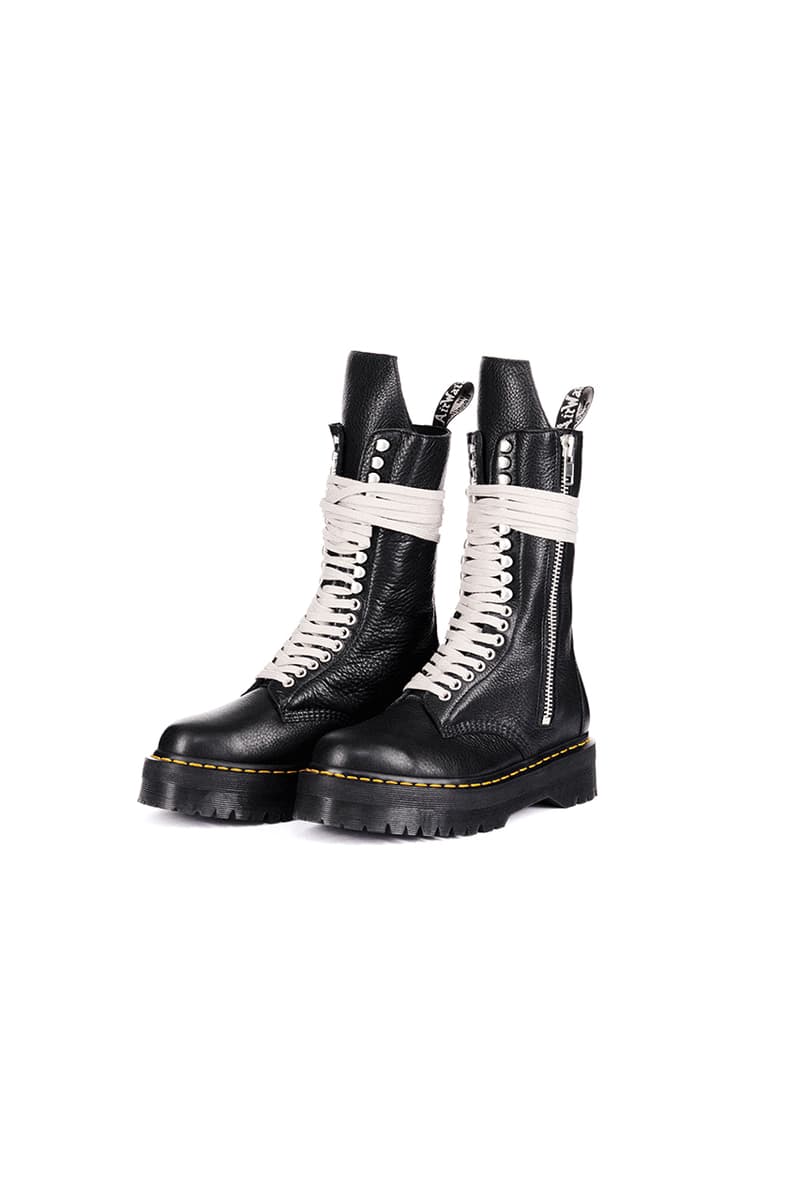 9 of 10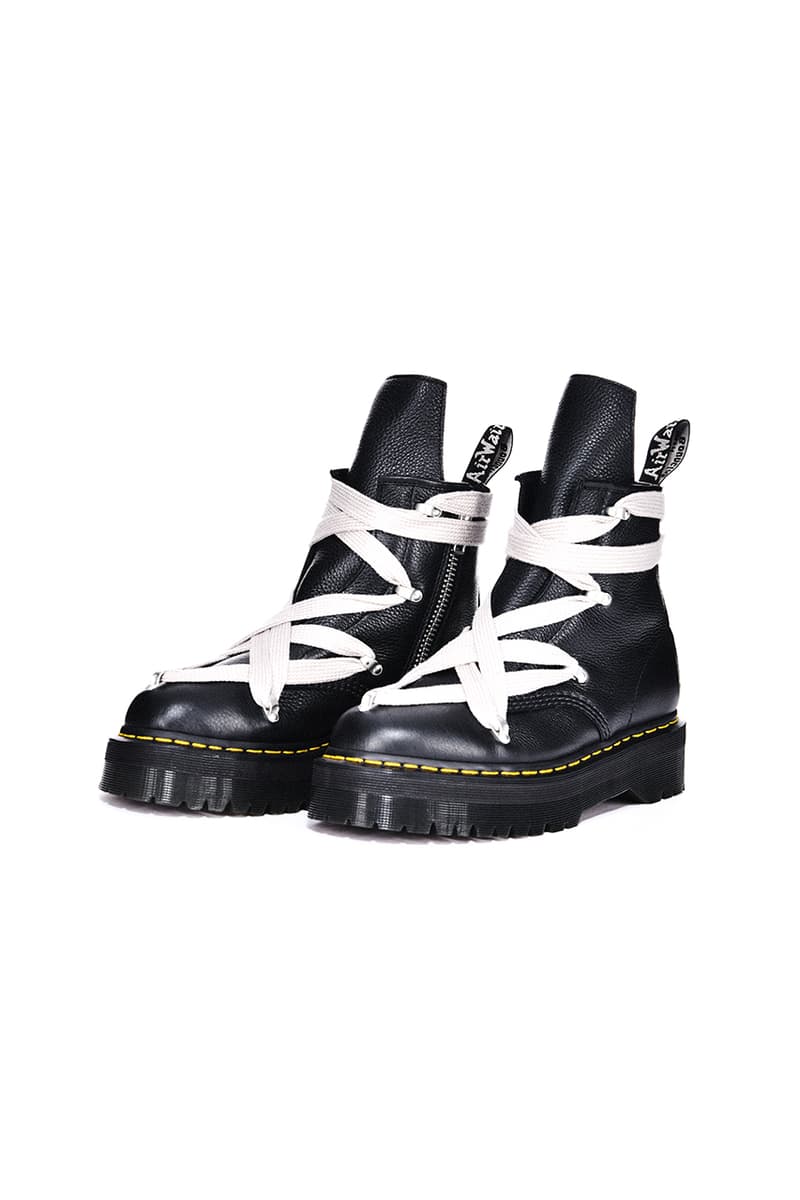 10 of 10
Fall/Winter 2022 is officially boots season, and what is it without a good pair of Dr. Martens on your feet? Luckily, Rick Owens and Dr. Martens are back together again to have you sorted for the coldest months of the year. Following on from their former FW22 drop that took on the 1460 and 1918 silhouettes, the duo has returned to these styles to give them another reworking, this time around largely informed by Owens' pentagram design touchpoints.
The pentagram structure has been applied to the lacing system of the aptly-titled Quad Pent RO "Black Lunar," earning its name from the sole, aforementioned laces and from the colorway. Here, soft-grain tumbled "Black Lunar" leather is found all over the boot, working alongside "Pearl" laces, a yellow welt-stitching motif, a chunky black 2" Quad Retro AirWair sole unit, and a complementing AirWair tag on the heel that doubles as a pully for the boot. Naturally, Owens puts a considerably chunky zipper along the medial side of the boot, making it easier to put the pair on and take them off.
This harks back to Owens' first Dr. Martens collaboration, only here the 1460's laces are thick — unlike the original thin laces. As for the 1918, the Lord of Darkness applies the same tumbled "Black Lunar" leather to the 18-eyelet silhouette, contrasting the "Platinum" hair-covered version that came back in October.
Like the 1460, the 1918 features the same sole unit, dull silver eyelets, oversized tongues, a full-length zipper, and yellow stitching. Speaking on the project, Owens said:
"WHEN I WAS A TEEN AND BECOMING PHYSICALLY AWARE, I SAW HOW A TIGHTLY LACED ANKLE LEADING TO A BROAD, SOLIDLY PLANTED FOOT HAD A SIMPLE, MODEST, INDUSTRIAL MASCULINITY – ALMOST LIKE A CORSET BETWEEN A MUSCLED CALF AND A STURDY FOOT THAT ACTED AS A STOIC BALLAST. DM'S EXEMPLIFIED THIS BEST. I SAW THEM ON ALL THE GUYS FLYING THROUGH THE AIR AT THE SHOWS I WENT TO THEN… FEAR… BLACK FLAG… THE SCREAMERS… ALIEN SEX FIEND… DR. MARTENS BECAME A SYMBOL OF A RAW AND SWEATY VITALITY THAT I THOUGHT I MIGHT BE ABLE TO PULL OFF… AND FOR A MINUTE, I THINK I DID…

"COMING FULL CIRCLE TO PARTNER WITH DR. MARTENS 40 YEARS LATER LEADS ME TO LACING THEM WITH PEARL-COLORED COTTON LACES IN A GEOMETRIC PATTERN THAT I USE OFTEN AS A SYMBOL OF OUR ETERNAL COLLECTIVE SEARCH FOR RATIONAL ORDER; SIGNS OF HOPE AND AN AFFECTIONATE BLESSING ON THE PERPETUAL RECKLESSNESS OF YOUTH."
Coming in sizes for all adults, the latest FW22 installment of Rick Owens x Dr. Martens will drop on Rick Owens' and Dr. Martens' websites, as well as at flagship stores and select retailers worldwide on December 2. Take a look at the Ron Athey-starring campaign above. Prices range from $370-$420 USD.
In other news, Jack Harlow is the face of New Balance's 9060 campaign.