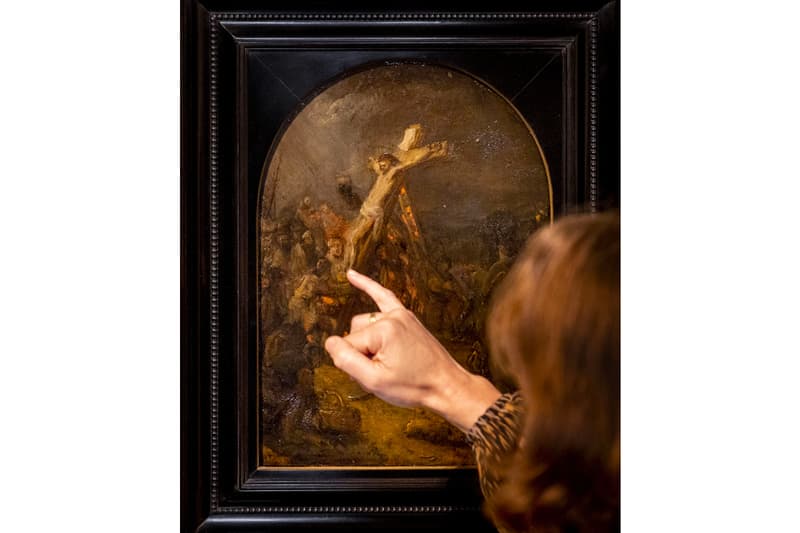 Largely Forgotten Painting Turns Out to Be Genuine Artwork by Rembrandt
"The quality of the details are so well done."
---
For years, experts at The Hague's Museum Bredius dismissed an oil painting for a true piece by Rembrandt, thinking that it was merely produced by a follower of the Dutch master.
First reported by The Guardian, Johanneke Verhave, along with fellow researcher, Jeroen Giltaij, who serves as the chief curator of old paintings at Rotterdam's Boijmans Van Beuningen museum, closely studied the painting — titled The Raising of the Cross, which was created in the 1640s.
"The quality of the details are so well done that I am convinced that this is a Rembrandt," Giltaij told The Guardian. The painting was first brought to the museum in 1921 by Abraham Bredius, who was convinced of its authenticity. Due to the lack of detail in the painting's brushstrokes, the work was largely scoffed at by experts at the time.
In hindsight, Giltaij noted that one must remember, "this is an oil sketch. Rembrandt is usually very precise and refined, but this is very rough," adding, "The reason is the oil sketch is a preparatory sketch for another painting. He wants to show the composition, a rough idea of what the actual painting could look like."
Through x-ray scans, Verhave was able to detect that Rembrandt made several key changes throughout the creation of the piece — reiterating the belief that The Raising of the Cross was in-fact a genuine piece and not a copy from another artist.
Elsewhere, Canal Projects reflects on death and transformation in PRAY.