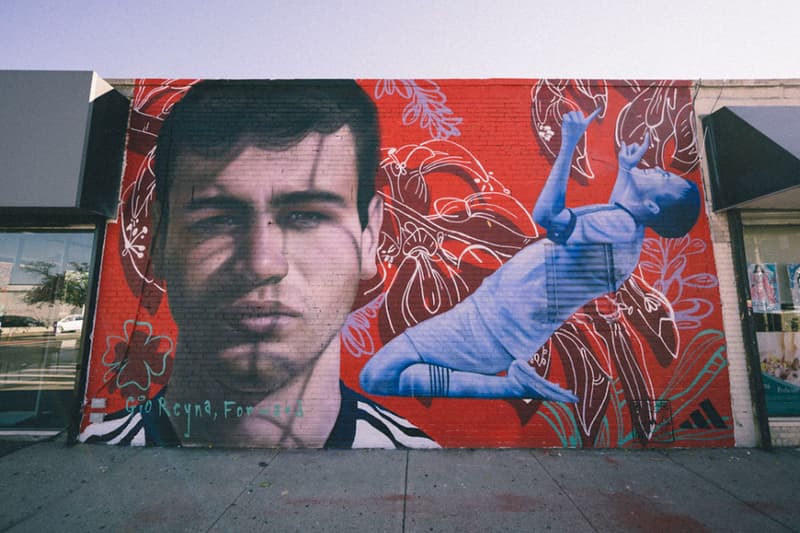 1 of 6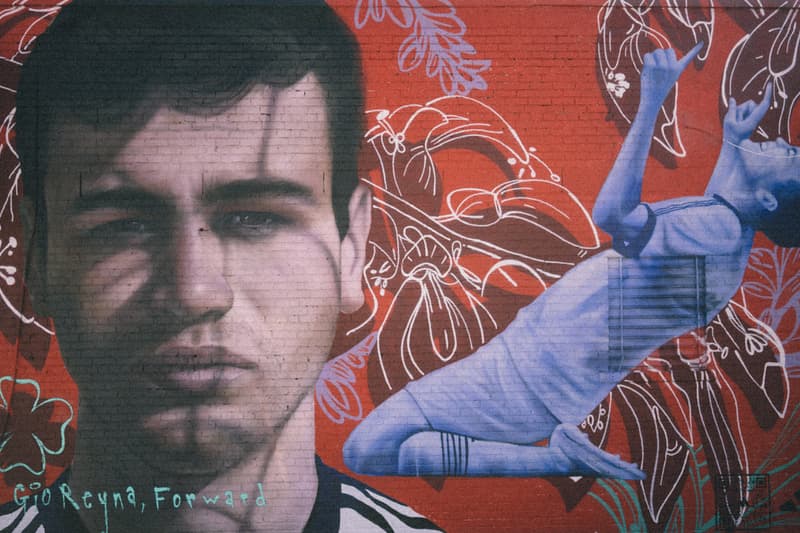 2 of 6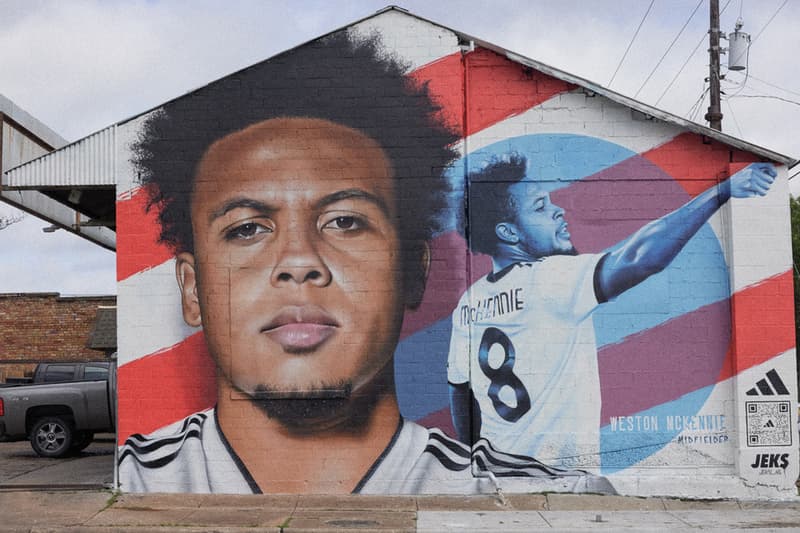 3 of 6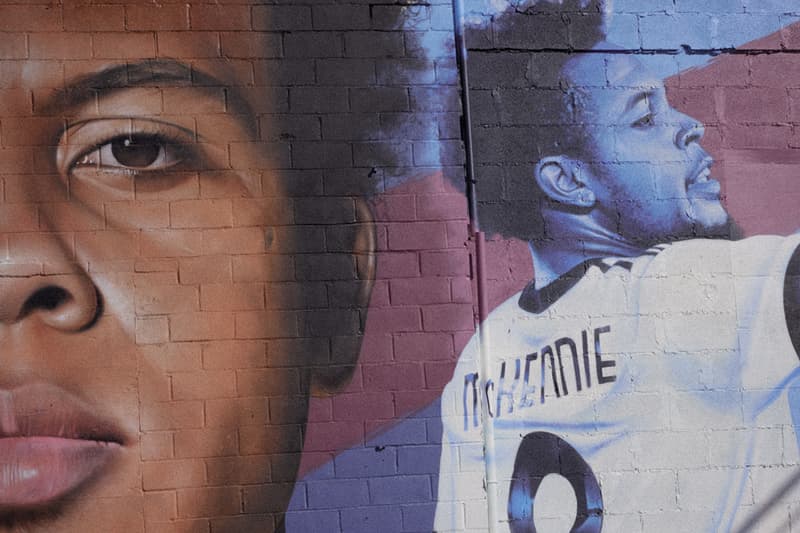 4 of 6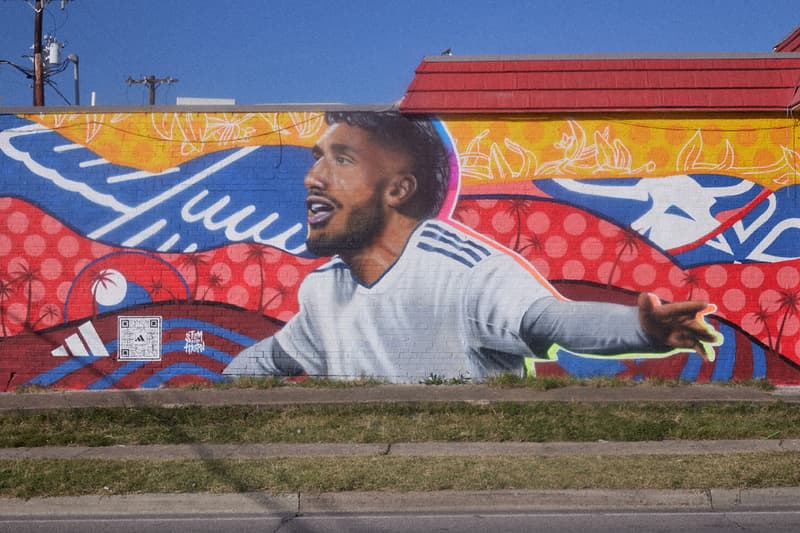 5 of 6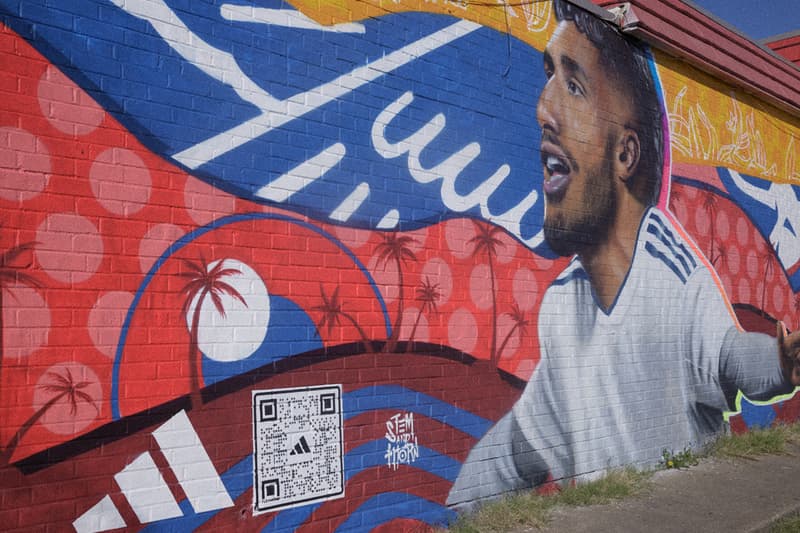 6 of 6
adidas Reveals USMNT Murals in Anticipation of the FIFA World Cup
Paying homage to Weston McKennie, Gio Reyna and Jesús Ferreira.
---
In anticipation of the 2022 FIFA World Cup in Qatar, adidas worked with artists JEKS, Jeremy Biggers and Drew Merrit to celebrate three young stars representing the US Men's National Team (USMNT). Each artwork was purposefully created in the player's hometown to inspire the next generation of footballers.
Born in a military family, 24-year-old Juventus midfielder Weston McKennie was constantly travelling. Having lived in Germany early on, he brought his newfound love for soccer to the States, where he would attend FC Dallas games and slowly perfect his game. As one of the most versatile players on this current squad, graffiti artist JEKS aimed to capture McKennie's signature celebratory pose, while imbuing an ode to his military family through an illustrated American flag in the background.
Also in Dallas, Jeremy Biggers captured forward Jesús Ferreira's unnerving passion through a mural that shows him celebrating a goal alongside the communities he represents. Additionally, the artwork depicts the logo of FC Dallas, his current team, which his father also played for.
Gio Reyna is arguably the most electrifying player in this USMNT. It makes sense. As the son of US soccer veterans, Claudio Reyna and Danielle Egan, Reyna plays with a fearlessness and an eye for goal that regularly has Borussia Dortmund's "Yellow Wall" buzzing. For his mural, artist Drew Merritt imbued the player's cultural heritage through lavender and ceibo floral illustrations, which are the national flowers of Portugal and Argentina, respectively.
The murals will be on view in their respective cities for the duration of the 2022 FIFA World Cup in Qatar. The USMNT's opening match is against Wales on Monday, November 21 at 11am PT.
Elsewhere, Anri Sala presents Time No Longer at Bourse de Commerce.
Weston McKennie Mural
938 W Davis St
Dallas, TX 75208
Gio Reyna Mural
73-02 Northern Blvd
Flushing, NY 11372
Jesus Ferreira Mural
3287 S Polk St
Dallas, TX 75224