Twenty Years of Rocking Out With "Samurai Guitarist" MIYAVI
We discuss his current tour schedule, tattoos, his role in 'Arcane,' and the importance of playing guitar.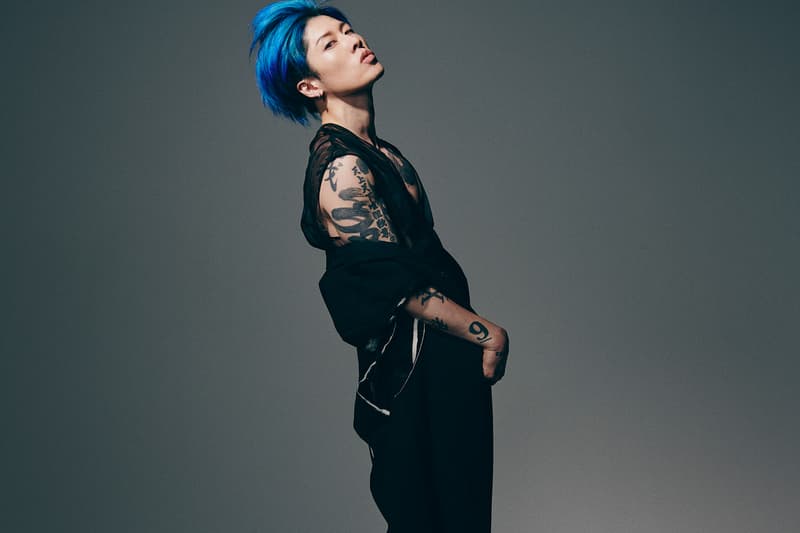 1 of 3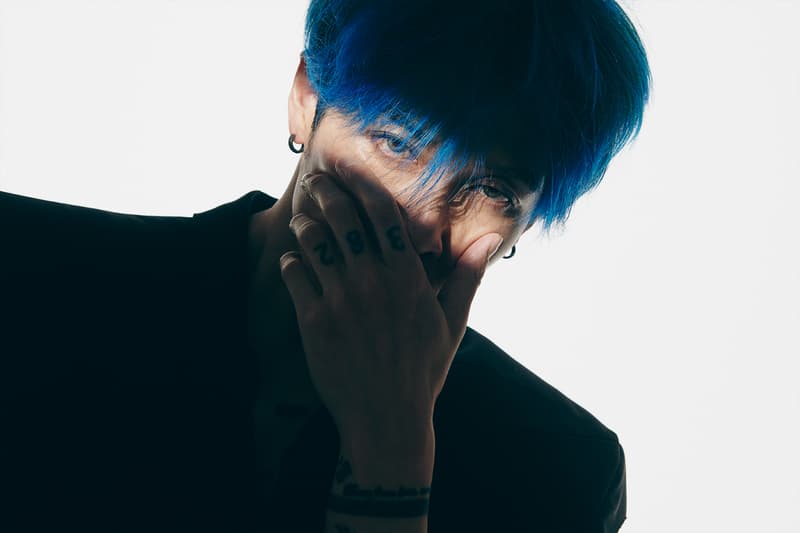 2 of 3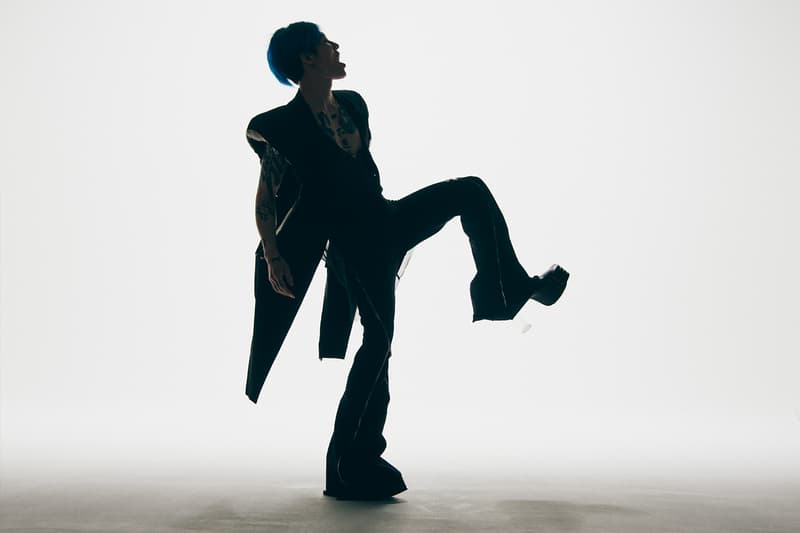 3 of 3
MIYAVI has seen and done it all with his guitar. From busking in Venice Beach in his 20s to selling out stadiums across the globe, MIYAVI is not only one of the most recognized guitarists in the world — known for his signature finger-slapping style of play — but has been a pioneer in showcasing what the East has to offer to the West in terms of live music. Long before the wave of K-pop put Korea on the map for entertainment, MIYAVI set out in bringing his Japanese-infused style to the world with his exciting energy, long hair, amazing guitar skills, and his Kanji-covered body.
With over 300 shows and 15 studio albums under his belt, MIYAVI expands past just music and into other art forms like dance and film. On top of appearing in Maleficent: Mistress of Evil, Stray, and the Angelina Jolie-directed film Unbroken, he's also offered up his voice to Bright: Samurai Soul and the highly celebrated animated series Arcane. Outside of acting and music, he's the face of GUCCI Japan, he's walked the runway for Y3, and even has his own line of sake with Kyoto's oldest brewery. Adding to his list of endeavors, MIYAVI entered the Office of the UN High Commissioner for Refugees (UNHCR) where he was appointed an official Goodwill Ambassador in 2017 — joining the ranks of individuals like Ben Stiller, Alphonso Davies, Cate Blanchett, and Neil Gaiman.
Now, with two decades of work to show, MIYAVI is back on tour in the States, and this time it is about sharing his life's story with his fans. From giving up his dream of becoming a professional footballer, losing his best friend as a teenager (which was the catalyst for him in moving to Tokyo to pursue a career in music), and now having three children while balancing a rock star life, MIYAVI credits the guitar for saving his life. Learn more from him in our interview below on why the guitar is not just an instrument for music but a tool for changing lives.
Why is it always special coming back to North America and how did this tour materialize?
I am Asian. I'm Japanese — half Japanese-half Korean. It's a really special thing to rock out in the USA. A lot of big parts of music culture were born or nurtured here, rock, hip-hop… everything. And then the crowd-the fans here, as you know, are crazy. During the pandemic, fans in Japan couldn't even scream due to restrictions, but here it's like so much energy and power.
This year is my 20th anniversary. I'm older now. Before I was always trying to create something new and a "wow" moment for my audience, my fans, but this tour this year is more like communicating with my fans. Playing old tracks, having a chat with my fans, kind of facing my fans, you know, less emphasis on reinvention and being creative, and more of an intimate connection. So it's been really fun. It is like seeing your old friends after a long time. I'm still keeping my visuals so I am still going to have the makeup with all the Gothic, punk, and cyberpunk visuals.
What were you doing during the pandemic? Was this sort of downtime for you?
That period was challenging. I was trying not to make that time as "downtime." I didn't want to say that, you know, we were not able to do anything because of COVID. Because I didn't want to feel defeated by the fucking virus so I wanted to be active. I got stuck in Japan, but luckily, Japan was one of the safest countries at the time, and then I had another baby. So that's the rare instance where the virus brought joy to my life. I was not touring, so I had time for the new baby. I also did a lot of live virtual concerts from my room, my work room, my studio, VR spaces, and also even from Kiyomizu-dera temple in Kyoto. I wanted to do something special and meaningful because I was in Japan. That's why I wanted to play at a really iconic and historical place. One of the most historical places in the world. I wanted to create some chemistry between Western and Eastern cultures.
You've already rocked out a few cities on your tour. How has it been so far?
Performing over here is really, really special. It's totally different from other countries. I was not able to speak English when I was 25 years old. I didn't grow up bilingual and wasn't educated in the language. I still remember the first time that I had a tour in the States, I memorized whatever I was going to say to the audience. I memorized and scripted everything. So at that moment, I was pretending to react to my audience, but I had no idea what they were talking about. I always get nervous when coming back to the States. It's something like, oh, I am back in the States. This is the place where the biggest rock stars rock out. Thanks to my fans and my band. It's been great. We performed at NBA games in Japan when the Warriors and Wizards came to Tokyo. We've also opened for PSG and baseball teams, but it's a bit different because the audience there comes for the sports, but in touring, the fans are purely there for the music. It is a different experience.
Going back to the question, it's really such an honor to perform in this country, especially in front of a crowd that loves music. I'm still striving to be a better performer every day. It can be like checking the video aspect, setting up with the team, notes to members, you know, every little detail can be improved. It all adds up. I treat it like an athlete or just like you in media. Step by step to get better. It has been good so far.
20 years is an amazing accomplishment and a decent amount of time doing what you love. What have been some of the most memorable moments of your career or outcomes that have shaped your life?
When I was 17 years old, I lost my friend who was a big part of my life. He was two years older than me and I respected him like a big brother. He actually taught me about cultures and cool bands like the Police and David Bowie. I was so shocked. I was born and raised in Osaka, and on the day I found out he died, I went to Tokyo without telling anybody except my mom. So, definitely that moment. I just flew away from the nest, because, at that time, I had been wanting to get out anyway. I was feeling that this is not where I belong. So that's the moment I stepped out of my comfort zone. Another moment was when I was 25 years old, and started studying English. I came to the States and stayed here for three months busking on the streets of Venice and Santa Monica. I was just surrounded by other street performers. But you know, thanks to my skill and my unique slapping guitar technique, people came and stayed to watch. It was pretty successful. That gave me lots of confidence. I was not able to speak English at all, but they knew me from my play style. People started calling me a "Samurai Guitarist." That's when I thought, "I can do this."
Then came my role as an actor for Unbroken. That was a totally different experience from being a musician. I was working with top creators like Angelina Jolie and Roger Deakins. This opened up a lot of doors for me in the industry. And yeah, I also became an ambassador for UNHCR, the refugee agency for United Nations. That was actually from the help of Angelina. She introduced me to it. I flew to Lebanon, and the first time I played for a refugee camp, I was really, really scared because it was during the Syrian refugee crisis. The exodus started as early as 2011 but by 2014 – 2015 there were just millions of people fleeing their homes. In 2021, more than six million refugees were from Syria. I went to Lebanon during this time and I was really scared, because what the hell can I do? People going through all kinds of terrible things and I just show up with my guitar. But the moment I played the guitar in front of the kids, they went crazy. Clapping, smiling, and dancing. I was blown away, like, "Oh, this is the power of music." I play at stadiums, there's electricity, all kinds of lighting, and people, but at the refugee camp, there's no electricity, no microphone, just an acoustic guitar. And it can still rock and touch people. So that was also one of the big, big highlights in my career.
On the other hand, I really get inspired when I play at sporting events where there are kids in attendance. My dream as a kid was to be a professional soccer player, but due to an injury, I had to give up on that dream. Sometimes I'll play at a sporting arena in Tokyo and some kids really start rocking out, and it's like wow, they wanted to be a baseball player but now they are also interested in being a rock star now too. It is meaningful to me. It makes me feel like the path I've chosen is not wrong.
Do you still kick around up the football once in a while or do stuff outside of music as a hobby?
I was actually going to kick the ball around today but the weather was not that good. And we just had two shows in a row, and then we're going to have three shows in a row from tomorrow. So I need to do a lot of prep… and it probably won't happen. I also do kickboxing. I do kickboxing with my band members at the gym in Tokyo.
What about music/guitar playing as a whole? Do you still feel the same way you did when first starting your journey as an artist?
Yeah, to be honest, it is a different thing. Different in a good way, in a bad way. So because when I started playing music, I played music because I wanted to start playing music. But now, music is not the purpose. Music is a tool to spread a message, or, you know, make people feel good. Support their lives. So music is a tool now. It's not the purpose. So the moment when I picked up the guitar to play music was right after I gave up my dream of playing soccer, to actually save myself to find something that I can get into. So playing the guitar every day was the goal. And I was really happy. I stopped hanging out with my friends and didn't go to school sometimes. I was consumed with just learning everything about the guitar. Now, it's different. I'm doing lots of different things. Acting, fashion, making sake, humanitarian work, playing with my kids… So it's totally different. But one thing hasn't changed and that is my respect for the guitar. I just want to keep playing the guitar until I die. Even when I get old. Even if I can't jump and headbang, as I do on stage, I want to keep playing the guitar. And then I need to give back to music, which saved my life. So yeah, some part is the same, and some part has changed.
With such a catalog in music, how did you select the set list for the tour?
That's the hardest part. This is the 20th anniversary year. There are so many tracks. There are many requests from fans and so it gets tough to decide. I mean, I am still going through changes now for the other shows. You need to feel the vibe of the audience. This is life, it's like making love. You have to go with the flow and act in the situation. It is human. The list has been changing again and again. I'm so sorry to the band members and staff that have to work with me on the last-minute changes.
I remember the first MV I saw from you. I was like "wow" this guy is crazy on the guitar and he's got style. How would you say your style has changed over the years?
First of all, I do appreciate my fans for supporting me and following me, even when I have changed my style. I'm recently taking on more film roles and sometimes I play the asshole in the film. It's a big deal to my fans. I'm like beating up the other characters in the film, or I'm like a fairy in Maleficent, or a Yakuza boss. My music style has been changing as well. As a solo artist, it's a lot of responsibility, but at the same time, lots of freedom to experiment with new things. I just follow my instinct. I want to be excited every single time. I believe that I can't get the audience or my fans excited without being excited myself. I think about everything from hair, makeup, and costumes. It's fun. I mean, I'm sure I confuse my fans sometimes but it's all good. To be honest, I'm also totally fine to keep wearing the same jacket every day. Of course, I'd changed my underwear, but I'm totally fine to keep wearing the same jacket, jeans, shoes…etc. I could eat the same meal as well if it's healthy. But you have to be inspired or inspiring. There are so many things that I get inspired by in the world. That inspiration inspires me to keep evolving.
What are tattoos to you. The culture has definitely changed since you first started getting them. I feel like you've slowed down. Is this because you've got everything you set out to get on your body?
So first of all, I still want to keep getting tattoos but I just don't have enough time or blood. I'm still planning on getting a new tattoo right now to celebrate my 41st birthday. The last time I got new ink was when I was 30 years old. I feel like my tattoos are like the movie Memento. Everything is like a life memo. I just wanted to write something important in my life on my body. The artist that tattooed me is very skilled and has this brush stroke technique. Chinese characters can pack in so much meaning. It has a different feeling that an English word. You can't erase these off your skin and so they are never like a "let's get drunk and get tattoos" kind of moment. It is more like a philosophy or attitude, you know what I mean? They are a part of me.
One thing that is making me hesitant to get more is my work in film. As a rocker, you are you. All that energy, style, and self-expression is your own. In films, you are taking on a character. You need to be neutral, and take in another person's mind and appearance into your body. Getting rid of all the tattoos for the camera takes a lot of time in the makeup room. Another reason is that I just don't have much space left.
You do not look 41 years old. I have to ask, do you have a skin routine?
That's Asian genetics. It's from the rice. Jokes aside, of course, I do. Toner, face cream but most importantly, it's all about moisturizing and the balance of oil and water. So, again, we need to kind of secure the water level in our skin and body. It's just knowing the balance, you know, by the skin cannot be too oily or watery. So it's a balance of oil and water and also what you put in your body. What you eat, and when you eat. I treat it like I'm an athlete performing on stage. And then again with jetlag, everything is really crucial to control. Diet can really affect your health and also your skin. It is really easy for me to get pimples. So for me, my eating schedule is really important. I need to calculate how much time I have to digest and get ready to rock. I can't go crazy on stage all bloated.
With a growing family, does your job as a musician change? Whether it be things like what you think about when writing a song or how much time you can commit to practicing and being away from home.
It is challenging. After the third child, I am still learning the process every single time. In my case, it's not me, it's Melody, my wife. She's the one who's doing 90% of the work. I always communicate with my kids in my way. That's why our bond is really strong. But physically, I'm not the one who's always been with them because I'm always away, especially when it is time to tour. I can't see them the whole time. Facetime can only do so much. Seeing their face and hearing their voice is ok by with kids, they need real interaction, and they need to be held and touched to feel safe. I can't thank Melody enough for this. And as a parent, we learn a lot too. We need to learn. We're not just always teaching them, we learn from kids too. You asked me earlier about my greatest achievements, and I think having kids is also on that list it is a bit private and separate from my career, but they also affect my career as a musician. They give me more responsibility and ultimately more purpose. It is the same feeling when I went to the refugee camps.
This is why I keep rocking. When you have a family, you lose something too. It's like a sacrifice of time. But it's love in that sacrifice… it's like, you gain as well when you give. A trade. So being a rock star, it's really challenging at times. You need to have a good balance.
Are you going to teach your children how to play in your signature style?
I mean, they look like me, and especially Aily, the oldest one looks like me and acts like me, but I'm not teaching them. They know they can't be better than me. But Skyler, the baby boy, has actually already started slapping the strings. And you know, if he wants to, he can but there are many options and opportunities out there for them. They do like to sing and dance. If they all pick up instruments, we can make a family band. Good music is really important. Because of Melody's background as a pop singer, the kids really enjoy her voice. She's a great singer. So music is an important thing for our bond. So maybe, you know, in the future, we can make a harmony band and have some fun.
How did the role in Arcane happen? Were you a big fan of League beforehand?
Of course. Of course, of course. Okay, but the thing is, I'm a Valorant guy. But still, Riot Games is such a legendary company and pioneer. I got the call and it's like you know Imagine Dragons, Pusha T is on the soundtrack, and I'm just thinking like I want to be part of this dream team. Christian Linke is really serious about culture and music. The whole team cares a lot. You know, with like all the details. It was such an honor. The process was not easy because then I was not able to travel because of the pandemic so it was done all remotely, but you know, it was really emotional seeing it all come together from sketches. Even when it was not colored, the story was really, really strong. And then, especially when I watched the whole series, and after my character came out, I got emotional. It's a great story. I'm so honored to be part of it. And yeah, I collaborated with PVRIS. She's a great singer and I love her lyrics. The song "Snakes" we made together is actually the opening song for our show right now.
I also really respect the kind of creativity and integrity of the French animation studio Fortiche. They did the animation for the series and the team has been working together for a while. It was funny because some of the members of Fortiche are fans of my work and so in one remote meeting Christian asked me to surprise them. I sort of just popped up and they were so happy. It was like 2 am in Tokyo but I was so happy to see them. These are the top-top creators and it being number one on Netflix for so long is proof of that. It was a crazy experience.
Is there any upcoming news you can share with your fans that you will be working on after the tour? Perhaps more acting?
It is the 20th anniversary, so we are going to release an anime song cover album. It could be songs from Naruto, City Hunter, Evangelion… and of course, more music is coming out. There is going to be another Japanese film that we shot during the pandemic that is set for next year in January. I don't know. I have been doing a solo career for so long so it might be cool to make a band or something. I'd be playing the guitar. I like singing but my roots are the guitar. So it would be like me just playing the guitar without having to think about the lyrics. That's true happiness. So might be cool to make a band or something in the future.
Those looking to experience MIYAVI live can find his North American Tour dates below:
MIYAVI 20th Anniversary North American Tour 2022:

10/12 – Toronto (Axis Club)
10/13 – Atlanta (The Masquerade)
10/15 – Pittsburgh (Thunderbird Cafe & Music Hall)
10/17 – Chicago (Cobra Lounge)
10/18 – Chicago (Cobra Lounge)
10/20 – Minneapolis (Fine Line)
10/21 – Kansas City (Knuckleheads)
10/23 – Dallas (Trees)
10/24 – Houston (Scout Bar)
10/25 – Austin (Come & Take It Live)
10/27 – Mesa (Nile Theatre)
10/31 – Los Angeles (The Fonda)
11/2 – Vancouver (Rickshaw)
11/3 – Seattle (Nuemos)
11/5 – Portland (Hawthorne Theatre)
11/7 – San Francisco (August Hall)