LG Collaborates With Musician Jeremy Zucker and Shares His Tech-Lifestyle
On the streets, In the studio, In moments of rest.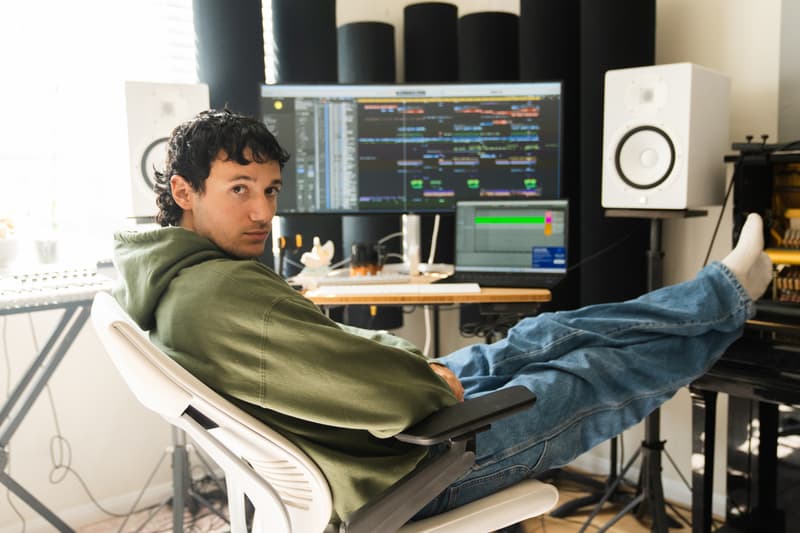 1 of 3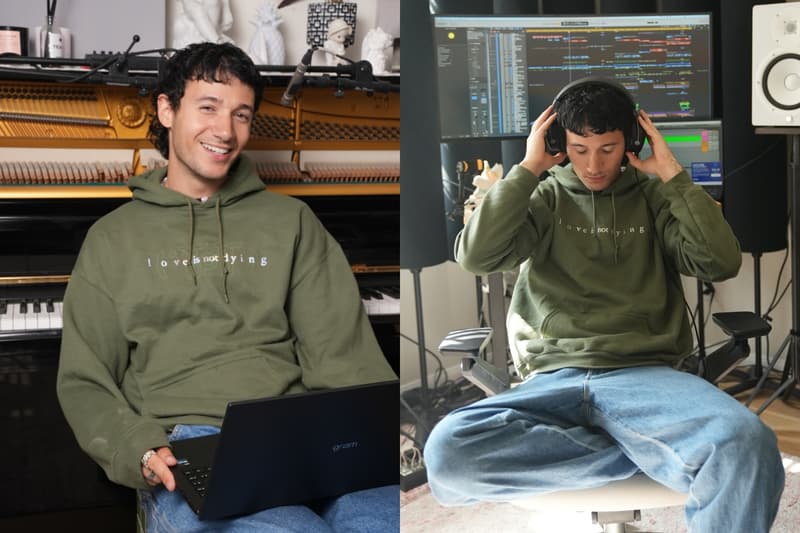 2 of 3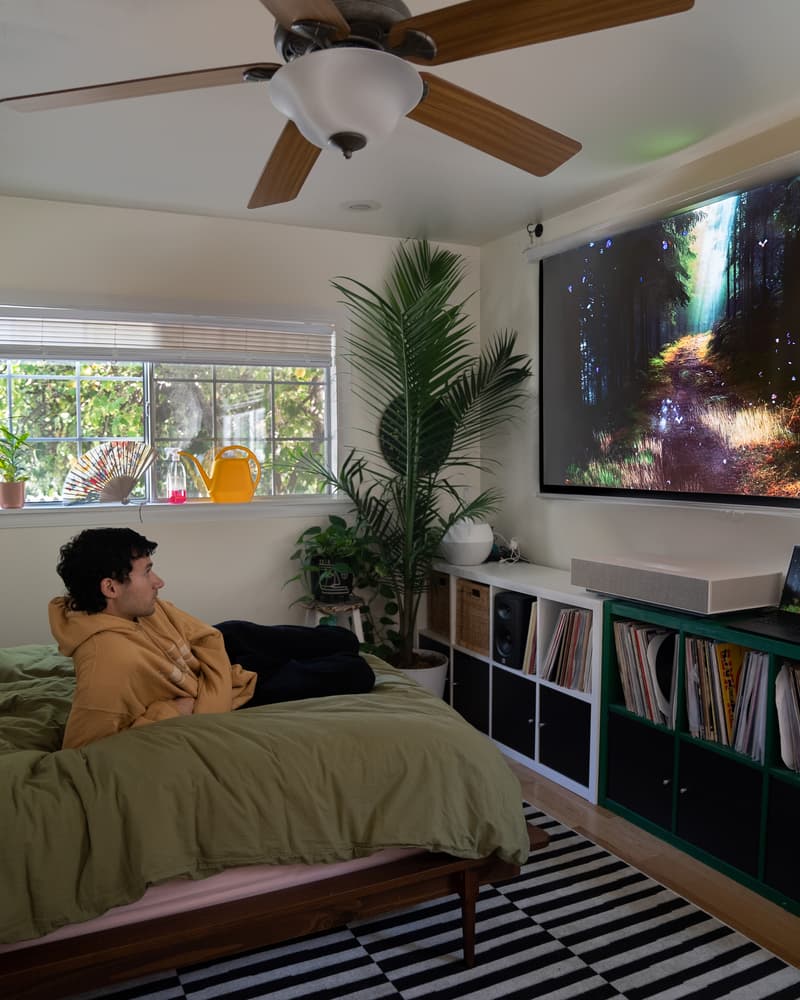 3 of 3
MODERN, MUSIC, LIFESTYLE
Multi-platinum singer-songwriter of iconic tracks such as "all the kids are depressed," "comethru" and "you were good to me", Jeremy Zucker continues his collaboration with LG Electronics (LG). After having spent the last summer with LG's innovative products, the artist introduces the equipments that have elevated his creative process, both on the road for his recently wrapped European tour, and at home. From the powerful and mobile LG gram, the premium and adaptable UltraWide monitor, to the next-generation LG CineBeam, LG's innovative products have quickly become inseparable creative tools for the multi-hyphenate artist.
Zucker's music is reflective of his personality – universally empathic, calm and composed. Guitar-based indie-pop with influences from electronic music and hip-hop shining through, Zucker's sound is distinctly his own – punchy guitar riffs, heartfelt tunes combined with his oozey, effortless vocals punctuate his signature sound, created with a self-made spirit. The 26-year-old musician is also a master of intimate performances, putting on captivating shows with just his voice, in lieu of large-scale bands or grand production teams.
For a singer-songwriter today like Jeremy Zucker, the importance of technical equipment used to create music is paramount. Recording instrumentals and fine-tuning its texture and quality (whether it be lo-fi or a specific pitch) is now as much a part of the creative process as traditional songwriting, and the IT products that perform this role must be top quality. With LG's innovative products to streamline this process, Zucker is free to express himself to his fullest extent.
BEHIND THE SCENES
Inspire, Perform and Achieve is a collaborative content series by LG Electronics which now shows Jeremy Zucker going through his daily routines and behind the scene moments. On his European tour, at work in his home studio, and during times of rest, LG's innovative products meld seamlessly into his lifestyle. The LG gram laptop, UltraWide monitor, and CineBeam projector are always nearby, accompanying the talented musician throughout his days for both work and entertainment.
The LG gram laptop is a vital companion to the oft-touring musician, who spends as much time out of the house as in it. Inspiration is fickle and doesn't always come while at home or in the studio. It comes in moments of experiencing new cities, and while interacting with audiences – and thus the mobility of IT products that allow access to DAW is vital. "When I'm on the road, making music doesn't stop. My LG gram is light, portable, and easy to use. So I can stay connected and get my work done from anywhere in the world, and for as long as I want," Zucker says. The LG gram is as light as its name suggests, with the full capacities of a 17- inch, 16:10 ratio IPS display boasting a *99% color gamut and a 12.5 hours of nonstop power **functioning 80Wh battery. While lightweight in form, the LG gram does not lack in processing power, built with Powerful Intel 12th Generation Processor that can handle the "heaviest" of music and video processing programs. With the LG gram, the playground or studio can be quite literally anywhere.
*DCI-P3 Typical 99%, Minimum 95%.
**MobileMark 18 battery life may vary depending on various factors, including network connectivity and application use. Benchmark test conducted March 2022. See https://bapco.com/products/mobilemark-2018/ for additional details.
While the gram takes mobility to new capacities, the LG UltraWide monitor is the visual hub of Jeremy Zucker's home studio, where ideas are molded to music. LG's OnScreen* Control allows dual monitor setups to better visualize workflow, and its PBP function allows for up to two different laptops and a desktop to be merged into a single screen. With a WUHD (5120 X 2160) resolution, no detail is lost. "This used to be a bedroom and now it's where I feel the most creative. Thanks to the LG UltraWide monitor, I can have my entire workflow in one place, on one screen, and I've never worked better. Now it's the recording studio of my dreams," Zucker states. A home studio like Jeremy Zucker's bedroom-turned workspace is the dream for any artist, and the LG UltraWide monitor will prove a more than capable companion to even the trickiest of tasks.
*To download the latest OnScreen Control, visit LG.com.
After all the hard work, relaxation is a must. Even Zucker, proficient both on and off the stage, needs high-quality rest. "As much as I love being on tour, going to the studio, and going out with friends, I take relaxing very seriously. My LG CineBeam projector only needs to be inches away from the wall to make me feel like I'm at the movies," Zucker adds. The LG CineBeam, the centerpiece of such relaxing moments, can cast clear, 4K UHD (3840 X 2160) resolution images regardless of day or night, thanks to its 3,700 ANSI Lumens. The built-in 40W 2.2ch speakers provide three dimensional sound for an immersive theater experience. Its opus is its astonishingly short projection distance, requiring only 2.2 inches to turn a space up to a 120 inch large-screen home cinema. Encased in a minimally sleek finish, the LG CineBeam provides high-quality display that have undoubtedly allowed Jeremy Zucker to compose his cinematically rich discography.
DREAMS COME THROUGH
LG and Jeremy Zucker's Inspire, Perform and Archive can be found on the @LG_TECH.IT Instagram account. The day in the life of Jeremy Zucker is not so distant from the tech lifestyle of most contemporaries – it differs only in form. In other words, we all live with a sense of joy in creation, global artist or not. So unless the goal is to be 100% unplugged and off the grid, IT products can be faithful companions to realizing our imaginations to outcomes, or simply as playthings to aid the process.
LG's IT products have smart capacities that allow them to perform different functions depending on the whims and motives of its users. The highly mobile gram, visually expansive UltraWide monitor, and the instantly cinematic CineBeam projector all transform the difficult and mundane, and 'comethru' to realize a seamlessly enjoyable lifestyle.