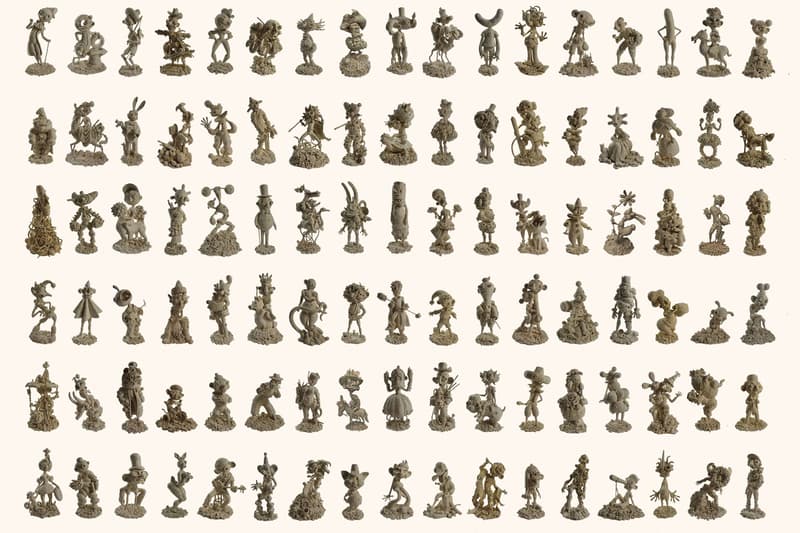 Gary Card is Releasing 100 Sculptures at Dover Street Market This Week
Each is meticulously molded from a humble material.
---
Within the fashion industry, Gary Card is well-known for his polymathic abilities. The multidisciplinary creative has become the go-to for set design and costume alike, but for now, is now turning his attention to the art world – launching a series of 100 sculptures at London's Dover Street Market.
The collection of "Homunculus" sculptures is going on sale during Frieze, which kicked off across the city this week. Card has sculpted each using his signature material of masking tape, which sees him elevate the humble material through intricate cutting and molding. Throughout the body of works, ranges vary, and in true Card style, you'll find regency costume motifs next to details resembling action figures from the 1990s.
Of the pieces, he says:
"I have been building things with masking tape since my early teens, making all kinds of projects, beginning with masks and costume pieces, then later growing into more ambitious props and larger set constructions.

Whilst historically these masking tape structures have been hidden underneath other materials, for years I've wanted an opportunity to showcase the process in its naked form. Only since 2018 have I started working on figurative pieces that celebrate the material rather than hiding it."
"Homunculus" by Gary Card is available to view and purchase exclusively at Dover Street Market London from 12 October, as part of the store's wider Frieze activations. Elsewhere in the city, Damien Hirst has been burning thousands of his artworks at his Newport Street Gallery space.