'Kingdom of the Planet of the Apes' Confirmed for 2024
A new trilogy film following 'War for the Planet of the Apes.'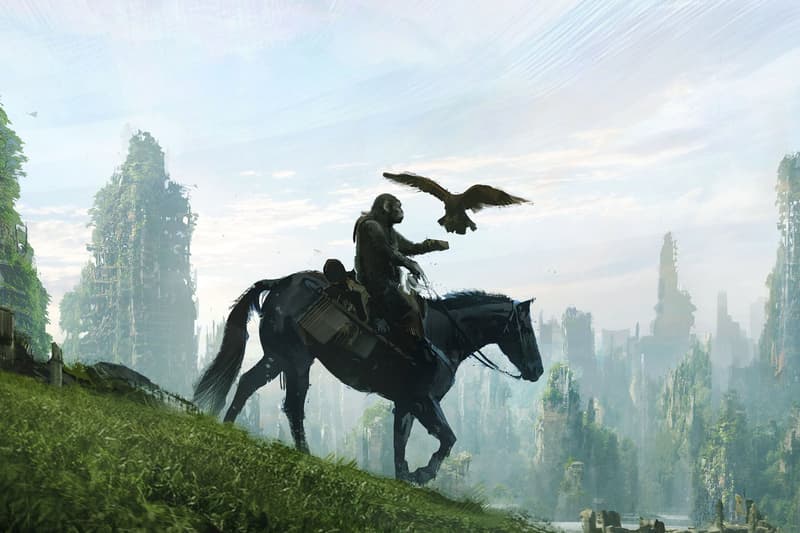 20th Century Studios has announced that production for a new Planet of the Apes movie will officially begin next month with a scheduled release date set for 2024. The upcoming sequel is the franchise's sixth title based on Pierre Boulle's French novel, Planet of the Apes, published in 1963. Titled "Kingdom of the Planet of the Apes," the movie is set "many years" after the events of War for the Planet of the Apes in which Caesar and his apes were pitted against an army of humans in a postapocalyptic war that would determine the fate of both of their species.
No plot details have been revealed as of yet, though the main cast has been announced featuring the return of Owen Teague (Black Mirror) as the ape Cornelius, and the addition of Freya Allen (The Witcher) and Peter Macon (Orville). Wes Ball, whose previous works include The Maze Runner trilogy, will direct the film. In the first-look poster image, Cornelius is seen riding on horseback along a waterfall. With a trained eagle by his side, he's pictured overlooking an overgrown cityscape, giving us a glimpse of the scenes in store.
Stay tuned for more details to emerge in the coming months ahead of the 2024 premiere.
A new saga begins.

"Kingdom of the Planet of the Apes," picking up many years after "War for the Planet of the Apes," starts production next month and stars Owen Teague, Freya Allen, and Peter Macon. Directed by Wes Ball, "Kingdom of the Planet of the Apes" arrives in 2024. pic.twitter.com/zITmXIkRif

— 20th Century Studios (@20thcentury) September 29, 2022
Elsewhere in entertainment, Makoto Shinkai's Suzume no Tojimari m movie releases its final trailer.