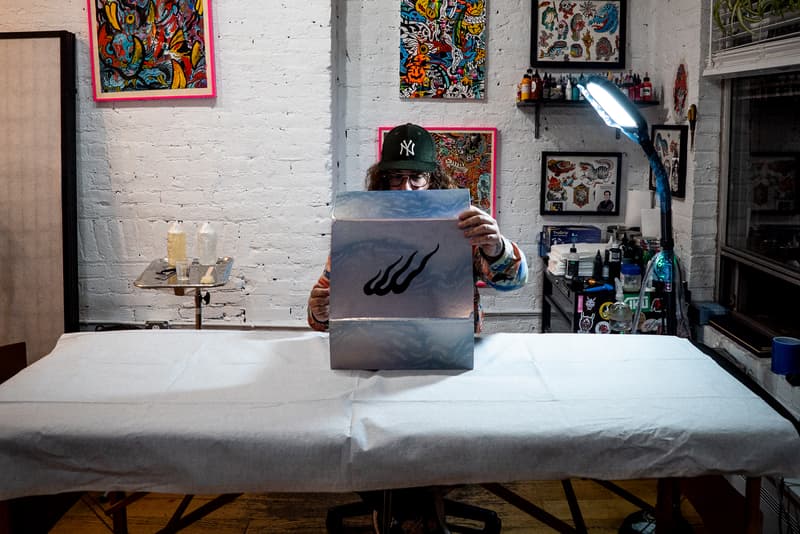 1 of 12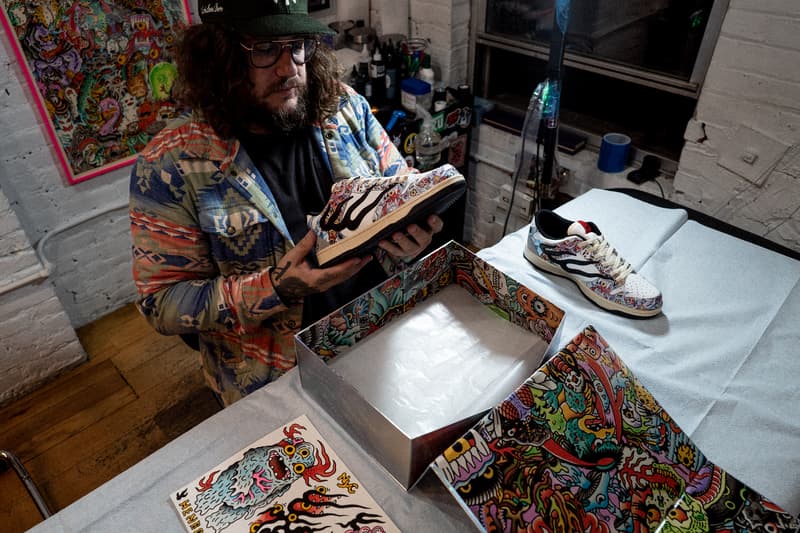 2 of 12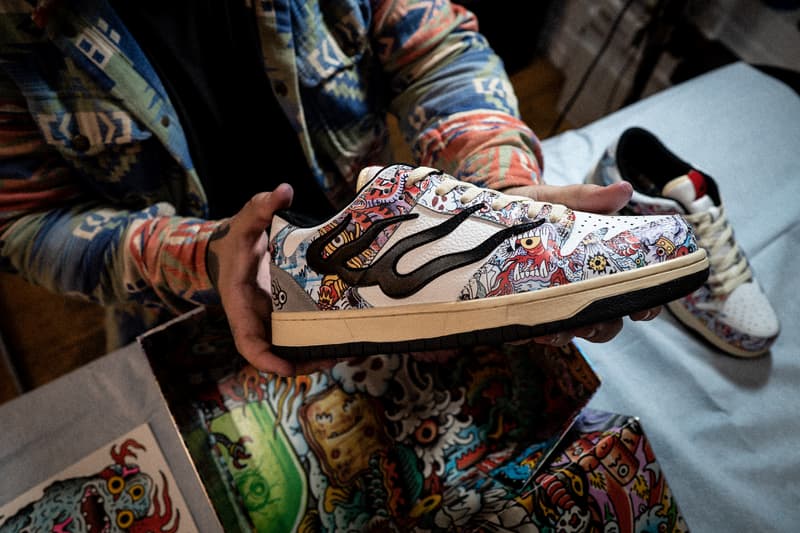 3 of 12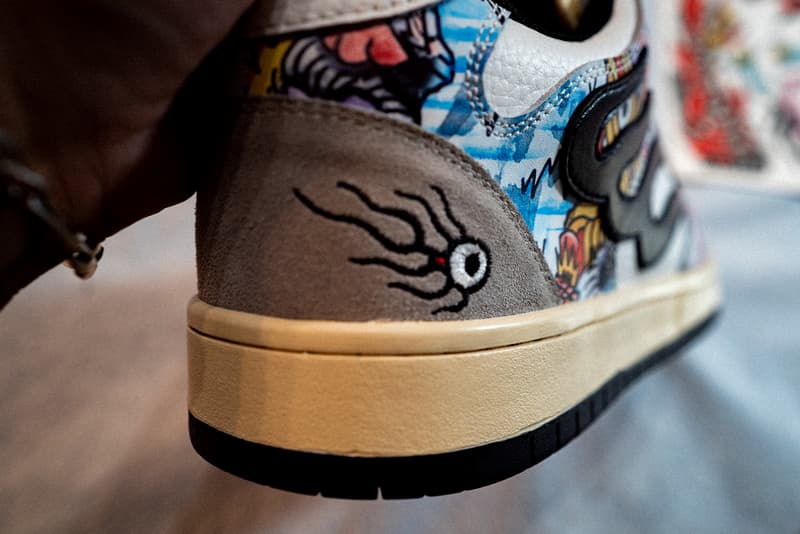 4 of 12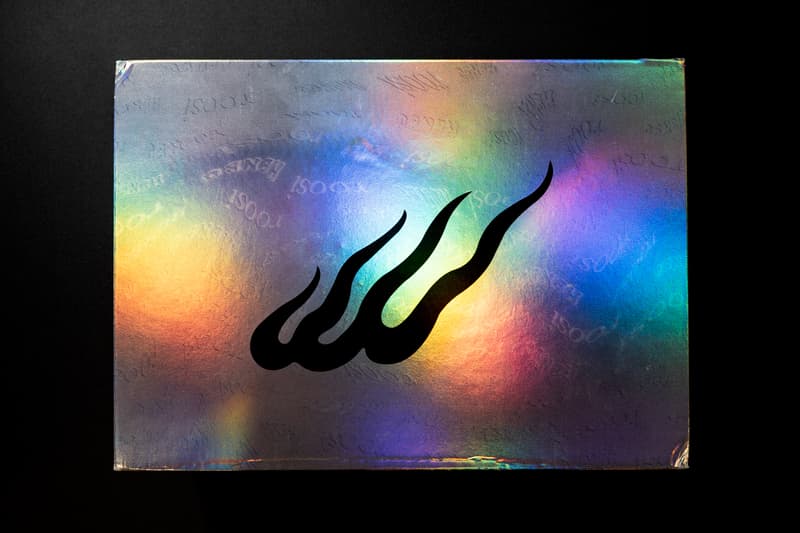 5 of 12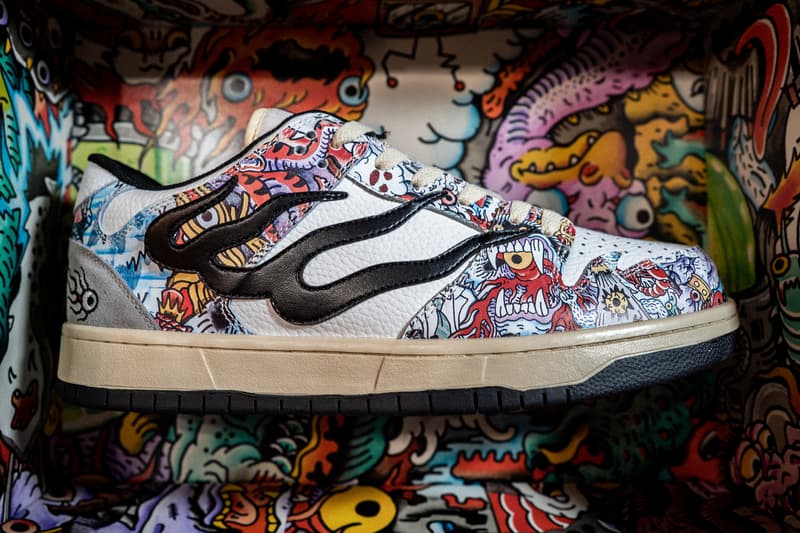 6 of 12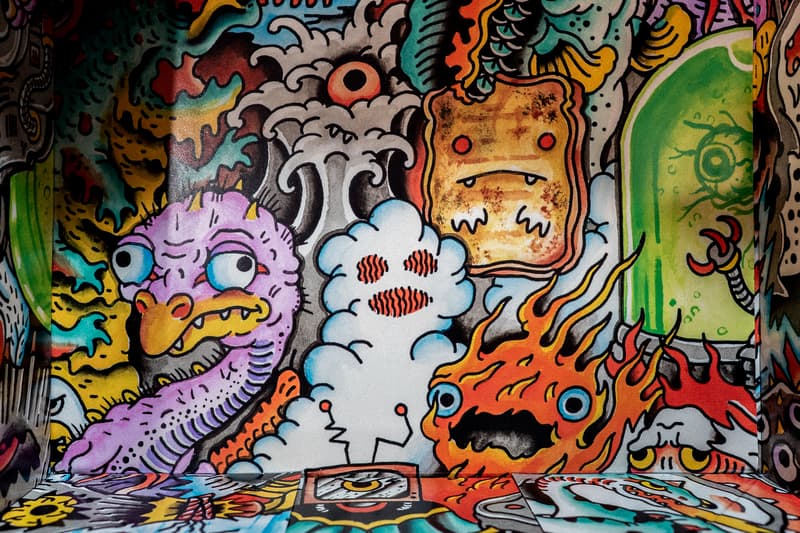 7 of 12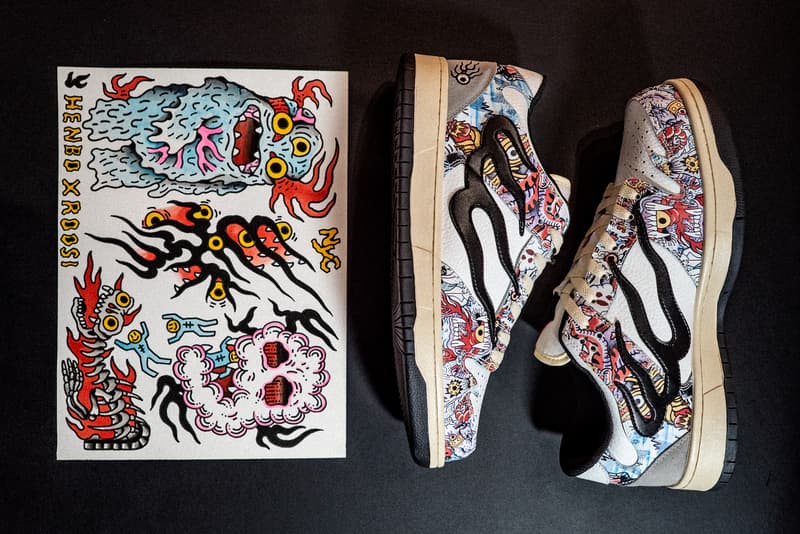 8 of 12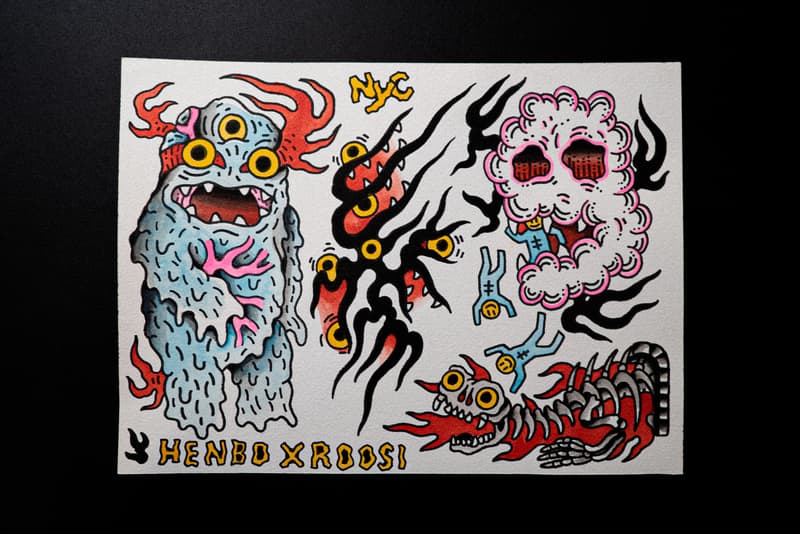 9 of 12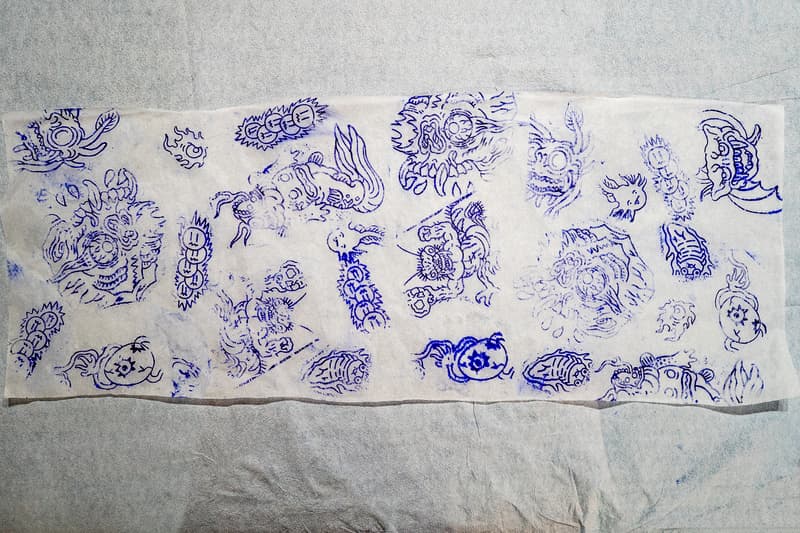 10 of 12
11 of 12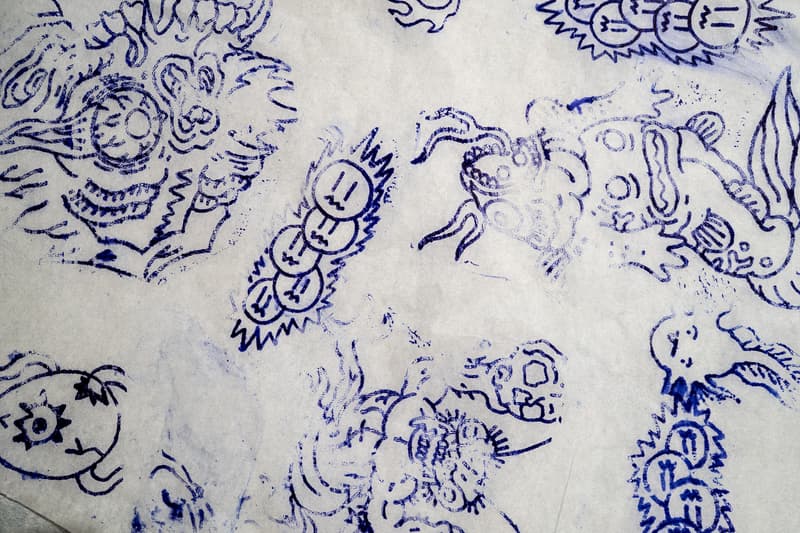 12 of 12
Henbo Henning Unveils 'FLAME GHOST 1' Sneaker & Tattoo Flash Print with roosi
The tattoo artist discusses his first ever shoe covered with his signature monsters.
---
Working out of the Good Luck NYC shop in Brooklyn, Henbo Henning is the tattoo artist known for his unique style that merges American and Japanese traditional motifs. Henbo recently unveiled his first-ever custom sneaker made in collaboration with Queens-based art collective, roosi. Entitled FLAME GHOST 1, the low-top silhouette features original custom artwork by the artist. Monsters from Japanese folklore, ghosts and amphibious creatures are scattered throughout the shoe.
For specs, pebbled leather is observed on the white toe box and heel counter. The artist's tonal black 'Flame Ghost' iconography is prominently stitched on the lateral and medial sides of the shoe with black accents continuing across the ankle collar and outsoles for an anchored finish. Rounding out the design is a one-eyed 'Ghost Flame' figure located on heels of the shoe for a minimalist touch, cream-colored midsoles and blood red tongue tags to complete the shoe's monstrous composition.
roosi expressed that "this sneaker as a special art object that celebrates the group's close friendship with Henbo, the artist's multidisciplinary practice and the endless possibilities sparked by shared creative energy." Having added that they "aim to continue pushing the potential of unlikely objects to rival conventional mediums and stretch an artist's imagination."
Priced at $300 USD a pair with a size range of 5-13, the FLAME GHOST 1 will only be available on this website with preorders starting this October 29 through October 31, 2022. Each pair also comes with a numbered and signed flash sheet print as a certificate of authentication. Check out our exclusive interview with Henbo below where he drops insights on the shoe's origins and specs.
What inspired the 'Flame Ghost 1' shoe?
The inspiration behind the shoe is half passion and half frustration. I absolutely love making art and integrating it into apparel so I really wanted to make a sneaker especially now I'm older and can afford to buy my own. I think I'm just re-living the fantasy of my 11 year old self.
What's the story behind the logo?
It was first featured on a tattoo flash sheet and was so popular that I decided to base my first hoodie release on it. It was a success and the funny thing is the original painting was originally a mistake. My cat jumped up and spilled black ink on the painting so it made it into a 'Flame Ghost.' 
From your 'Flame Ghost' monster to Yokai characters, there are multiple visual callouts to your tattoo practice in the sneaker. What's your connection to these characters?
I find that I have a great connection with monsters especially with creatures from Japanese folklore or 'Yokai.' It stems from my childhood love of animals especially frogs and amphibious creatures. I had pretty wild imagination back then and it hasn't slowed down. My dad would bring these huge rolls of underlay plain wall paper left over from his work as a carpenter and I would draw hundreds of monsters battling it out in an imaginary world. I'm pretty lucky and happy to be able to make this my living. 
Describe your material choices for the 'Flame Ghost 1.'
It's important for me for the sneaker to look and feel like one of my paintings. In this case, the graphics were from my painting titled "Monster Soup Volume 1." I used Rivas paper to paint which is a cream color so this reflected the midsole, tongue and lace accents. You'll also see the heel unit is grey suede with a flame ghost eyeball embroidered in it and I was going for a sketch book doodle feel to it. And with the pebbled white leather, I wanted it to mirror the texture of watercolor paper as the paper I use is textured cold press.
What drove the overall framework for the shoe?
When creating this sneaker with roosi we wanted to make something that had somewhat a familiar look, but with an iconic originality so you will see shapes and different textures that match the 'Flame Ghost' logo.
Finally, tell us about the uniqueness of your box design and how it complements the 'Flame Ghost 1.'
I want it to be tactile. I think the journey begins with the box and it's important for me to make this something that people will want to keep along with the sneakers. Oftentimes, boxes are just printed with throwaway graphics and made of cheap materials, but this was designed for function and collectibility.